Dear ministers, for how long will you mock our misfortunes?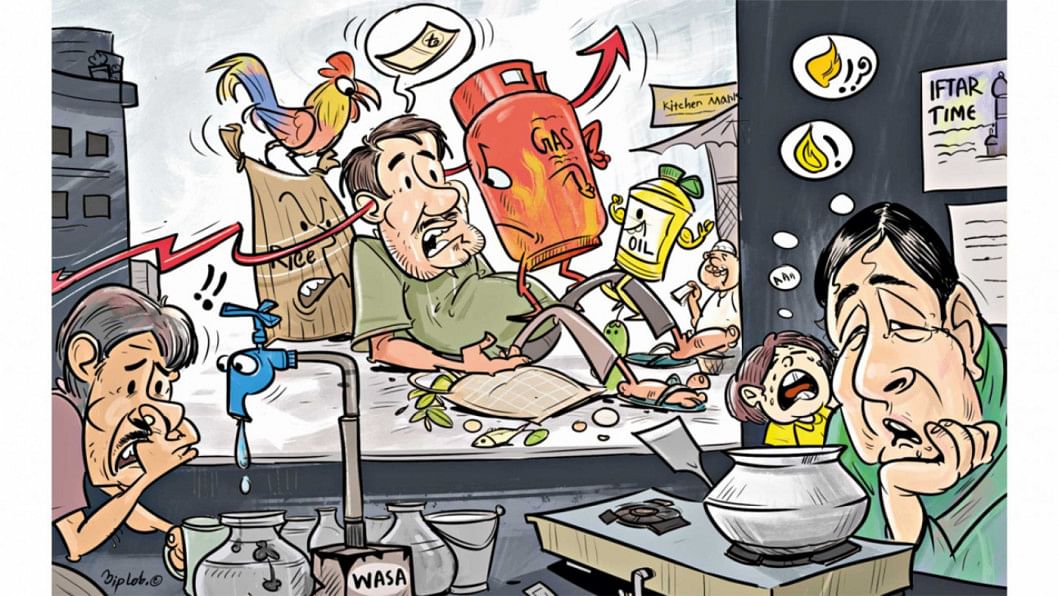 It is quite understandable that the public would react to our foreign minister's claim that we are in "heaven" (compared to the citizens of other countries) when the entire world is going through a financial crisis. Especially since the price per dozen for eggs increased from Tk 130 to Tk 180 on the same day as he made this comment, and the price per kg of chicken increased to Tk 200. At this point, people are visibly confused, wondering who exactly is in "heaven" and who must be burning in hell.
Whether they want to admit it or not, it is easy to see that the government is currently under immense pressure regarding a lot of issues. On the one hand, there is an election coming up. On the other hand, there is black money floating all around, accompanied by limitless corruption, uncontrollable markets, sky-high prices of fuel and essentials, an alarming increase in the price of dollars, and the chokehold of rising inflation. All of these combined have raised the living costs by up to 50 percent, cornering and suffocating most people in Bangladesh.
Still, our ministers seem to have held on to their penchant for humour. What's devastating, however, is that their "humour" is based on people's sufferings. Just the other day, the LGED minister said, "I don't think we are in too bad a condition – everyone has clothes on their backs."
In response to this remark by the minister, a Rangpur-based farmer understandably inquired, "Do we have to walk around naked now in order to express just how bad our condition is?" This farmer has to buy seeds and fertilisers at higher prices as transportation costs have increased due to the higher price of diesel, made worse by the electricity and water crises and a lack of rain. He is struggling badly to sustain his family of six. Still, if we go by the minister's comment, and given that all of them have clothes and sandals to wear, are we to assume that this farmer's family is indeed well-off?
Meanwhile, our planning minister took the jokes about the people's sufferings another step further. "No one has yet died as a result of price hike; hopefully, no one will," were his exact words. Do people have to die in order to convey to the authorities the gravity of their situation? If the planning minister of the country is so oblivious to the awful crises that the people are having to deal with every day, then what exactly is he basing his plans on?
The honourable minister might have meant that people are not yet dying of hunger or a famine. But is he unaware that people can still be "dying" even before they turn into corpses? What about the death of dreams, and death due to the worsening standards of living? What about the mother who is unable to feed her child three meals a day? What about the father who is increasingly drowning in debts as he tries to make ends meet? What about the families that are edging towards being homeless, unable to pay their rent on time? Surely, they know about "dying."
The prices of daily essentials and living costs have skyrocketed to the point where even middle-income families are now in a constant state of distress. As much as living costs are rising, people's income is not increasing accordingly. The impact of such financial struggles on people's mental health is worse than death for many. For people with fixed incomes, the main challenge is to make ends meet by reducing expenses as prices keep rising. Common people are not accustomed to conducting such calculations. All they want is to have two full meals a day and live safely with their families. Hence, when the prices of essentials shot up abruptly to an abnormal high, these people were pushed to the brink. On top of that, the authorities did not seem prepared at all, nor were there any warnings or discussions. 
Does the government not know of the plight of lower- and middle-income groups? Did they not take it into consideration at all when they raised the fuel prices? Not only have they been utterly inconsiderate, but they seem to be mocking people's plight. The irresponsible remarks made by our ministers not only tarnish the government's image, but also create resentment among the citizens. 
Amid the crisis, former minister and incumbent member of parliament Rashed Khan Menon said the government had swallowed poison by agreeing to the conditions of the IMF and increasing oil prices. But reality indicates that the poison has actually been swallowed by the people of the country. The government must provide explanations as to why we need the IMF loan, where and how the money will be invested, the interest rates, by when and how the government plans to repay the loan, and how much of its burden will fall on the citizens. 
In 2012, when the IMF lent Bangladesh USD 1 billion, they attached many conditions to it. As part of the conditions, the government had to amend the entire bank company act in 2013. The Bangladesh Bank had to change their loan-related policies (The Daily Star).
It seemed rather effortless for the Bangladesh Bank officials to say that the global financial crisis caused by the Russia-Ukraine war had affected the businesses of many borrowers, for which they had not been able to repay their loans. But that's not where the problem ends. Some of them have been delaying the repayment on purpose, while some intend not to pay up at all.
While the government high-ups were busy dismissing the common people's situation, we also got to know that Tk 650,000 crore had been smuggled out of the country in the last 10 years. But no government official has made any comments on this phenomenon, although the abnormal rate of money laundering, the highest record of defaulted loans, and the suffering of citizens are all connected by a common thread. 
Yet we, the general public, are the only ones being directly affected by these issues. And those who send all this money to the Swiss banks are the ones responsible for our perils. Other countries have asked for information related to their money being smuggled off to the Swiss bank, which they received, too.
However, our government says it has been unable to acquire the information. On the other hand, Swiss Ambassador in Dhaka Nathalie Chuard said Bangladesh had not asked for any specific information regarding the matter. Foreign Minister AK Abdul Momen claimed Chuard's statement to be "false."
The question remains as to whether Bangladesh actually wants to know the details regarding money laundering or not. According to the Swiss central bank's annual report published in June this year, the amount of money deposited by Bangladeshis in their banks increased by 55 percent in 2021. Following this report, the High Court finally posed the question of whether our government had actually sought information regarding money laundering. 
"Money being laundered off to Swiss banks is nothing but an exaggeration," former Finance Minister AMA Muhith had said when he was asked about it. "I don't have a list of money launderers," the current finance minister said recently. Whom should we, the dwellers of "heaven," believe?
What does a common citizen have to do with phrases like GDP growth and deficit? They don't understand these complex, jargon-filled calculations. What they do understand is the hike in the prices of daily essentials. Their good days are coming to an end as price hikes will directly affect their disposable income. 
The debate regarding Bangladesh's actual GDP is not something new. It has been further fuelled during and after the height of the Covid-19 pandemic. The data provided by Bangladesh Bureau of Statistics (BBS) has faced scrutiny. What's interesting is that we always make the GDP look higher while making inflation look significantly lower. The problem remains in the fact that even though an exaggerated GDP will not have much of an impact, an inflation rate that is made to look lower actually has negative impacts that can be felt directly by people. 
Forget all the other countries. At least 27 people died while protesting against the fuel crisis and price hike in Sierra Leone, a poverty-afflicted country with a population of eight million. Meanwhile, 140 million of us – people from the lower and middle-income backgrounds – are sitting tight while bearing the brunt of price hike and inflation. We burn in hell, while trying to convince ourselves that we might actually be in " heaven." 
Shahana Huda Ranjana is senior coordinator at Manusher Jonno Foundation (MJF). Views expressed in this article are the author's own.