Sexual violence in madrasas: sufferings remain unheard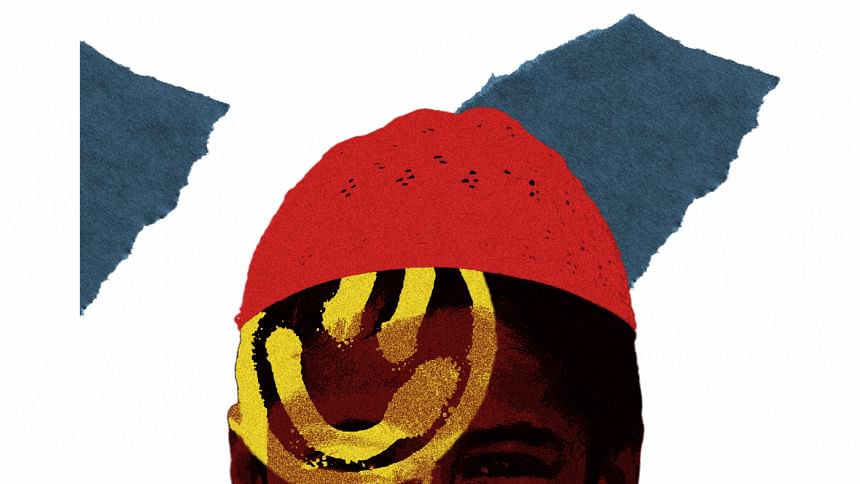 Abdullah (not his real name) was admitted to a madrasa in Feni where he would study to be a hafeez (a person who memorises the entire Holy Quran). His father Abdur Rahman, wanted him to be an Islamic scholar one day and insisted him on going to a Qawmi madrasa instead of going to school.
However, Abdur's dream of making son an Islamic scholar was soon shattered when he learned that his son has become a victim of severe sexual violence in that madrasa named Rahmania Madania Hafizia Madrasa.
For more than a year, Abdullah was being raped by his teacher Yasin Arafat. Abdullah attempted to flee from that residential institution several times. Once caught, Abdullah was mercilessly flogged for his attempt to flee the dormitory without permission from the authority.
Last time, when Abdullah was caught, he shared his horrific tale to the madrasa authority and sought permission to leave the institution.
According to Abdullah's father, "My son explained them why he wanted to leave. He told them that in detail that how Yasin used to molest him and many other children of that madrasa."
However, no action was taken against that teacher. Instead, Yasin instructed Abdullah and his other friends, who were also his victims, to promise by putting their hands on the Quran that they would never tell anyone about what Yasin did to them.
"Remember, the part of the body where I beat you will go to paradise. But, if you tell anybody, you will go to hellfire," warned Yasin according to Abdullah's father.
However, one of the guards of the madrasa who also learned from Yasin's crimes from Abdullah, called Abdur and tell him to take his son home. When Abdur learned what happened to his son, he filed a complaint to the chairman of the local union council.
The chairman summoned Yasin along with some members of the managing committee of the madrasa. When Yasin admitted what he did, he was handed over to the local police station.
Abdullah's incident hit the newspaper headlines last year as he managed to break out from the dormitory and revealed what happened to him.
However, according to former students of Qawmi madrasas, there are numerous students like Abdullah in these institutions where they go through traumatic experiences but their sufferings are never brought to light.
A general count of the news reports in the mainstream media reveals that just in 2021, around 30 incidents of sexual violence in Qawmi madrasas have been reported in the media. In 2020, the number of reported incidents was 25 just in November and December.
By interviewing current and former students of Qawmi madrasas, we wanted to know why sexual violence happens in the institutions where they go to study the Quran and where they are supposed to maintain strict Islamic practices.
The former students chalked out three major issues that may lead to such unfortunate circumstances.
Misogynistic thoughts and practices
According the students, madrasa education, particularly Qawmi madrasa education is extremely gender segregated. When students reach adolescence, they are constantly warned about not mixing with females who are not their immediate family members.
Abdullah Omar, a former student of Qawmi Madrasa, now studying at a private university in Dhaka said, "Teen aged boys have natural curiosities towards opposite gender. In most of the Qawmi madrasas, students do not get any opportunity to resolve this natural curiosity through any acceptable means."
"Instead, madrasa teachers follow oppressive regime to eradicate those interests. They used to warn us not to talk to any woman outside my family. Even one of our teachers used to say that every woman is always accompanied by 80 satans. They always try to seduce men and misguide them. If we talk to them, there are high chances that we might get trapped by those satans," added Abdullah.  
According to him, due to such misconception towards women and sexuality, students often try to satisfy their curiosity towards sexuality with the help of their male classmates, more commonly juniors.
"Senior-junior relationship is quite authoritative in madrasa dormitories," said Abdullah. "Juniors usually cannot deny if his senior tells him to do something for him. Such authoritative, male-dominated environment coupled with abhorrence towards women, may influence their sexual behaviour."
Absence of accountability among the teachers
According to students and even teachers of different Qawmi madrasas, teachers of madrasas enjoy supreme authority over students. Often teachers are considered infallible and divine guides. In most cases, there is no complaint mechanism in the madrasas if a student gets maltreated by a teacher.
A teacher currently working at a renowned Qawmi madrasa in Dhaka said anonymously, "Although corporal punishment has been banned by the government in 2011, taking such punitive measures is still a very common practice in madrasas. What teachers order or do are often considered as divine orders."
Md Mukhlesur Rahman, a student of Dhaka University and the former student of a Qawmi madrasa said, "We used to be taught a hadith of Hazar Ali (Ra) where he was reportedly said that if a person teaches me a piece of knowledge, I shall treat him like my master and he can treat me like his slave. Consequently, we used to be indoctrinated in a way that we never thought of complaining against any of our teacher even if we knew that they were doing something wrong."
Besides, madrasa students like Abdullah, who has been abused for more than a year, do not know how and where to complain even if they want to.
In most cases, they cannot communicate with their family members when they are in the madrasa. Again, many students from ultra-poor families and orphans are also studying in madrasa who cannot avail any kind of support from their families unlike Abdullah.
"Qawmi madrasas particularly those which also have an orphanage attached to it get significant support from the community leaders although their children do not study in these madrasas. They just support it from their religious sentiments. So, madrasa managing committees maintain strong relationship with all the local influential," said Mukhlesur.
"On the other hand, madrasas do not take any support from the government due to which the government's education office does not monitor their activity. As a result, neither donors nor government do not monitor how madrasa students are passing their lives in those confined environments," he commented.
The teacher of a Qawmi madrasa in Dhaka also agreed with Mukhlesur's argument and said, "Qawmi madrasa teachers are often treated as preacher and protector of Islam. General people respect them and often ignore their worldly mistakes. We cannot deny that some teachers may try to hide his malpractices taking this opportunity of social respect."
Too much focus on rote learning
When this writer was interviewing Abdullah's father, the first question Abdur Rahman asked, "How those people who study and teach Quran can do such things when these are strictly prohibited in Islam and considered most heinous of the crimes?"
When Abdur's question was conveyed to the students and teachers, some of them blamed the teaching learning process in these institutions behind sexual violence in these institutions.
Md Omar Faruk, a former student of a Qawmi Madrasa, now working for Bangladesh Institute of Islamic Thought said, "Teaching-learning process in many Qawmi madrasas are heavily focused on rot learning. They just memorise Quran and hadith but do not learn the meanings and interpretations." 
"Interpretations of Quran and Hadith are studied only in the upper grades and only in certain large-scale Qawmi madrasas where most of the students cannot study."
"Even many teachers of Hafizia madrasas and small madrasas never studied translation and interpretations of Quran and Hadith. They just memorised it and then take job in a Hafizia or a smaller madrasa. As a result, knowledge of Quran and Hadith do not enter into their heart and cannot prevent them from committing such crimes," commented Omar.
Way forward
Mukhlesur has been working with a group of Qawmi madrasa teachers to include interpretations of Quran and Hadith in the lower grades but faced resistance. He said, "It is not possible to include the study of tafseer in Hafizia and lower level Qawmi madrasas because they are too busy to memorise the Quran and some duas (prayer sermons) within a fixed time frame so that their students can seek job in mosques and other madrasas."
"While we were trying to reform the curriculum some of our friends even lost their job. However, we are trying to change the trend and if students and teachers of the madrasas try to comprehend what they are teaching and studying, situation will improve a lot," said Mukhlesur.  
Mir Huzaifa Al Mamduh, author of the book Bharotborsher Madrasa (Indian Madrasas) and a former student of Qawmi madrasa was one of the first persons to break silence about sexual violence in Qawmi madrasas.
In one of his Facebook posts he claimed that he has preserved many records of sexual violence in many Qawmi madrasas all over the country.
He said, "We should raise awareness among madrasa students first. We should recognise the fact that madrasa teachers are also human being and they can also do wrong things. If they commit crimes, they have to face consequences and victims must get justice."
"Whenever anyone alleges a madrasa teacher of sexual misconduct, such allegations are often treated as conspiracy against madrasa and Islam. As a result, actual complainants often cannot get justice," he commented.
Mir further suggested that sexual harassment monitoring cell has to be established in Madrasas and legal reforms must be done.
"Crime of raping a male has not been defined and recognised in our criminal law but we cannot deny that such incidents are happening very often. This is also a reason, male victims of sexual violence cannot seek justice. There was a high court directive to establish sexual violence monitoring cell in madrasas, however, so far I know none of the madrasas has established it in their institutions," he added
Qawmi madrasas are managed by six different boards, largest of which is Befaqul Madarisil Arabia Bangladesh.
Maolana Mahfuzul Haque, general secretary of the board said, "Although some of these incidents are isolated incidents, we take these issues very seriously. We have warned our teachers about sexual misconduct and we are working on developing a teacher's professional conduct for Qawmi madrasa teachers. We are also arranging regular training programmes for our teachers."
When asked about establishing sexual violence monitoring cell he said, "We are working on it," but declined to comment any further.
Md Shahnawaz Khan Chandan is an Assistant Professor at Institute of Education and Research, Jagannath University.