For the love of theatre
On the 96th birth anniversary of Dr Nilima Ibrahim (1921–2002), Ramendu Majumdar recalls her contributions in the theatre movement in Bangladesh both before and after the liberation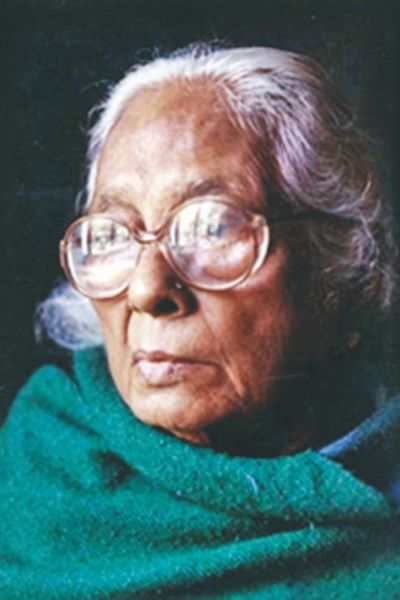 It has been 15 years since Dr Nilima Ibrahim passed away. If she were alive, she would have been 96 years old today. How does one describe her? She was an educationist, researcher, writer, social worker, a dedicated women's rights activist, a symbol of non-communal consciousness, theatre enthusiast, and a participant in all progressive social movements. In all respects, we will remember her as an enlightened soul.
But this article focuses only on Dr Nilima Ibrahim's love for theatre—a love which ran in her blood. Her father, Prafulla Kumar Roy—a lawyer by profession— was dedicated to the stage. He was a long-time editor of the Khulna Natya Mandir. His daughter narrated an interesting story about him in her memoirs: One day, in the courtroom, a person accused of dacoity pointed to Profulla and said, "Ukilbabu knows me. Sir, take a good look and see if you recognise me. I played Radhika at the Joydeb Pala and you played Krishna in disguise." Needless to say, it was an embarrassing situation for Prafulla.
This love for theatre passed on to all of Nilima Ibrahim's siblings. An outstandingly talented student, she chose her research topic Samajik o Rajnoitik Potobhumikay Unabingsha Shatabdir Bangla Natak (The Social and Political Backgrounds of Nineteenth-Century Bangla Plays) out of this love, and received her PhD from the University of Dhaka. Before this, she completed her MA in Bengali literature from the University of Calcutta with a first class. Based on her research findings, she wrote two books: Unabingsha Shatabdir Bangali Samaj o Bangla Natak (Bengali Society and Bengali Drama in the 19th Century), 1964, and Bangla Natak: Utsa o Dhara (Bengali Drama: Origin and Development), 1972. The latter offers an incisive analysis of 81 playwrights of Bengali literature, and has been appreciated by researchers and students alike as an important reference book.
Nilima Ibrahim composed four plays: Duye Duye Char (Two and Two Make Four), 1964; Je Aranye Alo Nei (The Dark Forest), 1974; Rodjwala Bikel (The Sunburnt Afternoon), 1973; and Suryaster Par (After Sunset), 1974. We had the good fortune of publishing Je Aranye Alo Nei in our theatre magazine before it came out in book form. Besides these, her seminal narrative work is Ami Birangana Bolchi, which was published in two volumes (1996 and 1997).
In Duye Duye Char, she portrayed the realities of Bengali upper-middle-class society. Rodjwala Bikel, too, is written based on social dialectics. On the other hand, Je Aranye Alo Nei is set in a women's rehabilitation centre, where a woman who suffered sexual violence in the liberation war narrates her trauma to her husband, who comes to visit her. Suryaster Par is about a high-ranking government official, who, after retirement is forced by his family to take a year's extension in his job but fails to extend his own lifetime, passing away soon afterwards.
But the most important of Nilima Ibrahim's works is Ami Birangona Bolchi, which records the testimonies of women raped during the Liberation War. In the first volume, we learn of the violence that women suffered during the war through the testimonies of three women: Tara Banerjee, Meherjaan and Rina. They are faced with another harsh reality: In the newly liberated Bangladesh, their families and their loved ones did not accept them back.
I had the good fortune of meeting Dr Nilima Ibrahim in 1961 when I enrolled in University of Dhaka. I witnessed firsthand her passion for the theatre and received her limitless affection.
She did not just compose plays; she directed them, formed theatre organisations, and started initiatives to teach acting. When we were students, the University of Dhaka was the esteemed centre of theatre practice. DUCSU, the halls, Teacher-Student Theatre Group, Cultural Society—the campus used to be abuzz with plays staged by these groups. And the four playwright-professors who were always there to help the students were Nurul Momen, Munier Choudhury, Askar Ibne Shaikh and Nilima Ibrahim.
Back then, there was no institution for learning theatrical arts. In 1970, a group of theatre enthusiasts, educationists and artists took it upon themselves to establish a theatre academy, the president of which was Shilpacharya Zainul Abedin, while Dr Nilima Ibrahim was one of the vice-chairpersons. The academy launched a certificate course and two diploma courses but closed shortly afterwards.
In 1962, Nilima Ibrahim set up a theatre group called Rangam. She served as its president, while Munier Choudhury, Ranen Kushari, poet Habibur Rahman, Khondakar Rafiqul Haque, and Kafi Khan were also involved. Rangam's first production was Naba Meghdut,  followed by Nilima Ibrahim's Duye Duye Char. Then she dramatised Sarat Chandra's novel Charitrahin (Characterless). It was the most notable work of Rangam. Among those who performed in the play were Ranen Kushari, Lili Chowdhury, Kafi Khan, Rozi Mazid, Jahanara Imam and Madhuri Chattopadhyay. Back then, getting so many female artistes to work for a single play was unthinkable, but Nilima Ibrahim's earnest efforts made it all possible. 
That said, her tenure as the leader of the theatre group was not always a pleasant experience. Her house was where the rehearsals were held, and she would have to take care of the visiting team members while also bearing the production expenses. Despite this, she had to face harassment from some of the team members. Irritated, she decided to disband the group. Subsequently, however, she satisfied her passion for theatre production by directing plays for a number of halls and the Department of Bangla at Dhaka University.
During the 60s, 70s, and even 80s, female artistes to portray female characters were hard to find. To overcome the shortcomings, theatre enthusiasts would encourage women from their own family to get involved with theatre activities. Nilima Ibrahim, likewise, motivated all of her daughters to join theatre. Of them, Dolly Ibrahim, who had died an untimely death, could create a name for herself by acting in theatre, TV and film productions. Dolly was the founding joint-secretary of our own Theatre Natyagosthi. She also starred, among others, in the first television play in Dhaka, Ektala Dotola, directed by Munier Choudhury. Her suicide was something that had devastated us all. 
In the newly liberated Bangladesh, the Department of Bangla of Dhaka University was given the responsibility to stage Munier Choudhury's Kabar (The Grave) on the open ground of Bangla Academy on February 21, 1972. Dr Nilima Ibrahim was kind enough to allow me to direct the play. It was a great pleasure pulling off the show with the help of Bangla students and I expressed my gratitude to Nilima Ibrahim inwardly.
After Bangladesh came into being, there was a boom in neo-theatre movement, the centre of which was Bangladesh Mahila Samiti auditorium. And the person whose enthusiasm and guidance was instrumental in making theatrical arts an integral part of the organisation was Nilima Ibrahim, serving as its president. Bangladesh Mahila Samiti named the auditorium after her as a fitting tribute to her memory.
It must be noted that had Mahila Samiti allocated its auditorium for commercial purpose, it could have earned a lot of money, but Nilima Ibrahim considered supporting the theatre movement of the country an important social responsibility. She was careful to ensure that theatre groups could easily rent the auditorium. Whenever any disagreement over the fee emerged, between the representatives of the theatre movement and the officials of Mahila Samiti, she used to have the ultimate say, which all of us would accept with no objections raised.  
In the history of the theatre in Bangladesh, the role that Nilima Ibrahim had played will always be remembered fondly. For us to forget her contribution would be an unforgivable crime.
---
Ramendu Majumdar is an actor, stage director and theatre producer. This article was abridged and translated from the original in Bangla by The Daily Star editorial team.
---
Follow

The Daily Star Opinion

on Facebook for the latest opinions, commentaries and analyses by experts and professionals.
To contribute your article or letter to The Daily Star Opinion, see our

guidelines for submission

.
---