Sher-e-Bangla AK Fazlul Huq
The Braveheart of Bengal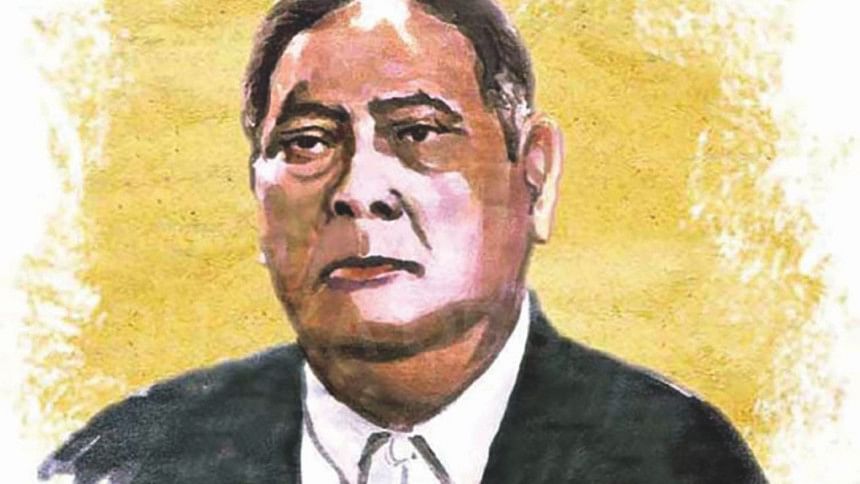 October 26 is an auspicious day for the Bengali people, for on this day in 1873 was born Sher-e-Bangla AK Fazlul Huq, the great leader of Bengal, who came as a saviour of his fellow Bengalis from the tyranny of the exploiting landlords and British colonial rule. A man who, with his rare qualities of head and heart, indomitable courage and mental power, fought throughout his life to protect the interests of his people. And it was he who instilled in them the belief and confidence that the Bengalis are to live as a nation with freedom, honour and dignity.   
Sher-e-Bangla AK Fazlul Huq is a legendary figure in Bengal and All-India politics and in the history of movements for social change. Like many other leaders in public life, Fazlul Huq had his lamentations over some of his past actions and decisions. But to delve into those is hardly possible in a short piece like this one.
Fazlul Huq lived a life of dignity and honour. Of course, there were occasions when circumstances around him were not all that pleasant. At times he had to confront resentful critics often misunderstanding his intent and purpose. 
Fazlul Huq's principal political adversary, Mohammad Ali Jinnah, founder of Pakistan and its first Governor General, lies buried in a grave in distant Karachi. Jinnah presided over the All-India Muslim League Conference at Lahore where Fazlul Huq, then Prime Minister of Bengal, moved the historic Lahore Resolution for a Muslim homeland in India. Only two years after he moved the resolution, Jinnah attacked him as a "treacherous person doing incalculable harm to the Muslims of Bengal." 
Mohammad Ali Jinnah as the Governor General visited Dhaka in March 1948 and addressed a public meeting on the Ramna Race Course ground (now Suhrawardy Udyan). In that meeting, he asserted that Urdu shall be the only State Language of Pakistan. Thus, he sowed the seeds of Bengali Language Movement, which ultimately led to the independence movement of Bangladesh. 
Jinnah, during his visit, must have realised that there was growing unrest and discontent among the Bengalis. He must have also realised the importance of a meeting with Sher-e-Bangla AK Fazlul Huq for a kind of reconciliation between the two stalwarts of All-India Muslim politics. It was at the instance of Jinnah that a reluctant Fazlul Huq was finally persuaded to sit for a meeting of reconciliation. The first session of talks between the two was somewhat of a failure and ended in anger and disgust. However, the second sitting seemed to be useful because of a conciliatory approach by an otherwise arrogant and uncompromising Jinnah. 
At the end of the meeting, Fazlul Huq's assurance of cooperation gave some relief to Jinnah, who was worried about the defence of Pakistan's Eastern Wing. 
Fazlul Huq, the illustrious leader of Bengal of All-India fame, was widely known to have a chequered political career and was often blamed by his critics for his vacillating character in politics. In the face of criticism by his rivals, Fazlul Huq stuck to his own ways and means in his political activities. He used to tell his people quite often that he had an ideal of his own for which he acted in the ways suiting the time and circumstance. 
By way of personal explanation, Fazlul Huq said, "It is my crime that I love the common man of Bengal, otherwise there would not have been any need for me to deviate from a chartered path or fixed opinion." He said, his ideal was to serve the greatest good of the greatest number of the masses of Bengal's poor peasantry and other have-nots. He also said that he had noticed in the whirlwind of complex politics that it would not be possible to perform the job properly. So, he had to change his opinion under compulsion. 
Fazlul Huq was a practising Muslim, proud of his Bengali identity, and staunchly believed in Bengali nationalism. He was secular in his approach to socio-political issues. And he always worked for Hindu-Muslim communal harmony. 
Fazlul Huq was considered by PC Ray, the great scientist, as a symbol of Hindu-Muslim unity on which depended the future existence of the Bengali nation. PC Ray, Fazlul Huq's one-time teacher, said he did not understand the Indian nationalism of the Congress. He knew only Bengali nationalism. And he believed that only Fazlul Huq could establish this nationalism. He said Fazlul Huq was "from head to toe" a Bengali and a Muslim at the same time, adding that he had never seen such an excellent combination of pure Bengali character and pure Muslim belief.   
In one of Fazlul Huq's brief biographies, Bhabesh Roy, the author, began his writing with lavish praise and compliments for Sher-e-Bangla as a leader. "Sometimes some people are born who love their motherland a lot more intensely, may be very differently. And in the process of loving their land and the people differently – they themselves emerge as a different kind of human being – extraordinary personality." AK Fazlul Huq, indeed, was such an extraordinary personality.
---
Amanullah is former chief editor of Bangladesh Sangbad Sangstha (BSS) and former director general of Press Institute of Bangladesh (PIB). 
---
Follow

The Daily Star Opinion

on Facebook for the latest opinions, commentaries and analyses by experts and professionals.
To contribute your article or letter to The Daily Star Opinion, see our

guidelines for submission

.
---