Kamaludddin Ahmed Khan: Keen, unconventional, relevant
Being married to Begum Sufia Kamal was certainly an important part of Mr Kamaluddin Ahmed Khan's life. He derived much joy and meaning, and perhaps some recognition, from this. But he never derived his identity from this relationship. In that, he was fiercely independent, and quite unique.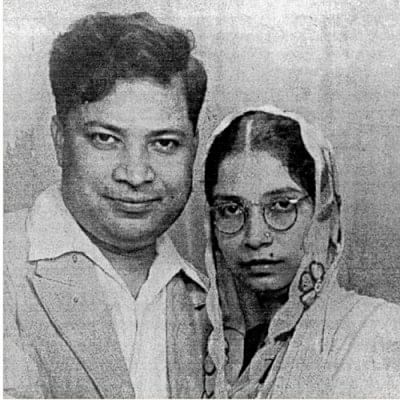 Being married to Begum Sufia Kamal was certainly an important part of Mr Kamaluddin Ahmed Khan's life. He derived much joy and meaning, and perhaps some recognition, from this. But he never derived his identity from this relationship. In that, he was fiercely independent, and quite unique.
This singularity was evident in several ways. First, in a compulsively oral culture where people are used to, and perhaps are expected to, being loquacious, he was a very quiet person. In some ways he would be the exact antithesis of the "Argumentative Indian" that Amartya Sen has made famous—the skilled and passionate interlocutors for whom debates and disputations were not an occasional engagement but a lifestyle. As Francis Bacon had indicated, knowledgeable people may talk, but it is only the wise who can listen. Being an "active" listener, he exemplified wisdom for us.
Second, in a society where patriarchy is so endemic and enduring, he chose to be different. He married a young widow with a child from a previous marriage (a child he brought up as his own daughter), and remained a doting husband to a woman who became one of the most celebrated and accomplished cultural/social personalities in the entire country. He had encouraged her education, supported her creative endeavours, took pride in her achievements, and translated many of her poems into English with much subtlety and authority. He could serve as an example to many husbands who do not allow their wives to reach their full potential because of their own insecurities and fragile egos. Equally, she could be an example of a woman who did not permit her considerable fame and moral authority to subvert or distract her from finding her own maternal and wifely fulfillment.
Third, in a country where one's location in the social hierarchy is often defined by conspicuous consumption, aggressive and relentless self-merchandising, and capitalising on complex networks of power and privilege, he had remained stubbornly, self-consciously, heroically humble and self-erasing. He never cultivated the rich and powerful, never sought any favours from anybody, and undertook to perform all his familial responsibilities without bringing attention to himself.
It is largely because of his unpretentious and unfussy persona that we knew so little about his own intellectual contributions. This needs to be explored because they are so wide-ranging, they indicate an informed and engaging mind wrestling with the issues of the times in insightful ways, and remain quite relevant today.
It is worth remembering that he was directly involved in the movement for the intellectual emancipation of the Muslims in the sub-continent. A rich tradition of Muslim thought in Bengal had been initiated through the writings and speeches of Nawab Abdul Latif, Syed Ameer Ali, Delwar Ahmed Mirza and others in the latter part of the 19th century, followed by Begum Rokeya Sakhawat Hossain a little later. It was not exactly comparable in scope, intensity and drama associated with the earlier Young Bengal movement pioneered by the students of Hindu College and inspired by the brief, charismatic and iconoclastic leadership of Henry Louis Vivian Derozio (who was only 17 when he joined the faculty of the College when it was established in 1817, and died when he was 22).
Nonetheless, it provided the context for the intellectual stirrings among the Muslims in Bengal which led to an unprecedented organisational and publishing liveliness in the beginning of the 20th century. Literary publications such as Moslem Bharat, Bangiya Mussalman Sahitya Patrika, Nawroz, Mohammadi, Saogat, Dhumketu, particularly Shikha (the influential magazine brought out by the newly formed Muslim Literary Society in 1926), and finally Bulbul in 1933 (under the editorship of Muhammad Habibullah and Shamsun Nahar), and provocative thinkers such as Abul Hossain, Kazi Abdul Wadud, Abdul Qadir, Abdul Huq, Abdul Karim Sahitya Bisharod, Mohammad Wazed Ali, Mohammad Imdadul Huq, Muhammad Shahidullah, Qazi Motahar Hossain, Abul Fazl, Qudrat-e-Khuda, Abul Mansur Ahmed and others, indicated a community in intellectual ferment, eager for knowledge, open-minded and sophisticated in debate and deliberation, and passionate about breaking out of the shackles of superstition, backwardness and stagnancy which were suffocating their own community.
He was situated within this exciting milieu. He was directly involved in the Muslim Sahitya Samaj, contributed to many journals of the period (including Shikha), and assumed a leadership role in Bulbul, becoming its co-editor in 1936 and presiding over its emergence from a quarterly to a monthly. He was deeply troubled about the role of religion in public life and lamented its cynical political uses. In the pages of Gonobani (edited by Comrade Muzaffer Ahmed) he pointed out that while "all civilised societies" are rejecting "religious extremism and communal divisiveness", India was doing the opposite. He briefly flirted with the ideas of democratic socialism and had once opined that India would be best served if it "rejected all obscurantist illusions about its past and accepted socialism for its future."
Central to his thinking were his concerns and commitments regarding Islam. He had spoken out against religious dogmatism, the dangers of "blind faith" indoctrination, the emphasis on empty ritual without real religious commitment, the marginalisation of women and a perverse prudishness regarding human sexuality, and oppressive social practices in some Muslim (Middle Eastern) countries. He deplored their lack of "humanity and sensitivity" in their dealings with the less fortunate, condemned polygamy among the males, and denounced some awkward penal practices (such as beheadings and amputations). It must be emphasised that he never disparaged Islam, or Muslims, per se.
Islam, to him, meant a faith that was based on forgiveness, justice and inclusiveness, and quite compatible with science and modernity. He noted the nonjudgmental aspect of Islam (in his words almost a "secular orientation") in terms of its approach to different faiths, cultures and practices where Islam could "co-exist" with others, even with those manifestly different. Some of his ideas on the subject were contained in his book Kothay Kothay (Conversations) published in 1968.
It may be possible that Sir Muhammad Iqbal's writings on religion may have influenced him towards a spiritually rich direction. He translated several of the chapters, and wrote the introduction to Iqbal's celebrated The Reconstruction of Religious Thought in Islam, when it was published in Bangla in 1957. His translation of Iqbal's doctoral dissertation (submitted to the University of Munich in 1908) on "The Development of Metaphysics in Persia" was published in 1965. However, he was absolutely indifferent to Iqbal's writings on politics.  
It is worth noting that he pursued a remarkable eclecticism in his tastes and tendencies. He translated Robert Browning's playful Pied Piper of Hamelin, wrote authoritatively on technical issues of science (e.g. "The Mysteries of Matter"), composed romantic poetry, referred to the sensuality in the relationship between men and women, and explored the political and philosophical tensions between the "East" and the "West".
But beyond everything else he had remained a man of letters, a Renaissance man nurtured in Enlightenment ideals and trained in the sciences. He read widely, thought deeply, and wrote with precision and conviction. Like many thinkers of his time he had struggled with the complexities, confusions and contradictions of an intellectual and political environment in flux. But, on some issues he had remained constant—his commitment to the principles of equity and justice (including gender equality), his belief in reason, progress and the common humanity of all, and his deep love for family.
If living a full life is a measure of a person's success, he was a very successful person. However, I suspect, knowing him as I did, that he would probably have dismissed that characterisation with a shy wave of the hand, and a vague smile.
---
Ahrar Ahmad is the director of Gyantapas Abdur Razzaq Foundation.
Email: [email protected]
This is an abbreviated version of an essay to be included in a forthcoming book on Kamaluddin Ahmed Khan.
---
Follow

The Daily Star Opinion

on Facebook for the latest opinions, commentaries and analyses by experts and professionals.
To contribute your article or letter to The Daily Star Opinion, see our

guidelines for submission

.
---