Widening gulf between Gulf countries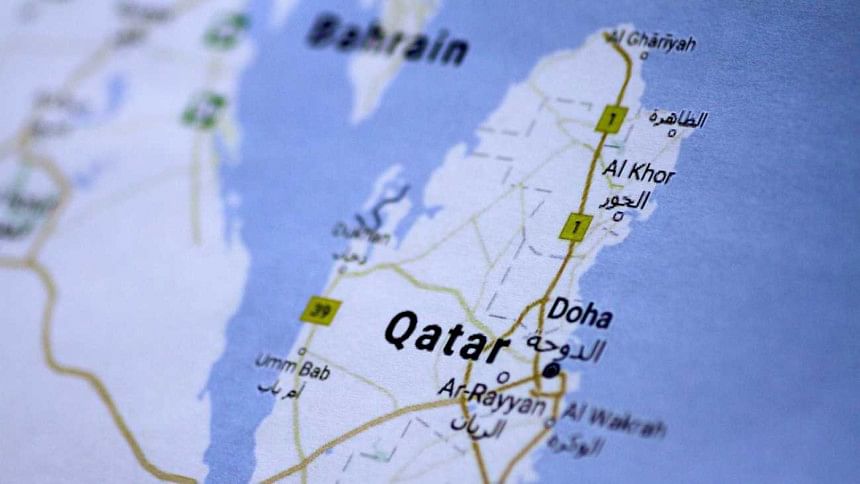 Tension is again rising in the Middle East after Saudi Arabia and its allies (mainly other Gulf countries) abruptly cut ties with Qatar, accusing it of supporting terrorism in the region. Although there was a similar conflict between Qatar and its neighbours three years ago, the current confrontation seems much more serious than anything we have seen in recent years, if not in decades. 
Flights to Qatar from the state airlines of these countries have already been stopped and people are being forced into various uncertainties. The fate of individuals, families and migrant workers from all over the world, including from Bangladesh, hangs on a knife-edge as the threat of obstruction, expulsion, or worse, heightens.
Saudi Arabia and the other countries have also cut diplomatic and economic ties with Qatar and have threatened further actions should it fail to address their concerns. While the 'official' reason given for severing ties by the Saudi-led coalition and for what is essentially a blockade of the country is that "Qatar is funding terrorism", reports from the world media tend to suggest otherwise.
The Independent (UK) reported that the Saudi-led coalition is "demanding that Qatar end its independent foreign policy and tame or close down its television station, Al Jazeera". Other news outlets have speculated that the immediate cause of the dispute are the deleted tweets from Qatar's state-run news agency where its supreme ruler Sheikh Tamim bin Hamad Al Thani had some warm words to say about Iran. Qatar has insisted that the tweets were a product of hacking. But the Saudis and its other Gulf neighbours are not buying it.
Saudi Arabia has time and again made it clear, in no uncertain terms, that it sees Iran as a hostile nation and, as a result, is vehemently set against other Gulf countries trying to cosy up to the Shiite majority country. In the eyes of many political commentators, Qatar has, in the last few years, shown some inclination towards wanting to do exactly that, and by doing so, has clearly upset the applecart, at least as far as the traditional foreign policy pursued towards Iran by Gulf countries is concerned. That is the only thing which explains why it is suddenly facing such wrath.
Another interesting point that is making the rounds is the fact that Qatar, which is the world's largest global exporter of liquefied gas, yields some of its gas wealth from its massive offshore North Field shared with Iran (who controls what it calls South Pars). For that reason, Qatar realistically has no other option but to cooperate with Iran, even though that could again potentially drive a wedge between itself and the Saudis.
Simultaneously, however, Qatar clearly did not want to alienate the Saudis. After all, 40 percent of all food supplies imported into Qatar previous to the recent developments came from Saudi Arabia. Saudi Arabia also can (and reportedly has) block the only land border of Qatar dealing the country a major blow. 
While Qatar may have failed to balance between the Saudi Arabian and Iranian ruling elite, following Donald Trump's visit to Saudi Arabia and call for the "isolation" of Iran "until the regime is willing to be a partner for peace", some in the media have indicated that the Saudi regime now feels emboldened to pursue its ambitions more aggressively. This, however, has yielded quite the unexpected result given that during his visit two weeks ago, President Trump had also greatly publicised the unity of Gulf countries (presenting a united front), which by all indications was to be led by Saudi Arabia.
Despite the quick disintegration of Trump's proclaimed unity amongst Gulf countries, the US President seems to have again backed Saudi Arabia over Qatar. After the Saudi led condemnation of Qatar, Trump tweeted, "So good to see the Saudi Arabia visit with the King and 50 countries already paying off. They said they would take a hard line on funding... extremism, and all reference was pointing to Qatar". 
Meanwhile, Turkey on the other hand dropped some very interesting hints. It has, for example, hurriedly passed new laws that will permit Turkey to provide greater military support to Qatar and allow the Turkish Army to conduct joint military exercises with the Arab country. The Turkish President too had a strong message to convey to all the parties involved when he said, "I want to clearly say that we disapprove of the sanctions on Qatar".
Moreover, we see diplomats from numerous countries scrambling back and forth trying to figure out what to expect and what their next move should be. In an interview with Al Jazeera, Qatar's Foreign Minister Sheikh Mohammed bin Abdulrahman Al Thani said Kuwait's ruler, Sheikh Sabah Al Ahmad Al Jaber Al Sabah, had asked Sheikh Tamim bin Hamad Al Thani, Qatar's ruling emir, to postpone giving a speech about the crisis on Tuesday night. Since then, there have been many more indications of the fact that Kuwait could potentially play a key mediating role between the two countries.
What, however, is needed now is for both sides to welcome the mediation no matter who the mediator may be. The Middle East has already been in flames for more than a decade. At a time like this, when unity among all Muslim nations is the need of the hour to address the numerous crises that already exists, and also when there is so much chaos in general in the region as a whole, the last thing the Middle East needs is another conflagration.
The world community too should immediately call for de-escalation of tensions and look to sort out the root causes of the existing problems; for an explosion in either of these two countries will have grave consequences for the world as a whole - especially in regards to the world economy given the quintessential role both these country play in the world energy market, notwithstanding the unimaginable and dire humanitarian crisis that any serious escalation may quickly give birth to. 
The writer is a member of the Editorial team at The Daily Star.