Martyrdom of Assange or death blow for journalism?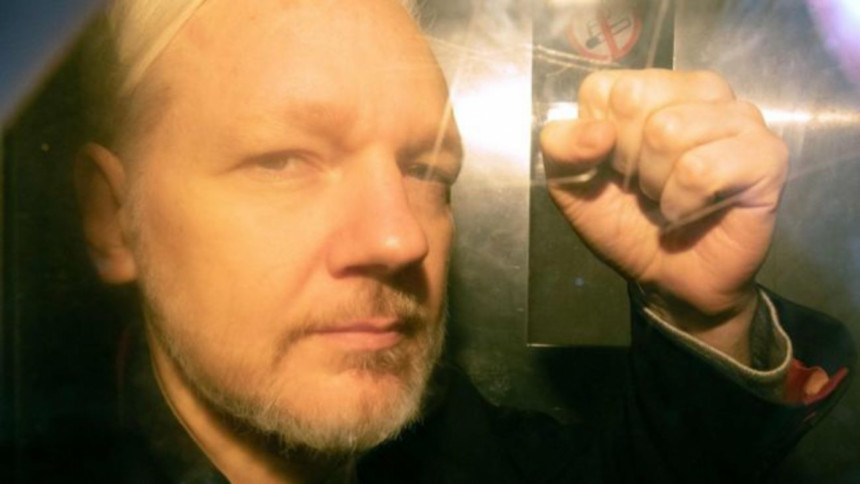 Aside from being nominated multiple times for the Nobel Peace Prize, including in 2019 by Nobel Peace Prize Laureate Mairead Maguir, Julian Assange has won countless awards for journalism—the 2019 GUE/NGL Award for Journalists, Whistleblowers and Defenders of the Right to Information sponsored by European parliamentarians the most recent one.
And prior to being dragged out of the Ecuadorian Embassy in London—in violation of international law and the Ecuadorian Constitution—on April 11 and charged by the UK for skipping bail when he sought political asylum in the embassy in 2012, the WikiLeaks founder had never been charged with having committing a crime. Including for rape in Sweden, as is sometimes mistakenly believed.
Yet since then, the conversation over Assange being extradited and prosecuted in the US has centred around whether he is a "journalist", or whether he "deserves" to be prosecuted for revealing US government secrets, particularly in the western mainstream media. The same media that for years have reprinted documents published by WikiLeaks. And has profited massively from its revelations, especially through the publications of the Afghan War Diaries, Iraq War Logs and Cablegate.
Ever since the Russiagate scandal began, Assange seems to have wholly been abandoned by journalists in the western media with some even calling him a "Kremlin agent"—although WikiLeaks has published more than 650,000 documents about Russia that mostly were critical of its government. But as journalist John Pilger said during a Sydney rally earlier this year, these attacks go way back.
In a plan conceived as far back as 2008, the Cyber Counter-intelligence Assessment Branch of the US Defence Department talked about "destroying the feeling of trust that is WikiLeaks' centre of gravity"—a huge deal for an organisation whose publications' authenticity has never been successfully challenged. Having read the numerous leaks showing how centres of power planned to destroy Assange and see it play out over the years, Pilger said: "It was as if they planned a war on a single human being, and on the very principle of freedom of speech. Their main weapon would be personal smear. Their shock troops would be enlisted in the media."
WikiLeaks, of course, has always been aware of this. Its philosophy, as explained by is Section Editor Sarah Harrison, has been to accept and understand that: "When you speak truth to power and speak loudly, it will bite back. That is when you know you have exposed the secrets they want to keep hidden."
Such determination in the face of persecution prompted Amnesty International's Global Award winning journalist Chris Hedges to write an article titled, The Martyrdom of Julian Assange. And in it: "If Assange is extradited and tried, it will create a legal precedent that will terminate the ability of the press, which Trump repeatedly has called 'the enemy of the people,' to hold power accountable…First Assange. Then us." And this is what the persecution of Assange is really about. And what the media should have focused on, and should right now be extremely concerned about.
Because this case is not only about Assange. It is much more than that.
It is the most important case in the history of press freedom. And on people's right to know what the powerful are doing—especially when it is done in their name or affects them directly.
James Goodale, lawyer and former general counsel of the New York Times said that "the prosecution of Julian Assange, if it succeeds, would be a "near death blow" to "investigative reporting based on classified information". Whistleblower of the Pentagon Papers, Daniel Ellsberg, said that, "The pursuit of Julian Assange would…chill all the whistleblowing and leaking". Many investigative journalists have also opined that prosecuting Assange will, in essence, "criminalise journalism" itself. And open the door for others who have reprinted or covered WikiLeaks' publications—or any classified information for that matter—to be indicted as well.
This is what the Obama administration described as its "New York Times problem" when seeking to prosecute Assange and WikiLeaks—that it would also have to indict the New York Times for publishing the same material. Which is why the US is yet to bring espionage charges against Assange (as many believed it would), although that is by no means off the table.
Concerning the US computer intrusion charges that have been made public, journalist Glenn Greenwald writes, "even if one accepts all of the indictment's claims as true, Assange was not trying to hack into document files to which Manning had no access [Manning already had authorised access and tried unsuccessfully to give the information to the New York Times and Washington Post first, before WikiLeaks], but rather trying to help Manning avoid detection as a source." That is something all journalists do—protect their sources. Therefore, even though the US charge tries to make it appear that other journalists don't have anything to worry about, as they've found a way around their "New York Times problem", the truth is that they haven't.
So by smearing Assange with publicly known lies at the bidding of intelligence agencies that WikiLeaks, through its publications, has made transparent, what the media is doing is wrapping a noose around its own neck. As it fails to see that the prosecution of Assange is really designed to set a legal precedent that will enable the US government to imprison journalists for trying to hold it to account using journalism.
According to Jonathon Cook, winner of Martha Gellhorn Special Prize for Journalism, those who accept what the US government is attempting to do to Assange have "signed off on the right of the US authorities to seize any foreign journalist, anywhere in the world, and lock him or her out of sight."  That is a precedent not only never seen before, but that has remained unimaginable till now—given the potential consequences it may give rise to once set.
This is why every journalist, media organisation and defender of people's right to know, regardless of how they personally feel about Assange, must strongly speak out against his persecution. As the fact is that though it's Assange who is right now in the dock, it is journalism that stands trial. And why Jim Kavanagh warns: "The minute after [Assange's] sentence is pronounced, every journalist and citizen will open their eyes in a world where a lot of important things they could expect to reveal and see a minute ago will now stay hidden…At that moment, all the bullshit irrelevancies and avoidance mechanisms will instantly dissipate, and it will be clear to everyone what the only issue always was. Too late."
Eresh Omar Jamal is a member of the editorial team at The Daily Star. His Twitter handle is: @EreshOmarJamal