An unrealistic quota system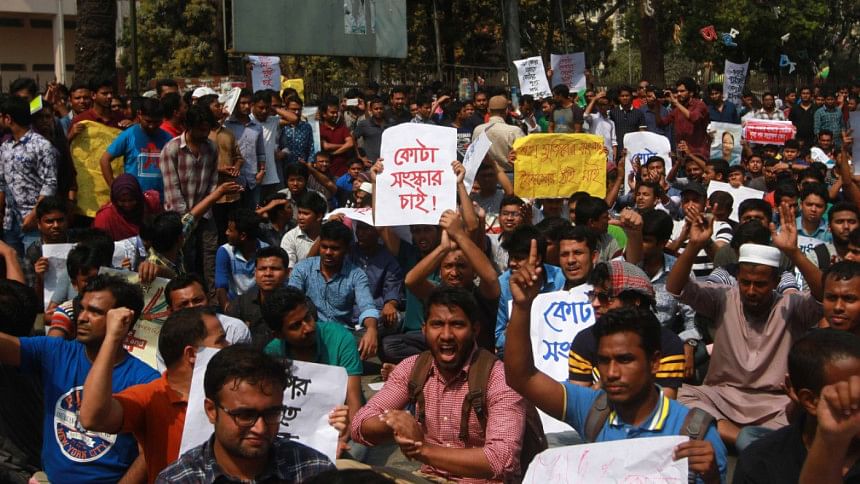 While the BCS examinees and students of various public universities and colleges across the country have been demonstrating on the streets demanding reforms in the existing quota system in Bangladesh Civil Service (BCS) examinations, some groups of freedom fighters' children have also been protesting, but clearly, for the opposite reason. They have claimed that these protests and demand for reforms are actually a "conspiracy" against the freedom fighters' quota. These groups are also demanding quota in all government recruitment processes.
Currently, the freedom fighters' children and grandchildren enjoy 30 percent quota in the BCS exams. While 44 percent of recruitment in the BCS is done based on merit, the remaining 56 percent is recruited under various quotas. Needless to say, this system deprives many meritorious students with good educational backgrounds, of their desired jobs in the civil service. The result is inevitable—a less-than-efficient bureaucracy.
In the wake of such a situation, demands have been made by students, educationists as well as former bureaucrats to reform the quota system, including the freedom fighters' quota. When the quota system was first introduced in Bangladesh, it was done to ensure the society's disadvantaged groups' representation in the civil service.
According to clause 1 of Article 29 of our constitution, "there shall be equality of opportunity for all citizens in respect of employment or office in service of the republic." And clause 2 of Article 29 states that "no citizen shall, on grounds only of religion, race, caste, sex or place of birth, be eligible for, or discriminated against in respect of, any employment or office in the service of the republic." Thus this quota system is not only discriminatory but also goes against our constitutional rights.
However, our constitution has given the state the right for "making special provision in favour of any backward section of citizens for the purpose of securing their adequate representation in the service of the republic" [(Article 29(3)].
While some of the quota provisions seem to be quite logical and need to stay, the others require reassessment. Keeping one percent quota for the physically challenged, introduced in 2012, is surely a good decision. And also, keeping five percent quota for indigenous communities seems to be based on valid grounds. But 10 percent quota for women and another 10 percent for "people of districts lagging behind" should be reviewed and readjusted based on the representation of these groups in the civil service.
However, one of the most discussed issues is the 30 percent quota that has been kept for the freedom fighters' children and grandchildren. We are not opposed to freedom fighters' quota, we are opposed to their misuse. In fact, freedom fighters' quota in BCS and all other government recruitment tests has resulted in many forms of corruption. Because a freedom fighter's certificate would entitle their children to government jobs, important positions in society and many other benefits, a lot of fake freedom fighters have emerged all across the country.
Last year, when the Liberation War Affairs Ministry was making a new list of freedom fighters, one and a half lakh people applied to be included in the list. But sadly, it was found later that most of them were not freedom fighters. At that time, AKM Mozammel Haq, Liberation War Affairs Minister, said that not even five percent of them were freedom fighters (Prothom Alo, June 23, 2017).
Allegations of irregularities in the process of listing freedom fighters are nothing new, since every time the government changes, the list also changes. There have also been allegations that members of the committee in charge of making the list, often abuse their power to include names in the list in exchange for money excluding the real freedom fighters.
In 2016, Prothom Alo reported that one former commander of freedom fighters (muktijoddha commander) provided fake freedom fighters' certificate to 19 people of his village in exchange for a large sum so that they could get jobs in the police force (August 10, 2016).
There have also been instances of government officers posing as freedom fighters. In 2014, five high-ranking government officials' freedom fighters' certificates were revoked because they had obtained the certificates showing fake documents. Three of them were secretaries, one was a joint secretary and the other was chairman of the Privatisation Commission.
Chances are that without a genuine freedom fighters' list, the freedom fighters' quota in BCS and other competitive exams will continue to be misused. But this is just one aspect of the problem.
Another major problem with the freedom fighters' quota in BCS is that many of the reserved posts for freedom fighters' children and grandchildren remain vacant for a long time, and because these positions are reserved, it is not possible to recruit other competent candidates in these positions. This serious flaw in the system must be removed by recruiting candidates in those posts based on merit.
Most of all, the quota system can't be there forever and should be reviewed from time to time. According to Dr Akbar Ali Khan, a former adviser to a caretaker government, there might be a quota reserved for freedoms fighters' children but that should only be applied to those who still get allowance and were given accommodation facilities from the government (Prothom Alo, February 18, 2018).
I personally know a number of freedom fighters who never tried to get any certificate. Although they struggled to live with their limited income, they never wanted to get any privilege from the state—not for themselves and not for their children. I believe most of our freedom fighters hold the same principles. That is why they are our role models. We take inspiration from their courage and sacrifice during our Liberation War. And we believe, giving them, their children and grandchildren undue privilege can't be the proper way of showing them respect.
And the government's responsibility does not simply end with providing the freedom fighters with quota facilities, rather, steps need to be taken to improve their overall living standards and to provide their dependents with quality education so they are equipped to compete with regular candidates in the competitive public exams.
The current government has been saying all along that they will give preference to meritorious people in the government service. By reforming the disproportionate quota system as well as overhauling the whole BCS examination process, they can prove that they mean what they say.
---
Naznin Tithi is a member of the editorial team at The Daily Star.
---
Follow

The Daily Star Opinion

on Facebook for the latest opinions, commentaries and analyses by experts and professionals.
To contribute your article or letter to The Daily Star Opinion, see our

guidelines for submission

.
---