The 'Get-Rich-Quick Syndrome' and our dilemma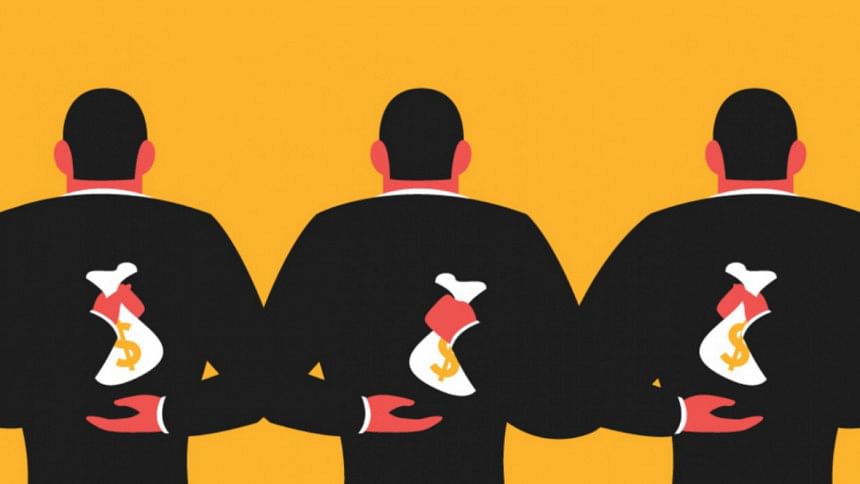 How to get rich quick? That's the question I once asked my professor of economics when I was studying in the United States in the late '80s. Without a moment's hesitation, he said, "Well, son, if getting rich is really important to you, then you should probably not study economics, better go to any third world country and start your own business or just get into politics." At the time I didn't have a clue what he was talking about and was unable to follow his recommendations. But after coming back to Bangladesh it didn't take me long to realise and understand that what he was saying had truth to it.
 In most developing countries today, political corruption include extortion, cronyism, graft, embezzlement, nepotism, and fraud; bribery in the awarding of business contracts are common and the governance system is weak. Bangladesh is no exception. What we see is for some people politics is a family calling; for others, just business—a means to acquire wealth through the preferential allocation of contracts once in office. Though our leaders often claim that their politics is for the people and for the welfare of the country, in reality what we see is that many of them serve themselves upon being elected to serve the people.
 Today, it is a commonly accepted fact that politics is the best profession that one can opt for if one aspires to make a lot of money in the shortest possible time. Politics as a career is becoming lucrative in our country, and more and more people are getting interested in this profession. When a person, coming from the lower rung of the social ladder becomes a politician, they magically rise to the highest rung of the same hierarchy. Although our politicians are on the highest rung of the social order, some of them lack a strong moral fibre. It is this feature of our politicians that makes them a class apart from the politicians of well-governed  countries.
 Dishonesty in politics can be found everywhere; but here, the manner in which some politicians now are manipulating the system, by taking control of their local areas and amassing fortune through tender manipulation, shady land and sand business, by extorting money from the transport sector and running drugs and gambling operations, and illegal casinos, are worrying. Economists argue that political corruption undermines the rule of law, tilts the playing field and creates unfair competition, and increases the cost of doing business that is eventually paid by the common people. It also damages investment environment, and above all, erodes trust in government and politics. At a discussion on Bangabandhu's 7th March speech, Awami League leader Obaidul Quader asked, "How many politicians can honestly say they are completely clean?" It is the politicians who should be blamed for widespread corruption in Bangladesh, he added.
 According to the 2018 Corruption Perceptions Index reported by Transparency International, Bangladesh is the 149th least corrupt nation out of 175 countries. Unpleasant as it may sound, corruption has spread its web in all the sectors of Bangladesh. Our banking sector is currently one of the most affected victims of corruption. People with political connections find it too easy to borrow from financial institutions with no intention to repay. The stories of Hallmark-Sonali Bank loan scam, Bismillah, or BASIC Bank loan fraud and embezzlement of thousands of crores of taka from the state owned and private commercial banks by various business organisations, and stock market manipulation, are known to all. There are allegations that in many of these banks the board of directors have been formed mainly on political consideration; these people have earned huge sums of money by approving and disbursing loans. Meanwhile, the United Nations in a report published on May 7, 2018 also stated that the banking sector in Bangladesh had been plagued by financial scams, non-performing loans and weak monitoring problems, which might cause a macroeconomic risk in the near term.
 The common people expect that our local and national representatives will raise their voice on the key issues of economic development, health, education etc., and will create an enabling environment for people to enjoy long, healthy and creative lives. However, many, if not all, who join politics have other motives. The deadly virus known as "get-rich-quick syndrome" has permeated almost every facet of our lives and hence causing indiscipline at all levels—from the literate to the illiterate, the aristocrat to the underclass, everyone is suffering. The need to become wealthy is so deeply ingrained in our psyche that our leaders, teachers, students, doctors, engineers, public servants, social workers have lost their real goal, forgotten their real identity, while moving towards only one thing in their lives: money. It's at the centre of virtually all thoughts, decisions and activities.     
 Today, the concept of honesty and human dignity seems lost in our politics. It is now an open secret that people join politics not to serve the nation but to earn wealth within a very short span of time. Various media reports suggest that more than 61 percent lawmakers in the present parliament are from the business community. It is a definite indication that political standards are going down to abysmal levels, because when politics turns into a business for the politicians they stop considering the interests of the masses. Our President Abdul Hamid rightly said, "It's a matter of regret that today's politics has gone into the pockets of businessmen… We have to get rid of it." Unfortunately, politics nowadays does not attract too many committed people. However, the political parties can change this scenario: by stopping criminalisation of politics and by promoting honest, educated and service-minded people who will put national interest first.
Abu Afsarul Haider studied economics and business administration at Illinois State University, USA. He is an entrepreneur currently living in Dhaka.
Email: [email protected]