A personal tribute to Nusrat Jahan Rafi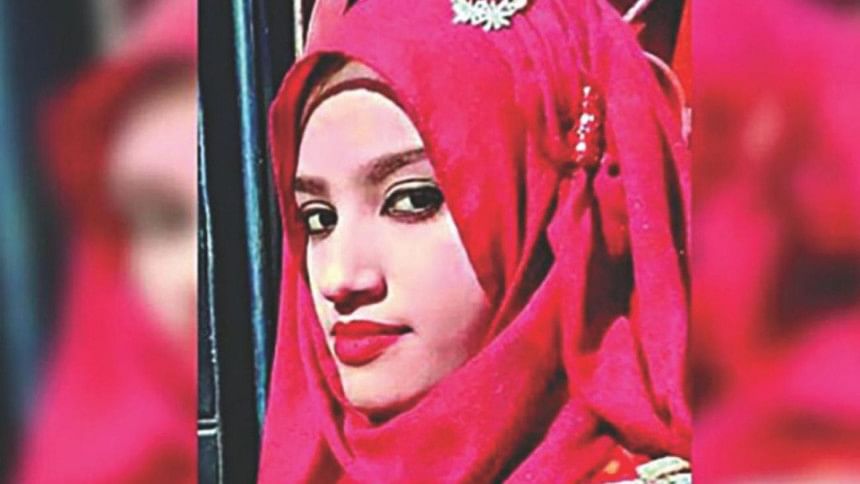 My first visit to a madrasa school for female students was in July 2014. We met in a large rectangular room, with a faint damp stench, which they used both as a classroom and as their bedroom. The madrasa employs a mentally challenged woman as caretaker. She walked us through a narrow corridor to the room where we were to meet. The girls were taking a nap, as they often are, after Asr. After a few loud knocks on the door, one of the little ones, barely about eight, came out rubbing her sleepy eyes.
Immediately, the caretaker took a stick that was lying around and started beating it on the floor and chasing the girls about the room. That woke them up and suddenly, 20 to 30 girls were scurrying around, restlessly. I told the woman it wasn't necessary and we started to reassure the girls. I noticed how afraid they were, or probably just shy of outsiders. They huddled together, clutching their knees, quite literally shrinking themselves, covering their faces as they spoke. Over the years, with significant effort from the teachers, some members of the administration, our volunteers and staff members and the girls themselves, they have grown more into their skin. They have started to unshrink. And I have stood a proud witness to their unshrinking.
Until I read that Nusrat Jahan Rafi, the 18-year-old Alim examinee who was set ablaze on the terrace of the madrasa she studied and had sustained 80 percent burn injuries on her body, had died after a five-day long battle with death.
When I am asked why I do what I do, what my vision is, I think about making space for more girls like Nusrat to flourish. But I am forced to consider the possibility, that maybe, this petty world, will never make enough space for Nusrat and her kind. That as soon as my girls start to unshrink themselves, to grow the courage to fly, they too will have their wings set ablaze by misogyny. They will be ripped apart by someone gripped by some inexplicable fear that she will take up too much space. That she will become something they cannot contain. And so she must be destroyed.
The truth is, she will. Or she would have. This girl was not one to be silenced. She was, like a phoenix, born to rise over and over again from the ashes. And so she did, till her very last breath. She rose over and over again. Her battle started long before March 27, when her family filed a formal complaint with allegations of sexual harassment i.e. attempted rape, against the principal of the madrasa, Siraj Ud Doula. But this wasn't the first time she had been subjected to sexual harassment. Two years ago, the daily Manab Zamin reported, this same young woman, 16 at the time, upon rejecting the advances of a local goon, had had chun thrown into her eyes. She had reported the incident back then too and afterward, with her eyes still burning from the attack, she sat for her exams. Two years later, after an attempted rape by her school principal, she once again displayed the courage to go to her family, report the incident, and then lodge a formal complaint against the head of her school, who is also locally powerful and influential.
At the point at which she was set on fire by her attackers, Nusrat was adamantly refusing to withdraw her complaint. She was set on fire on the school grounds, the rooftop of the building, where she was supposed to appear for her board examination. I am struggling to find the words to capture my disbelief at the sense of impunity that someone must have in order to think that someone will be set on fire in a school, during an ongoing board examination and the attacker(s) will go scot-free. But that, unfortunately, is the predictable reality.
Nusrat's family reported that the local police had tried to muddy the process. Reports on leading national dailies quoted the officer in charge commenting that they would check if she was really attacked or if it was an attempted suicide. It took several days for the police to actually bring in the principal for questioning. But what I find more astounding is that local students and residents brought out a rally to demand the "unconditional release" of Sirajuddaulah. Needless to say, the only possible explanation is local political influence.
Over five days, Nusrat fought a valiant battle to live, giving in right after she made the following statement, "I will protest, I will protest this crime until my last breath." As I watched the video, now being widely circulated on Facebook, my eyes caught a poem that was written by two girls we work with as part of a workshop on Women's Day. Loosely translated, as follows:
My dream is very big
I want to be free
I will make my dream come true
I will not stay captive.
When I read the poems my girls write, I am usually filled with hope. But this time, I am gripped by fear. What if they do start to claim their freedom? What if they grow as unabashedly fearless as Nusrat? Will they, too, be set on fire?
With no certainty can I claim that they won't. Misogyny is so deep-seated and so rampant, it is ready with kerosene in hand to set fire to anything that rouses it, on school grounds, buses, trains and homes. Be it a two-year-old baby or an 80-year-old woman, misogyny burns everyone.
But how many can you burn? A phoenix obtains new life by arising from the ashes of its predecessor. Over and over again.
Shagufe Hossain is the Founder and Executive Director of Leaping Boundaries. Leaping Boundaries aims to empower female madrasah students by increasing their visibility and access to platforms where they are traditionally underrepresented.