Aritry's deafening cry for help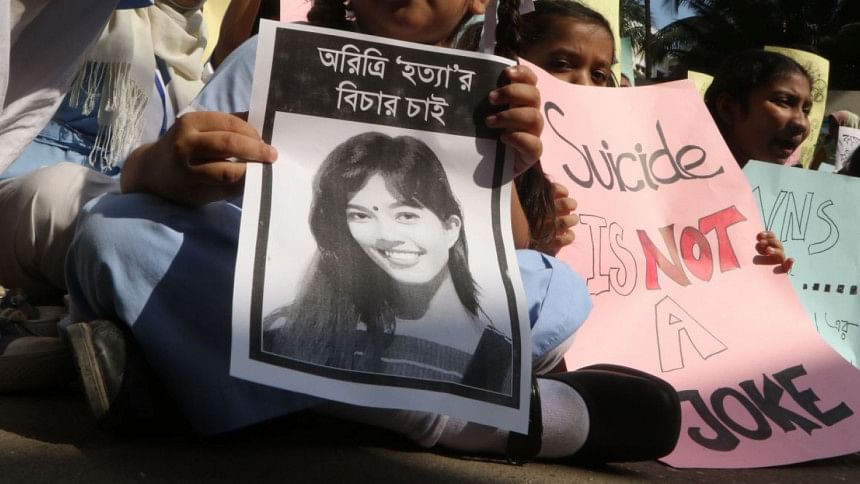 Aritry Adhikary—a young life cut tragically short. Her parents probably had never imagined that their daughter would make headlines for the reasons that she did.
The tragic suicide of the ninth grader of Viqarunnisa Noon School and College on Monday captured everyone's attention overnight. On the same day that she took her life, Aritry, after being accused of "adopting unfair means" in an exam because a mobile phone was found in her possession, was rebuked and humiliated by the principal and other teachers of Viqarunnisa in front of her parents. The school authorities reportedly asked her parents to collect the transfer certificate the following day, which the principal of the school has denied.
It is impossible to know what was going through her mind. Perhaps Aritry felt responsible for the humiliation her parents had to endure. Perhaps she was already braving a mental toll of a host of other things and the obnoxious behaviour of Viqarunnisa School authorities was the final straw. But whatever the case, Aritry's suicide has yet again laid bare one of the less-talked-about issues plaguing our educational institutions: a complete disregard for students' mental health. It goes to show just how ignorant school authorities, including teachers and principals, in the country are when it comes to ensuring students' mental wellbeing. It also raises questions about the environment of educational institutions, no matter how "prestigious", which is supposed to be a safe space for students.
Aritry is not the first to take her own life being unable to cope with humiliation and mental pressure and trauma. But we have repeatedly ignored the signs and failed to address them from an institutional point of view. Because if we had, teachers would know better than to break a child's spirit and self-confidence in such a cruel manner.
Not a single teacher stood up for her or thought to intervene and suggest that the actions being taken by the school were a bit extreme. No one seems to have spoken up and said that there are less harsh ways in which her transgression could be dealt with. Not a single school authority figure rebuking her seemed to understand what that kind of humiliation does to a child.
All this time we had been crying hoarse about the lack of qualified teachers in our schools. But what Aritry went through, and similar situations that countless children face on a daily basis, only prove that the need for empathetic, compassionate teachers in our schools who are attuned to the needs of a student's emotional wellbeing is much more urgent than teachers with educational qualifications alone.
What this also points to is a toxic culture of learning. Aritry's grief-stricken father said, "Although my daughter offered apology several times, the teachers didn't listen to her; rather they asked us to get out of the office." This is typical of educational institutions that operate on outdated modes of learning where strict punishments and "no-nonsense" policies are equated with a school's prestige and excellence. Harsh punishments disproportionate to the offence are supposed to be a "life lesson" of some kind. But this defeats the very purpose of what a school should strive to be: a place where children can learn from their mistakes and grow without being ridiculed or degraded. Such arbitrary use of punitive measures without considering the specific circumstances and the effects they can have on a child's psyche goes to show that even the most reputed schools can be filled with insensitive personnel unfit to do their job.
It also makes you wonder how at this day and age, some of the most well-renowned schools in the country have people in positions of authority who have an embarrassingly narrow view of education—people who have no idea that education goes beyond rules and results. Because what they are essentially doing is killing children's spirit under the pretext of "enforcing rules", no matter how illogical or unfair those rules may be. We can hardly take solace in the fact that suspension of three teachers of Viqarunnisa has been ordered by the education ministry because mere suspension cannot fix decades of mistreatment and abuse of schoolchildren.
With so much ignorance prevailing, it is no wonder that schools are so ill-equipped to deal with students' mental health issues. When asked about the state of facilities in schools for providing students with counselling services, Dr Mahjabeen Haque, chairperson of Department of Educational and Counselling Psychology, University of Dhaka, unequivocally said, "It's poor. Some English-medium schools and some schools under the national curriculum have counsellors. They've slowly begun to see the need for it. Students who have been dealing with bullying, depression, etc., have come forward and small preventive measures have been taken to minimise the effects. But most schools under the national curriculum still don't provide counselling services. Teachers think they can play the role of counsellors because they guide students. So there is a fundamental misconception about what counselling entails and why it's so important. It requires skilled persons with years of practice."
The need for trained school psychologists in our schools has never been more urgent. Cut-throat competition in the education system means that teachers have higher expectations from students and students, too, have higher expectations from themselves, said Dr Haque.
Moreover, school teachers and authorities who rely on extreme punitive action have no idea, it seems, about the basics of child development. Because development of a child or adolescent's clinical, emotional, social, or intellectual maturity does not always happen at the same pace, according to Dr Haque. This means that each child has to be nurtured differently. And the life stage that Aritry was in, is an especially sensitive period for all adolescents, where emotions and impulses are constantly in a flux. This is when extra care and patience are needed when dealing with adolescents so as not to drive them over the edge.
It is not just her educational institution that failed Aritry; it is our collective failure. We have brushed under the carpet, for far too long, the misery of children overburdened with the pressure to succeed by any means necessary, that too with no room for error.
Aritry's death was a cry for help. And let this be a wakeup call.
---
Nahela Nowshin is a member of the editorial team at The Daily Star.
---
Follow

The Daily Star Opinion

on Facebook for the latest opinions, commentaries and analyses by experts and professionals.
To contribute your article or letter to The Daily Star Opinion, see our

guidelines for submission

.
---