A logical antidote
Increasing women's religious leadership to counter violent extremism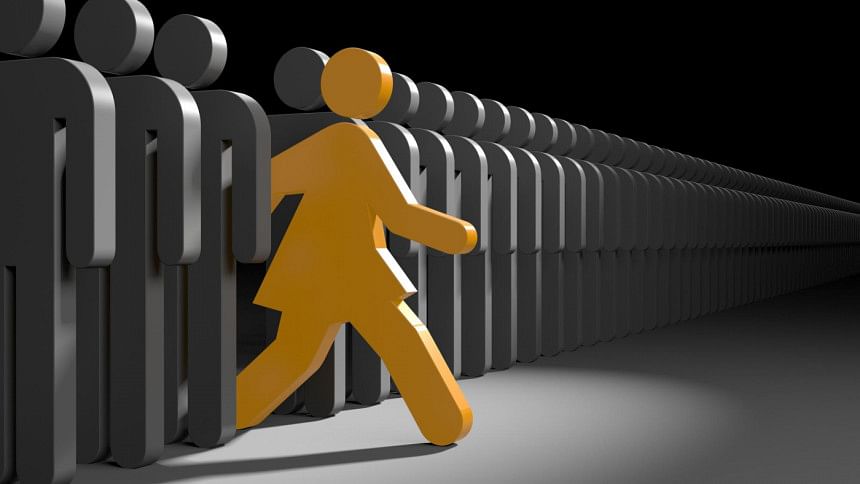 Currently, the Bangladesh Ministry of Foreign Affairs and UN Women Bangladesh are jointly drafting a National Action Plan on Women, Peace and Security (NAP) with a view to implementing the UN Security Council Resolution 1325, which calls for increasing women's participation in efforts to maintain peace and security. The NAP shall aim to ensure women's meaningful participation in the prevention of conflict and violent extremism. It is in this context we can discuss how increasing women's religious leadership can help curb the spread of violent extremism in Bangladesh.
It is important to first define what is precisely meant by violent extremism. Professor Lynn Davies defines violent extremism as "when you do not allow for a different point of view; when you hold your own views as being quite exclusive..and when you want to impose this view on others using violence if necessary"(A Teacher's Guide on the Prevention of Violent Extremism, Unesco).
According to UN Women Asia and the Pacific, women are often the first victims of violent extremist groups, experiencing horrific violations of their basic and fundamental human rights. Since the ideological basis of violent extremism is inherently regressive and misogynistic in nature, a rise in violent extremism leads to a rise in and different manifestations of violence against women. These include various forms of gender-based discrimination and changes in societal attitudes towards women's dress code and their role in public life. Women become victim to the use of "othering" and derogatory language which portray them as being inferior. All of these work to severely obstruct female educational and employment opportunities and result in an acute restriction on women's mobility, freedom of choice and lifestyle.
In Bangladesh, violent extremism has led to a specific type of violence against women which can be dubbed as the epidemic of "fatwa violence", whereby members of the rural male elite inflict cruel, inhumane and degrading punishments on women in the name of religion which are in reality extra-judicial, ad-hoc punishments which usually go against both state law and religious scripture. For instance, in January 2011 a shalish in Shariatpur, Dhaka ordered 100 lashes for Hena Akhter, an adolescent girl, for an alleged affair, though by most accounts she had reported being sexually abused instead (Bangladesh: Protect Women Against 'Fatwa' Violence, Human Rights Watch). She collapsed during the lashing and ultimately died. In another case, in the same month, a local shalish blackened a woman's face with coal, forced her to wear a garland of shoes, and paraded her around the village for marrying her brother-in-law long after her husband had died. Her parents later found her dead in her house and said she had committed suicide after the incident. Most recently, in December 2017, an imam of a local mosque in Kushtia district issued a fatwa prohibiting women from going out of their homes to work in farm fields and even used the loudspeakers of the mosque to spread the message. As a result, local women of the village, even those who have to work for their own sustenance, were afraid of going outdoor.
A study by Monash University's Gender, Peace and Security Research Centre on the role women play in countering violent extremism (CVE) found that women are "first responders" to possibilities of radicalisation within their communities since experiences of women provide early signs of the spread of violent extremism. Therefore they can play a cardinal role in identifying and countering extremism before it takes a stronghold. Furthermore, the Monash study also found that pushing for gender equality can be the most significant counter-narrative to extremist ideology since they are diametrically opposed. It is appreciable that a 2014 policy report found that the empowerment of women has been a prominent feature in local CVE efforts in Bangladesh (A Gendered Approach to Countering Violent Extremism, Brookings Institute).
However, these efforts specifically pertained to the economic empowerment of women (through micro-lending programmes, primary school attendance and garment factory jobs) since Bangladesh identified poverty as one of the main sources of radicalisation. Since misogynistic and sexist interpretations of religious texts lie at the crux of the violent extremism problem in Bangladesh, local CVE efforts should naturally also include the religious empowerment of women. As such, it is recommended that the NAP incorporates a specific programme which seeks to increase women's participation in religious leadership, scholarship and dialogue with the help of different government ministries.
The first step can be to create female specific bursaries and grants to undertake formal study of Islamic law and sciences in public research universities such as Bangladesh Islamic University in Kushtia. This can be done through an online application system so that interested females can apply from across the country and candidates can be shortlisted through a purely merit-based assessment. This may be supported by the Ministry of Education or more specifically the University Grants Commission. 
The second step can be to employ the top-performing graduates in leadership roles upon completion of their studies in bodies such as the Bangladesh Islamic Foundation where women are at present severely underrepresented. Here these female scholars can engage in research, training and publications which promote egalitarian and peaceful interpretations of religion to counter the hate-based ideology of violent extremism. These female scholars may also be employed in public universities where they can hold leading academic and teaching positions to shape the views of future generations. This may be supported by the Ministry of Religious Affairs and the Ministry of Education.
The final step can be to grant publicity and a platform for these female religious scholars by publicising lectures and talks given by them on social media and other platforms with the widest reach, such as the state-owned television network, BTV and state-owned radio, Bangladesh Betar, etc., to shape and change public perceptions on women's religious leadership. This can be supported by the Ministry of Information and Communication Technology.
It is high time we recognised that the severe dearth in women's religious leadership creates the very space in which sexist and misogynistic interpretations of religion can freely operate. Therefore it is absolutely crucial that the religious empowerment of women be part and parcel of our fight against the rise of violent extremism. In closing it may be pertinent to quote Fatima Nezza, a female imam from Morocco: "If you train a man, you train one person. If you train a woman, you train an entire community."
---
Taqbir Huda is a researcher at Bangladesh Institute of Law and International Affairs (BILIA) who presented this paper at the National Symposium on the National Action Plan on Women, Peace and Security jointly hosted by Ministry of Foreign Affairs and UN Women Bangladesh in January 2018.
---
Follow

The Daily Star Opinion

on Facebook for the latest opinions, commentaries and analyses by experts and professionals.
To contribute your article or letter to The Daily Star Opinion, see our

guidelines for submission

.
---