If not now, then when?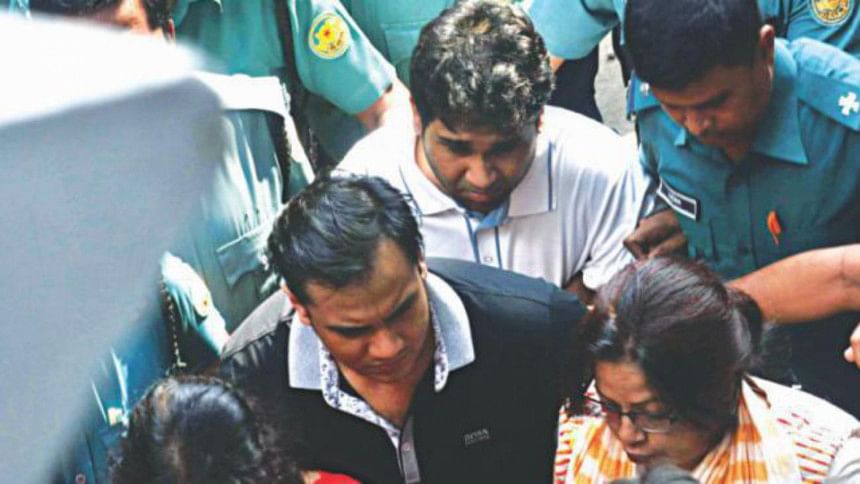 Rupa Khatun was raped and murdered on a bus near the Tangail-Mymensingh road in Tangail's Madhupur upazila last August. This past week, four of the men who raped and subsequently killed her were sentenced to death.
Over in the US, Muhiyidin Moye, a leader of the Black Lives Matter movement in Charleston, South Carolina, was shot dead in New Orleans on February 6. In response, the media highlighted that "he had stolen a Confederate flag." As if that act of protest, as it were, somehow justified his death. (Also, he had only attempted to snatch a Confederate flag from a protester, he didn't actually steal anything.) We know nothing about who shot Moye.
A Bangladeshi chemist living in the US for 30 years, Syed Ahmed Jamal, was arrested by ICE on January 24 as he was preparing to take his daughter to school. Scores of comments on social media said that his arrest was justified, as he should have known better than to not apply for citizenship on time. As if he didn't. On Wednesday, we learnt that Jamal, who was put on a flight to Bangladesh by immigration authorities, was allowed to remain on US soil during a layover in Hawaii after an immigration appeals court granted another stay of his deportation mid-flight.
These stories bring to the fore two related problems: the disparity in sentencing laws and our collective search for the perfect victim.
When it comes to supporting victims of any form of injustice, we like to dwell on what is popularly known as "the other side." That there is another side is not really the issue at hand when someone is killed, abused, or violated. The "other side" is merely justification for oppression. We know this well. Yet, when Rupa travelled by herself on public transportation, we talked about why she didn't know better, but not about the culture of rape on public transportation in South Asia. When Moye was killed, we resorted to vilifying the entire BLM movement as a "terrorist organisation." When Jamal was set to be deported, we talked about him violating US laws.
But, these cases are not all alike, nor are they black and white. Let me highlight the nuances.
Unlike Moye, Jamal had popular support. In supporting Jamal for being "perfect" in all other ways, we participated in propagating the model-minority myth, while espousing the notion that only certain kinds of immigrants are welcome in the land of the free. If Jamal had ever been arrested, or had been found self-medicating because he did not have health insurance, we would have withdrawn that support. We made clear that we only support people who are pristine, almost like children. Indeed, Jamal's three children helped his case, it appealed to our paternal and maternal instincts.
We made clear that those who dare to defy social norms or take part in protests are not worthy of support. Instead, they "have it coming." They are doubly unworthy if they don't look a certain way, if they belong to a particular social class.
But this works the other way too. If you are a perpetrator who belongs to the right social and economic class, we have your back, we keep reiterating, ad nauseam. The multi-party rape that occurred at Raintree Hotel in Dhaka is an excellent example. The police commissioner allegedly tried helping the rich men responsible. Their parents tried helping them. Even certain news media supported them, blaming the victims for their own rape. And there's always us—unknown, unnamed members of the citizenry, actively shaming women, particularly on social media. Because, why didn't they know what to expect at a birthday party? In this day and age, they expected cake? Nope, they, too, "had it coming."
Let's go back to Rupa Khatun.
We know about Rupa Khatun and her rape, but the nameless women who are also raped on a regular basis remain unknown. Why?
For one, we know about Rupa Khatun because she's dead.
But we also know about Rupa Khatun because she fits into our imaginary picture of what a perfect victim must look like—attractive, fighting the good fight, studying law, looking for employment, without romantic entanglements that tarnish her image of being a virgin. All of these allow us to view her as worthy of our collective pity, even angst.
So when the four men were sentenced to death, certain quarters of the country lit up in celebration. For those men also fit into our imagination of what perpetrators of sexual violence (should) look like. Poor, uneducated, working class.
Not even for a second do we question where they learned to "rape." Because rape and violence are learned behaviours. You have to know what to "do," after all, when you rape someone. You have to know what hurts. You have to know where to hit. You have to know what kills. The Raintree Hotel rapists and Rupa's rapists learned it all, but the only ones to get a death sentence are the transport workers. Because certain lives are dispensable.
My editor likes me to end with at least one ray of hope. So, here goes:
That we see reports of oppression (including rape) almost on a daily basis should give us pause. While we're pausing, let us find hope in the fact that we are made aware of the oppression around us, that it is being reported more than it used to be. Because this gives us an opportunity to examine our social environment, our biases, and raise our collective voices against oppression. In the words of Jewish scholar of the first century, Hillel, "If not now, when?"
---
Nadine Shaanta Murshid is Assistant Professor at the School of Social Work, University at Buffalo, The State University of New York.
---
Follow

The Daily Star Opinion

on Facebook for the latest opinions, commentaries and analyses by experts and professionals.
To contribute your article or letter to The Daily Star Opinion, see our

guidelines for submission

.
---