The US presidential battle in 2020
Democrats, get your act together. Fast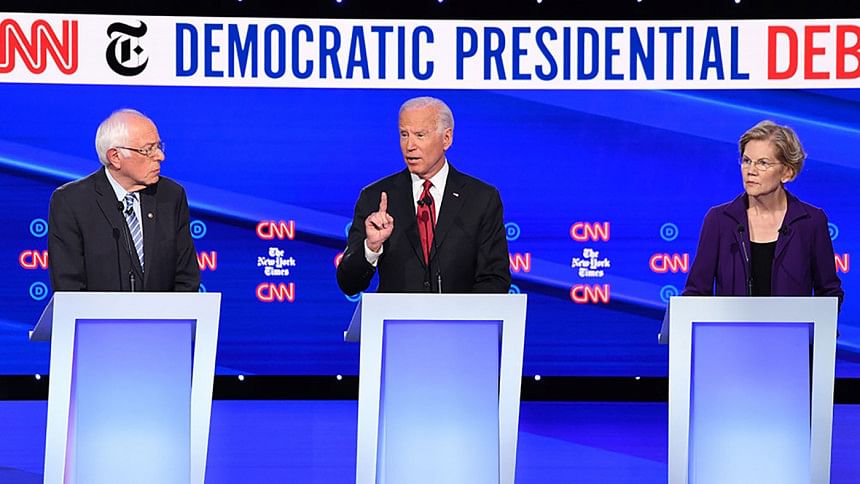 It is, when you think about it, a bit of a Faustian bargain for the Democrats. A few whiny Republican attempts notwithstanding, the Republican candidacy for the 2020 presidential elections is cast in stone, as it pretty much always is in the US when an incumbent is running for president.    
It's going to be … (drumroll here, please)… you guessed it…  the one-and-only man with "unmatched wisdom," who considers himself a "seriously stable genius," a.k.a. Donald J. Trump. There's virtually no competition there, so not much news interest. (Trump, being Trump, is up to his usual antics to pick up the slack.)
As the Democratic presidential debate on October 16 made all too clear, there's plenty of drama on the Democratic side, with the whole thing taking on the look of a maudlin daytime soap. There are few signs of winnowing of the huge stable of candidates.
The competition, the diversity of candidates, all make the Democratic nomination battle very newsworthy, and so the 2020 election focus is mostly on the slugfest between Democratic candidates.
This is where the Faustian bargain comes in. The trouble is, all that media attention is not getting Democrats anywhere as far as the general election is concerned. To take on Trump, what the Democrats desperately need is what the Democrats ain't getting: a single, focused candidate with the entire party solidly behind her/him, ready to take on the sitting US president in what promises to be one of the most bitter, toxic and closely fought presidential campaigns in modern American history.
Instead, the Democrats continue to be saddled with a colorful menagerie of candidates. The recent debate had a slate of dozen candidates. Now, what kind of a cockamamie debate can you have with that? Although painfully, the answer was made abundantly clear to the long-suffering civic-minded (mostly Democrats) people of America who decided to sit through that ghastly ordeal. The bottom line is this: with that many candidates you can't really have a proper, thorough comparison of candidates. Everybody is out to find some way of standing out, attention flits too often back and forth between the dozen contestants, and pretty soon you wonder whether this is US politics' answer to a beauty contest.
Polls are beginning to indicate quite clearly that there are three heavyweights: Former Vice President Joe Biden, a political moderate, and two more left-leaning candidates, Sen Bernie Sanders and Sen Elizabeth Warren. Warren is on the ascendant, while Sanders and Biden are trailing. It's the overall trajectory that must be exhilarating to Warren supporters. In fundraising and polls, Warren is showing consistent and steady progress. Biden's initial fundraising prowess as well as poll numbers now appear to be petering out, with the fundraising situation especially dire. Sanders recovered very well from a recent heart attack, but his support, while solid, appears to have a definite limit.
The fly in the ointment are the other candidates—who are waiting for a miracle to happen. They are all quite distinguished, talented politicians, but nobody's hitting double digits in the polls, and with the exception of Sen Kamala Harris, and South Bend, Ind Mayor Pete Buttigieg, they are rarely if ever getting even five percent in the polls.
Yet they refuse to give up. One of the peculiar manifestations in the American election season is an odd, tenacious narcissism that is utterly immune to logic. One of the more florid examples this time around was New York Mayor Bill de Blasio who fancied his chances in the Democratic race. Few shared his opinion, even in his own city, and that picayune campaign died a merciful death.
In addition to Warren, Sanders and Biden, Harris and Buttigieg look like the only two candidates who have the ability to survive. Without taking anything away from them, that's two too many.
For the life of me I cannot understand why the main US parties cannot come up with a less unwieldy system of nominating a candidate. A similar parade of too many candidates plagued the previous Republican presidential campaign in 2016 until Trump came and slaughtered them all.
Make no mistake. This is a critical, fraught time for America. Dark rumblings of a possible recession is a major cause for worry (Trump's quixotic trade war with China isn't helping). A riveting, scary drama is unfolding at the impeachment hearings at the House of Representatives as each day a new bombshell revelation comes out. Sleazy foreign-born thugs, allies of Trump's personal attorney Rudi Giuliani, are arrested on campaign finance violation charges right before taking off for Vienna on one-way tickets. A slew of foreign service professionals is defying a White House clampdown and testifying in Congress about how Trump's aides ran a parallel policy in Ukraine for Trump's personal political benefit.
As if all of that's not bad enough, Trump decided to take away US troops from Kurdish-ruled area of Syria, a disastrous foreign policy blunder that stunned experts. Now Turkey is launching an attack on the Kurds, throwing that entire region into chaos. Trump's decision has drawn the most unanimous US condemnation in these partisan times.
The Democrats will need all the savvy they can muster to take on a Republican president who follows no rules, defies established norms with total abandon, and, as his terrible rallies indicate, has no compunction in using incendiary hate-mongering and race-baiting to weaponise the 2020 presidential campaign.
There isn't a moment to lose. What the Democrats need to do is cut to the chase and settle down on a candidate as soon as possible if they are to have a fighting chance.
Alas, this is easier said than done.
Ashfaque Swapan is a contributing editor for Siliconeer, a digital daily for South Asians in the United States.