BNP LEADERS' INDIA TRIP
Zero-sum game or a boomerang?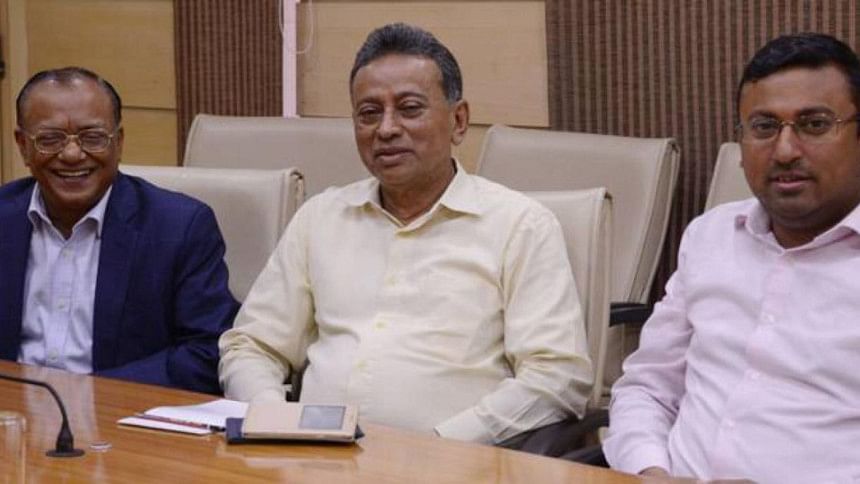 A three-man BNP delegation's visit to New Delhi on June 3-10 has raised more questions than provided answers for. This trip was led by Amir Khasru Mahmud Chowdhury, member of BNP National Standing Committee; Abdul Awal Mintoo, the party's vice chairman; and Humayan Kabir, its international affairs secretary.
The team went to New Delhi to attend interactive sessions arranged by some reputed Indian think-tanks, reportedly on Indo-Bangladesh relations, Bangladesh's current policies, and the country's general election due later this year. The BNP leaders, however, admitted to have taken the initiative for engagement "on the advice of the party's acting chairman Tarique Rahman." Rahman was even quoted as saying, "The hostile policy attitude (towards India) was 'wrong and misguided'," implying they were looking for a change.
It can be safely assumed that both sides were keen on weather-taking from each other on the unfolding scenarios in an election year. The BNP leaders came looking for an "unbiased" approach to election from India—sounds assailable and refuted by India merely saying, "We don't seat any party in power, voters do it." Actually, BNP's wholesale boycott of the January 5, 2014 election gave Awami League the walkover for which the former was only to blame, the blundering stalking BNP's footsteps to this day. 
For New Delhi's part, the interest possibly lay in knowing how the BNP's mind worked in the desperate situation it was caught up in—on the issue of general election under the incumbent government that looks like a fait accompli, with or without Khaleda Zia.
Nevertheless, Health Minister Mohammad Nasim has flickered a ray of light into the BNP's dark tunnel, so to speak. Considered politically influential in the party hierarchy, Nasim iterated, surprising many who were fixated on the BNP chairperson being in prison, that there would be a participatory election and that Khaleda Zia would join it. Could Nasim have struck such a potentially breaking news note without a tacit nod from the highest level of the party, wonder some serious political observers!
BNP leaders also met some New Delhi-based office-bearers of Rashtriya Swayamsevak Sangh (RSS) which set off ripples across the not-so-placid waters of the BJP world.
The Hindu reported that BNP leaders appealed to the Narendra Modi government to support a "free, fair process during the elections." The plea was for the neighbour to "play a constructive role, and not back any one party." There was a sweetener too: "If democracy prevails in Bangladesh, then whoever wins, it is a win for India."
The Bangladesh team leader claimed a "positive change in the attitude of the neighbouring country towards having credible, neutral and inclusive election after their talks." The vibes on the ground sound otherwise.
Indian observers noted that the BNP has not dammed down Jamaat, or delinked itself from fundamentalist forces. Indian external affairs ministry sources were quoted as saying, "India does not see any 'credible proof' for any clear shift in the BNP's policy towards New Delhi." It even suspected whether the latest overture had the backing of the high-ups in the BNP.
As if to corroborate that, a New Delhi-datelined (June 14) report by Soumya Bandyopadhyay—a translated version of it appearing in Prothom Alo—said, "Delhi has no 'credible evidence' of BNP changing its India policy."
Yet, in an interview with the BBC on June 14, BNP Secretary General Mirza Fakhrul revealed that his party has submitted "a paper" to the Indian authorities reportedly committing to zero tolerance to all forms of cross-border insurgency.
On that issue, the AL has successfully allayed India's concerns. Besides, Prime Minister Sheikh Hasina has said that "India will always remember what we've done for them."
We have only this to say on the spirit of give-and-take in the bilateral relationship: some reciprocation is awaited from New Delhi. Let's take up the litmus test of the Teesta water-sharing issue. The draft Teesta accord, mutually agreed upon by both sides a full three years back, needs to be dusted and signed up to in the greater interest of a benign neighbourhood policy. Why the distracting foot-dragging on a continuing basis at the altar of parochial electoral politics?
Although common trans-border rivers are constitutionally a union government subject, Indian external affairs minister Sushma Swaraj ironically suggests that Bangladesh should secure Mamata's green light as a sine qua non. Why has it become "mandatory" after all the distance we have covered with Mamata herself in company?
Water expert Ainun Nishat suggests that let's have the interim Teesta accord first as a basis for water-sharing, then we can take up the agenda of other trans-border concerns including cooperation, for instance, with Sikkim.         
In the main, BNP faces a stark choice in cultivating anything beyond working relations with India. For the million-dollar question is: What remains of the party's political or, more precisely, its electoral plank if it discards its anti-India card around which its vote bank is built and sustained?  
Shah Husain Imam is adjunct faculty, East West University, a commentator on current affairs, and former Associate Editor, The Daily Star. Email: [email protected]