Why Dhaka is not a walkable city, yet!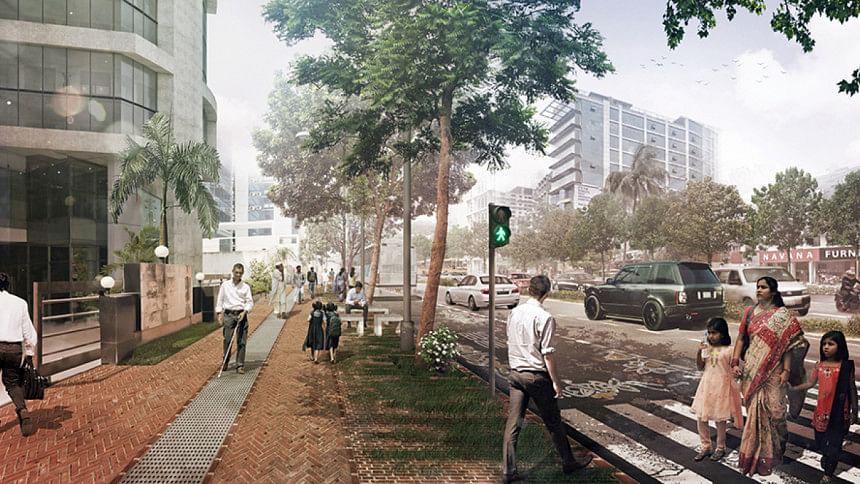 I have been walking around Dhaka, kind of randomly, for the past few months. It was not for health reasons. I was mostly interested in doing a personal assessment of the capital city's walkability. Lately urban planning conversations across the country—from municipalities to city corporations—emphasised "walkability" as one of the key criteria for making a city liveable, environment-friendly, community-oriented, and less dependent on motorised transportation. It is heartening that under-construction footpaths are now a common sight in many Bangladeshi cities, small and big.
If you can walk to your workplace and neighbourhood shops or walk your children to school, you have a well-organised city because you are not dependent on environment-polluting and gas-guzzling personal automobiles to reach your destination. You are living a healthy lifestyle. Studies in the USA show that the typical resident of a walkable urban area weighs 6-10 pounds less than the person living in a sprawling suburb where car-based lifestyle demands less physical activities.
Studies also show that if you walk as part of your daily travel need, you are very likely to develop an empathy for your city which may then inspire you to keep your neighbourhood clean or protest when a historic building faces the prospect of demolition due to profit-motivated real estate development. Walking is one of the most effective ways of knowing a city and its communities from an intimate distance. Walkability is a good measure of a city's liveability.
Dhaka is not a walkable city—not yet. Why? Let me share my experience.
Firstly, the city's footpaths are often discontinuous. You cannot go from point A to point B by using one continuous loop of footpath. Footpaths are often interrupted by vendors, cha-wallas, illegally stowed building construction materials, overflowing dumpsters, and abrupt open drains. Walking is difficult.
Secondly, the city's polluted air, rancid smell, and a pervasive lack of cleanliness discourage one to walk on city streets. The low-income population which makes up Dhaka's 60-70 percent share of daily commuters don't really have a choice. Walking is part of their daily survival strategies in an inhospitable city. And, then there is the tyranny of spitting. How would you walk on footpaths while you have to survey the ground so intensely to avoid stepping on spit? Somebody needs to do an anthropological study on why city people in Bangladesh spit on the street so routinely!   
Thirdly, the overcrowded footpaths make it virtually impossible to walk without bumping into a fellow pedestrian. Footpaths in Dhaka are an infernal urban drama, played by a host of urban characters, such as pedestrians, hawkers, shoppers, transit passengers, beggars, street urchins, pickpockets, and the police. It is difficult to pass through. "Sidewalk ballet," as famous urban critic Jane Jacobs called life on the sidewalk, is the proof of a city's people-centric urban culture. But as it turns out, walking on a sidewalk is an exciting urban experience only when there is some organisation and civic order to it.
Fourthly, an extremely stressful street life—marked by an unending stream of people, unexpected closure of streets, speeding cars, menacing buses, and their deafening honking—does not create a vibrant pedestrian environment. The lack of road safety deters pedestrians. Parents are reluctant to let their children venture out of home.
These observations are quite obvious, as we experience these phenomena everyday in this crowded city. But there are other reasons and experiences that are rarely discussed when it comes to walkability.
There seems to be a strong anti-walking bias among the middle class. Walking on the street is covertly viewed as lowly and unsophisticated. Car ownership is socially glamorised, while walking is seen as an act beneath the middle-class social status. I have actually never run into any of my colleagues or friends on the street while going around Dhaka.
Yes, morning walkers populate the parks to fight diabetes and obesity or simply to stay fit, but the "middle-class" people are generally reluctant to walk a block or two to go to the neighbourhood market or the doctor's chamber. Why? First the obvious reason: lack of street safety and pedestrian-friendliness discourages many to walk. But there is more. The secretly detested idea of being seen on the street as a pedestrian (an unglamorous urban character?) is deeply embedded in our peculiar South Asian sense of social prestige. Colonial administrators and zamindars always mounted the horse or the elephant to showcase their power and elevated social rank. Repurposing these relics of the past has served well in the present-day climate of social mobility and class identity.
Another major obstacle to walkability is the male gaze. Dhaka's street life is inhospitable to women. Plagued by a paradoxical combination of patriarchal understanding of purdah and gender insensitivity, the male gaze often commodifies the female pedestrian. As my wife and I roamed the streets of Dhaka, it seemed impossible for a woman to walk on the sidewalk without being stared at by males all around. Street life in Dhaka is spectacularly male-centric. A walkable city must include both men and women. How to make streets gender friendly would require long-term policies aimed at a cultural transformation.
The absence of a vision of the footpath as part of an enjoyable urban narrative diminishes walkability. Walkable places don't rely on footpaths alone. Walking becomes an attractive urban experience when footpaths offer views of monuments, historic and inspiring buildings, engaging shops, green and water, and dynamic public places.
Last year I was teaching at a university in Rome. I was busy all day but my wife had time to explore the city. Rome's winding streets could be precarious sometimes—missing sidewalks, absent crosswalks, uneven pavements, speeding smart cars, etc. Yet Rome is also a pedestrian's paradise because you can walk from monument to monument, walkable itineraries facilitated by a well-coordinated mass transit. Not only did Rome offer a clean and fascinating walking experience, my wife explained to me, it also transformed the pedestrian into an urban historian because around the next corner you were likely to find a Roman temple or a Renaissance palazzo or a historic piazza. It is not surprising that in the late afternoon the most popular footpath in Dhaka is along Manik Mia Avenue, offering a majestic view of the Parliament building.
What can we do to make Dhaka and other cities of Bangladesh walkable? We must first dispel the myth that walkability is all about footpaths. As much as it is about safe, comfortable, interesting, and pedestrian-friendly sidewalks, walkability is also about cultural attitudes toward the environment, urban life, class structure, gender, and social identity. To make a city walkable we urgently need the combined efforts of the traffic engineer, the architect-planner, the mayor, the policy maker, the urban anthropologist and, finally, the good citizen. Toward this end, we should begin with a national footpath policy and a social campaign to champion it as the right choice.
---
Adnan Morshed is an architect, architectural historian, and urbanist, and currently serving as Chairperson of the Department of Architecture at BRAC University. He is the author of Impossible Heights: Skyscrapers, Flight, and the Master Builder (2015) and Oculus: A Decade of Insights in Bangladeshi Affairs (2012), and DAC/Dhaka in 25 Buildings (2017). He can be reached at [email protected].
---
---
Follow

The Daily Star Opinion

on Facebook for the latest opinions, commentaries and analyses by experts and professionals.
To contribute your article or letter to The Daily Star Opinion, see our

guidelines for submission

.
---