The never-ending gridlock
How traffic jams are eating away at our GDP growth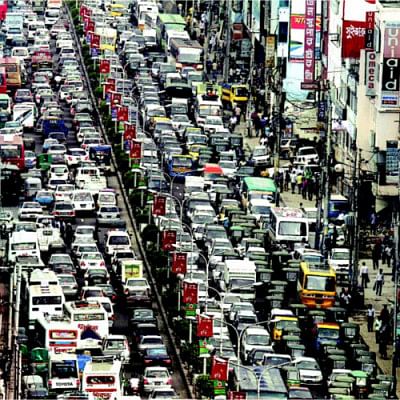 Many visitors to Bangkok have described it to be one of the most congested cities due to its traffic situation. Even CNN and BBC have rated this city as the most horrible to travellers. But I would beg to differ. I have been to Bangkok, Mumbai and New Delhi, but have never seen anything like the traffic chaos that I saw in Dhaka.
Last month, I had just landed in Dhaka from my trip to Dubai. After travelling a distance of 3,547km in just four hours, it took me another four hours to travel a distance of 16km in Dhaka from the airport to my hotel in Motijheel. I encountered a traffic jam that remained at a standstill for many hours, worse than the worst jams in Bangkok. During my stay in Bangkok, I had never been stuck in traffic for over 45 minutes, as was the case in Dhaka while travelling to my hotel. The following day I had two meetings to attend, but managed to visit only one although I was late and missed the second meeting because of traffic gridlock in the city. I also witnessed cars going in the opposite direction on a one-way route.
My driver told me that this was a common phenomenon. And when ministers' convoys are about to pass, all vehicles are expected to stop and provide the way for the VIPs. This does not happen in Bangkok. It is hard to schedule more than one meeting amidst this horrible situation. Most people seem to have resigned to this sad state of affairs and schedule only one meeting a day.
The Greater Dhaka area is home to over 18 million people as of 2016. The density of Dhaka is 23,234 people for every square kilometre. Road networks constitute about eight percent of the city, and hawkers occupy large portions of this. Based on Forbes estimates, the extra rush hour time in Bangkok is 57 percent, but for Dhaka it is not projected. After experiencing extra travel time of about 4–5 hours in Dhaka City, I talked to experts on this issue. Professor Mohammed Akhter from Urban Planning Development approximated extra travel time to be over 200 percent. A senior engineer from the roads and highways department echoed the same sentiment. 
The extreme chaos associated with traffic jam affects general productivity in many sectors and poses negative consequences to the economy. Bangladesh had enjoyed steady economic growth of about seven percent in the past years. This increase can be doubled by getting rid of traffic congestion, especially in Dhaka City. In 2015, it was estimated by the board of investment (now known as Bangladesh Investment Development Authority) in the country that the city faces a loss of about USD 12.56 billion each year because of traffic jam. Whereas extra consumption of fuel and wastage of working hours is measurable, the consequences for health, environment, and transportation of perishable products are hard to measure.
This is one of the reasons why there are varying figures on actual loss. For instance, UNDP approximates a lower loss of about USD 4.6 billion occurring from lost time, extra fuel and health. The aggregate figure from seven studies (including universities like BUET) on loss resulting from gridlock is about USD 10 billion annually. Surprisingly, none of the seven studies have committed to research on lost working hours as a result of traffic jam. The majority of these studies have adopted estimates of World Bank of about 3.2 million hours that could have been spent at the workplace lost stuck in jam daily in Dhaka. The aggregate figure of USD 10 billion from seven research studies equates to almost five percent of Bangladesh's GDP lost annually, and Dhaka generates 36 percent of national GDP. There is no doubt that Bangladesh can double its GDP growth with the elimination of traffic jam in the city and in other major towns.
In the coming years, the situation may worsen because of slower traffic speed and increasing population of Dhaka City that is estimated to be 27 million by 2030. The vast population plus slow traffic speed could result in more lost working hours unless the government plans on contingency measures. The losses arising from traffic jam can be considered as more damaging to the city than anything else. The actions to redeem the city from this never-ending gridlock have not proved to be adequate. More stakeholders need to join hands and enforce better measures that will stand the test of time.
---
Obaidul Karim Khan is a senior consultant at UNHCR.
---
Follow

The Daily Star Opinion

on Facebook for the latest opinions, commentaries and analyses by experts and professionals.
To contribute your article or letter to The Daily Star Opinion, see our

guidelines for submission

.
---