Trouble in Tongi, beyond
Homegoers ahead of Eid may face less hassle on highways this year, except for Tongi-Joydevpur stretch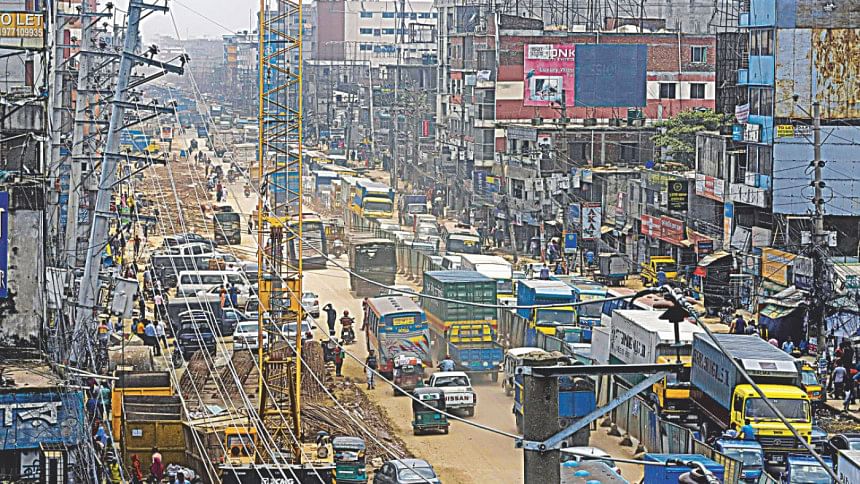 With every Eid comes a concern: How to get home?
Almost every time, the holidaymakers go through nightmarish experience on highways, thanks to traffic jams caused by poor road conditions and traffic management.
The sufferings, however, are likely to ease a little this year as some new bridges and flyovers on Dhaka-Chattogram and Dhaka-Tangail highways have opened.
Still, chokepoints may trouble the home-goers who will start leaving Dhaka on May 30. It would be more difficult if it rains or the authorities fail to control traffic properly.
Eid-ul-Fitr is expected to be celebrated on June 5, and there will a longer Eid vacation of nine days if the government declares June 3, the only workday in the week, as holiday.
People of the northern and north-eastern regions may be the worst sufferers as the 13km stretch from Tongi Bridge to Joydevpur Chowrasta on Dhaka-Mymensingh highway is likely to witness severe jams due to the ongoing work of Bus Rapid Transit (BRT). The officials involved also expressed concern over the situation of this part.
The holidaymakers of southern districts may not get respite from congestion at Paturia-Daulatdia ferry ghat. It is because hundreds of buses would queue up for only 20 ferries.
Those taking Dhaka-Mawa highway would face problems due to the development work along the highway and at Shimulia-Kathalbari ferry terminals.
The Daily Star visited some highways and talked to transport experts, road safety campaigners, bus operators, drivers and passengers, to get a picture of the key points on five national highways where gridlocks might occur.
Campaigners, bus operators, and passengers say unplanned intersections and illegal roadside markets will be a cause of concern.
Besides, thousands of unfit and overloaded vehicles would hit the streets ahead of the festival. Many of them may break down in the middle of the road, creating tailbacks.
The ministries of home, and road transport and bridges have sat with stakeholders, including police and transport owners and workers, several times and taken steps to make the Eid journey smooth and safe.
The National Committee to Protect Shipping, Roads and Railways says around 1.47 crore people would leave Dhaka, Gazipur and Narayanganj before Eid.
Of them, 55 percent would use the highways, 25 percent waterways and 20 percent railways, the non-government organisation said based on official and private estimates.
Ashis Kumar Dey, general secretary of the organisation, said the journey home would begin on May 30 and continue till June 4.
"Handling the rush in the six days is difficult. Our transport system does not have the capacity either. So, none can assure there would be no sufferings during Eid."
Apart from this, there remains the possibility of bad weather and waterway accidents, he said, urging the authorities to attach top priority to proper management.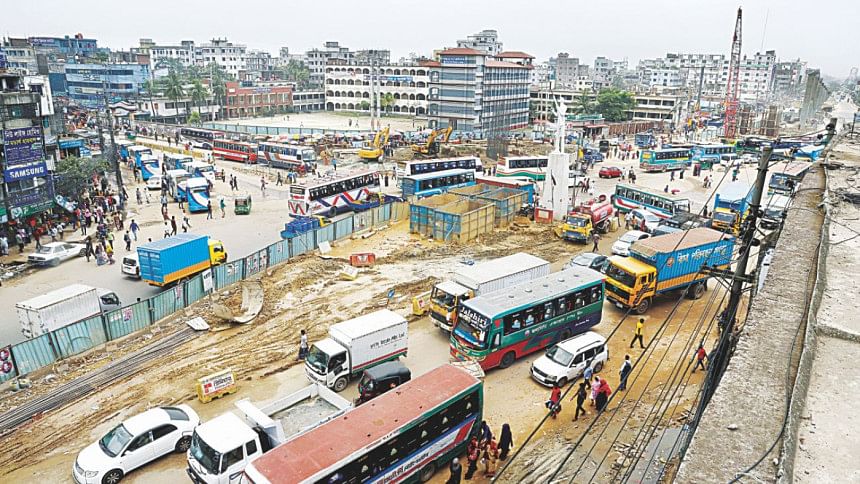 DHAKA-MYMENSINGH HIGHWAY: BRACE FOR 13KM
The main concern on this highway is the 13km stretch from Tongi Bridge to Joydevpur Chowrasta.
Visiting the areas on Sunday, this correspondent found the four-lane highway from Dhaka has virtually reduced to two lanes at some places due to drainage work.
The work is part of the Greater Dhaka Sustainable Urban Transport Project, also known as Bus Rapid Transit (BRT). Under this project, the government would construct a 20.5km dedicated bus lane from Dhaka to Gazipur.
Many points of this part have shrunk because of stinky water overflowing from the under-construction drains, while the absence of footpaths and earth-filling by the roadside force pedestrians to get onto the road, slowing down traffic movement.
"The work has been going on for more than a year with no end in sight, making it hard for us to walk. Things take a turn for the worse when it rains," said Abdul Karim, a resident of Bhogra bypass area.
Besides, this correspondent found many bus drivers picking passengers in the middle of the road, halting the vehicular movement.
There are around 10 junctions on this 13km portion, which interrupt traffic flow. The continuous movement of auto-rickshaws, rickshaws and pedestrians near the junctions also slow down the long-haul buses.
Most buses of Mohakhali Inter-district Bus Terminal use the highway to carry people to Mymensingh, Netrakona, Sherpur, Jamalpur, Tangail, Bogura and other northern and north-eastern districts.
Shahidullah Sadhu, general secretary of Mohakhali Bus Terminal Workers' Union, said if the situation on the highway remains the same, people of the regions will suffer.
He called for suspending the development work on the highways for at least seven days before Eid and deploying a large number of law enforcers to ensure smooth traffic movement.
At an Eid preparatory meeting on May 23, Road Transport and Bridges Minister Obaidul Quader said the overall condition of highways is better than previous years'.
However, there is a serious concern over the condition of Dhaka-Mymensingh highway's Tongi-Gazipur Chowrastha section. It takes three to four hours to cross the area, he said.
The minister asked the BRT project director to halt development work for a few days and asked police officials and Gazipur city mayor to keep the road useable during Eid rush.
Sanaul Haque, the BRT project director, said they are doing their work, leaving four lanes of the highway unaffected. "It's not possible to completely halt the work as it is going on under an international tender. However, we have slowed down the drainage work."
Asked about public safety, he said they have marked the construction area with yellow tapes and red flags.
FERRY TERMINALS: VEHICLE NUMBERS TO PUT PRESSURE
Trips to southern districts via Paturia-Daulatdia Ferry Terminal may not be smooth as well.
The first bottleneck will be at Amin Bazar because of the narrow Gabtoli-Aminbazar bridge. Besides, roadside parking of buses and trucks causes congestion.
Savar Bazar and Nabinagar intersection are two other major chokepoints on Dhaka-Aricha highway. Almost all inter-district buses stop there to pick passengers, especially garment workers, because the two points cover a major industrial belt.
Then comes the ferry terminal. The number of vehicles using Paturia-Daulatdia terminal doubles during Eid, from 3,000 to 4,000 every day now to nearly 7,000. Cars and rented buses of other routes will be adding to the usual traffic.
The vehicle numbers may further go up because the authorities decided on May 13 to divert long-route buses of Khulna and Jashore to Dhaka-Aricha highway due to the development work along Dhaka-Mawa highway.
Drivers fear that sufferings of the people heading to 17 south-western districts would multiply if there is a disruption of ferry services due to storms or other reasons.
"The authorities must ensure proper management of ferries so that no bus driver can break rules," said Mosharraf Hossain, general manager of Hanif Paribahan. The decision to stop ferrying of goods vehicles three days before Eid has to be implemented strictly as well, he said.
Zillur Rahman, assistant general manager of Bangladesh Inland Water Transport Corporation (BIWTC) at Paturia, said 34 launches and 20-21 ferries would operate every day during Eid, up from 16 ferries currently in operation.
Rifat Rahman Shamim, superintendent of police of Manikganj, said around 500 law enforcers will guard Dhaka-Aricha highway and the ferry terminal to maintain order.
On Dhaka-Mawa highway, gridlocks may occur if ferry and launch management goes awry at Shimulia and Kathalbari ghats. Bad weather can be another setback.
Kabirul Islam, upazila nirbahi officer of Louhajang of Munshiganj, said 18 ferries, 87 launches, and 540 speedboats will be in operation on this route.
DHAKA-TANGAIL HIGHWAY: SMOOTHER THAN BEFORE
Taking this highway may be smoother this year because two flyovers at Chandra and Konabari, two bridges, and four underpasses opened on May 25.
Chandra has been the most chaotic place on this highway as vehicles from Nabinagar and Gazipur converge here before moving to Tangail. Vehicles from Gazipur now can easily cross the junction using the new flyover.
Konabari has been another chokepoint because of a big market.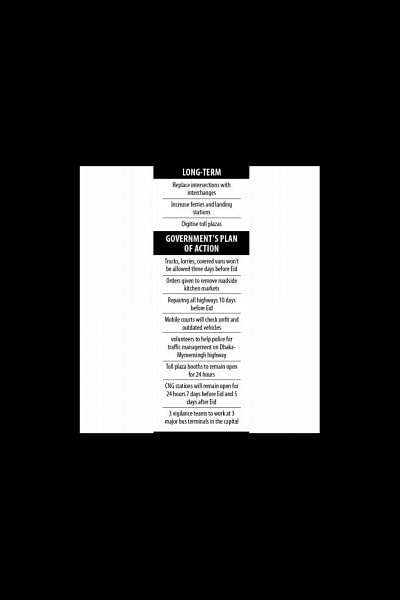 Although the expansion of the highway from Gazipur Chowrasta to Elenga is still going on, there is no chokepoint on this portion.
But after crossing Bangabandhu bridge, travellers may face difficulties because of a weak bridge in Nalka area of Sirajganj sadar. "A lack of repair has made the Nalka bridge risky. We cannot pass it quickly," said bus driver Md Faruk Hossain.
They also worry about an increase in the vehicle numbers, he said.
Most of Dhaka-Tangail highway is four-lane wide. But the 20km link road after Bangabandhu bridge is two lanes up till Hatikumrul. So, there are chances congestion will occur, said Sayed Shahid Alam, officer-in-charge of Bangabandhu bridge west zone police station.
DHAKA-CHATTOGRAM HIGHWAY: NO MORE BOTTLENECKS
The three bottlenecks ailing travellers on this highway have been removed.
The otherwise dual carriageway between the port city and the capital used to shrink to a single one at Meghna and Gumti bridges. Kanchpur bridge was technically a dual carriageway but it was not wide enough.
Traffic used to come to a halt on the approach roads to the bridges, and if there was a breakdown, it took several hours to clear the nightmarish mess. But things would ease because three four-lane bridges parallel to the existing ones have opened.
Prime Minister Sheikh Hasina inaugurated the second Kanchpur bridge in March, and second Gumti and second Meghna bridges on May 25.
Mosharref Hossain, general manager of Hanif Paribahan, said vehicles may slow down at the Meghna bridge toll plaza, leading to tailbacks.
The authorities should take care of the issue in advance, he said.
DHAKA-SYLHET HIGHWAY: IN A BETTER SHAPE
The journey is expected to get better on this route this year.
There are two ways to get to Dhaka-Sylhet highway -- from Dhaka-Chittagong highway via Kanchpur Bridge and through Jatrabari-Demra road via Sultana Kamal Bridge.
Crossing Kanchpur is a lot easier now because the four-lane second Kanchpur bridge has opened to traffic. Moreover, an overpass after the bridge would be available for use before Eid. Jatrabari-Demra road is also in a better shape than last year.
But there may be some problem further down the road.
The construction of a four-lane flyover at Gawsia market in Narayanganj's Bhulta has not finished yet. The work has narrowed down the stretch between Bhulta and Gawsia market.
[Our Manikganj, Pabna, and Munshiganj correspondents entcontributed to the report]