We need both traditional and new solutions to fight poverty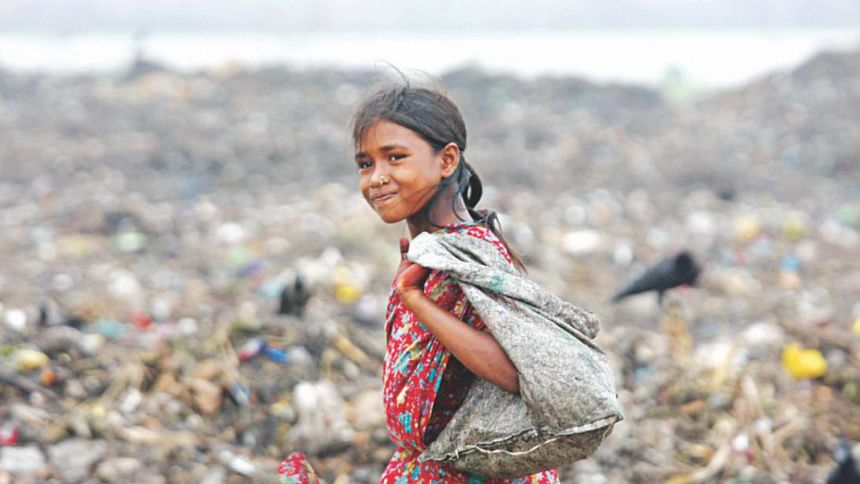 Bangladesh has done remarkably well in reducing poverty and improving living conditions. The country halved poverty rates in a decade and a half, lifting more than 25 million people out of poverty. Between 2010 and 2016, about eight million Bangladeshi people exited poverty. 
This was accompanied by increases in life expectancy, access to education and electricity, and other human development indicators. Bangladesh has also embarked on a rapid transformation of its economy, boosting manufacturing and services as the country rapidly urbanises.
This progress speaks to government policies and also reflects the hard work and commitment of the Bangladeshi people.
Bangladesh is now a lower middle-income country and economic growth has accelerated. However, for many on the streets of Dhaka or living in the remoteness of a Rangpur village, this progress is less evident. Bangladesh's remarkable development story presents a far from unified picture. It is a story of old and emerging challenges to eradicate poverty for future generations.
The World Bank's recent Poverty Assessment highlights Bangladesh's remarkable sustained story of progress but also some key and emerging features of poverty reduction that demand attention.
First, robust economic growth continued driving poverty reduction, but not as effectively as before. The pace of progress in poverty reduction has slowed down. In contrast, the pace of economic growth increased since 2010.
Second, there was little progress in poverty reduction in urban areas. Rural Bangladesh accounted for about 90 percent of the poverty decline between 2010 and 2016. Even though the poverty rate fell in urban Bangladesh, the rate of reduction was much slower than in previous periods. In fact, the share of urban people living in extreme poverty remained the same. Cities are becoming the frontier in poverty reduction. At current trends, more than half of Bangladesh's poor households will live in urban areas by 2030.
Third, in rural Bangladesh average progress was strong. Yet Western divisions did not see the same gains as the Eastern divisions. Poverty increased in Rangpur division and stagnated in Rajshahi and Khulna divisions. The welfare differences between the historically poorer West and the richer East have re-emerged.
What lies behind these trends? To a large extent, families' labour incomes.
In rural areas, poverty reduction was not led by agriculture but by industry and services. This meant that rural areas of Dhaka division, where families derive a larger share of incomes from non-agricultural activities, did well, but households in villages in Rangpur or Rajshahi, where large part of income still comes from agriculture, did not fare so well. The days of high cereal prices and strong agricultural growth that had closed the East-West divide in 2010 have passed, revealing structural gaps in assets and market access in the West that require attention.
In urban areas, manufacturing led poverty reduction. However, job creation in manufacturing has slowed, limiting the number of families that were able to benefit. Poverty rates among those self-employed in the service sector increased. This is concerning, given that around 4 in 10 of the urban poor live in families gaining income from services.
Overall, this poverty assessment shows that there is much to be proud of, but also no room for complacency. The job of ending extreme poverty is not complete and hinges on reducing the vulnerability of millions of households. About 1 in 4 Bangladeshis still live in poverty. In addition, more than half of the population can be considered vulnerable to falling back into poverty.
Many of the traditional drivers of poverty reduction in Bangladesh will continue to play a role. Gains in educational attainment, lower fertility rates, agricultural growth, and international migration will continue to be important to reduce poverty in rural areas. Growth in rural services and manufacturing are emerging as important drivers of progress. In urban areas, lower fertility rates and welfare gains among manufacturing employees will continue to be important.  
However, as access to services and education expands, improving the targeting and quality of service delivery will become more important. A balanced strategy in rural areas that boosts agricultural growth and supports the development of off-farm activities will be also central. Finding ways to expand female labour force participation and better jobs in the service sector also arise as priorities.
As the country is facing new and re-emerging frontiers of poverty reduction, namely tackling urban poverty and poverty in the West, approaches need to be embraced that uncover effective traditional and new solutions. Policies to reduce poverty when poverty is high are different from those when poverty is lower.
The country is at a juncture where more sophisticated policies are needed to reduce poverty over a sustained period and in a middle-income economy. Continuing Bangladesh's practices of innovative policy experimentation, as well as learning from experiences of similar economic and development transformation of other countries, will be important to tackle some of the challenges presented in this poverty assessment.
Mercy Tembon is the Country Director for Bangladesh and Bhutan, and Carolina Sánchez-Páramo is Global Director of the Poverty and Equity Global Practice, World Bank.