Viewers turning away from local TV channels
Lack of focus in programme planning, quality of content and presentation are to blame, not foreign channels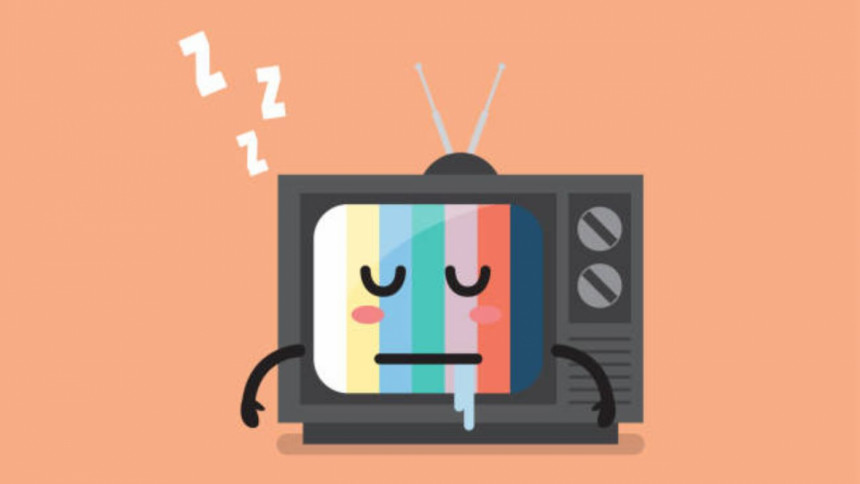 It is one of those intense moments when you immerse yourself in the television and follow every move of the actor; his grimace makes you frown and speculate what would happen next. Right then, the broadcaster fills half of the screen with an ad of what to use to be fair, if not fairer.
That seems unfair to the audience as companies and broadcasters alike are battling on the same space for the viewers' attention. And then the programme is stretched out in such a manner to accommodate frequent ads that the viewers lose track of what they were watching in the first place. So, they move to one of the nearly hundred channels available by pressing the buttons on a remote control. 
Advertisement is a major player in the business model of any media house but it has a very complex relationship with what is being broadcast, its quality, how it is presented and the audience targeted, influencing viewership.
According to media insiders, ads are eating up most of our entertainment space in local channels for cheaper rates per minute negotiated based on viewership. With so many local and foreign TV channels, it has become already tricky to get a loyal audience regularly switching on their televisions to watch a particular programme in a particular channel. The situation gets worse for most of our 30-plus local channels when they don't have any comprehensive policy in place to draw viewers.
The quality of any content matters, but only when it gets good presentation and promotion just like the packaging of a soap and its marketing campaign. Because, unless people know what a programme is about and feel like spending time watching it, who would decide on its quality?
Local TV channels don't have any constructive approach to marketing, according to popular TV actor Iresh Zaker, who has recently been elected as president of the Television and Digital Programme Producers Association of Bangladesh. "…whereas what we see globally… even a popular American TV series like Game of Thrones sees major spending on promotion," he said.
Except for one or two channels like Gaan Bangla and Duranta, local channels also don't seem to have set any target group that they should cater to. They have an all-in-one policy; we get news, talk shows, music videos, dance shows, drama… everything there. A channel may offer everything but cannot broadcast sports and talk shows or drama and news together. Director Ashfaque Nipun describes these channels as devoid of character.
Now what happens when someone is watching a drama or any other entertainment programme in one channel and it is interrupted with the seemingly good intention of keeping him updated? As if no one should miss the latest press conference at the Reporters' Unity of Bangladesh, or at a government office laying out anti-corruption measures. So, almost all channels, including those dedicated to only news, rush to go live, caring little about what their audience wants to watch.
The person sitting before his TV may be searching for something entertaining for a respite from his mundane daily routines. So, he flips through channels fast, hoping to get something worth watching, and comes across a long sequence of commercials.
Unfortunately, watching a local channel is like walking through a superstore showcasing a handful of products again and again and not finding the way out. These cheap ads basically cater to the interests of no one. Iresh Zaker likens those to "billboards in the middle of a desert."
Against this backdrop, Information Minister Hasan Mahmud in the first week of April said that TV channels were losing advertisements worth Tk 500-1,000 crore a year because of the airing of Bangladeshi commercials on downlink foreign television channels. A downlink is communication or transmission from a satellite down to one or more ground stations or receivers.
The government has recently banned the airing of local ads on foreign channels. At the same time, it served notices instructing two companies, who help distribute about 25 pay channels across the country, to stop airing those commercials. However, SM Anwar Parvez, founding president of Cable Operators' Association of Bangladesh, said the advertisers or any media agency, if involved, were answerable for airing of commercials on foreign channels, not the distributors. The announcement of the ban effective from April 1 prompted an abrupt shutdown of broadcasting of some Indian channels including Zee Bangla and Zee Cinema.
"About 80 percent of TV viewers in the country watch Bangla channels of West Bengal," said Iresh Zaker, referring to data of media monitors. That explains the reaction from people on social media and in individual circles when Zee Bangla and Zee Cinema were off air.
There has also been debate over what local channels offer for entertainment, since the reason believed to be behind Bangladeshi commercials being aired in Indian channels is the popularity of their content. So what is the problem with our content? In a word, they lack new ideas.
A research cell could help with finding new stories and new styles of presentation, as well as ideas for new programmes. Sometimes directors face resistance from programme planners of TV channels regarding new ideas while low budget is also a factor, which influences the quality/outcome of a production.
An official of Asiatic Mindshare, who spoke on the condition of anonymity, says that content is the key for negotiating minute rates for ads. The media buying company together with its two sister concerns hold sway over nearly 50 percent of the media market. 
The entire advertisement market size is no more than Tk 1,200-1,400 crore which, minus a small share going to one or two Indian channels, is distributed among local TV channels. The ad rates go into decline from cricket to news, to drama, to cinema or movies, the Asiatic official said. Viewership goes up during any live cricket match or any emergency situation like the recent fire incident in the Old Dhaka. As these events end, ads that target content replacing them in some channels become one-fifteenth times cheaper.
The primary responsibility of changing the scenario lies with the TV channels. TV is a device mostly for entertainment. Everyone has his or her own choice of entertainment, and he or she has the remote control to compare one show to another. Quality has to be good, but at the same time, other relevant issues have to be dealt with innovative ideas. 
Zaker said the channels have to go to advertisers with good content and convince them to make more investments. 
"TV is a habit for its audience," said Mohammad Ali Haider, head of programme in Duranta TV, which is now one of the top channels in terms of viewership. The channel specifically targets children and designs programmes only for them—to be run for at least three months, thereby creating a loyal audience. 
Meanwhile, more than 70 percent of local channels are not making profits, according to Asiatic Mindshare. It is now time for all the stakeholders to start thinking of ways to navigate through this small market to stand out for their audience.
Bishakha Devnath is a senior staff reporter at The Daily Star.