The health challenges for the urban poor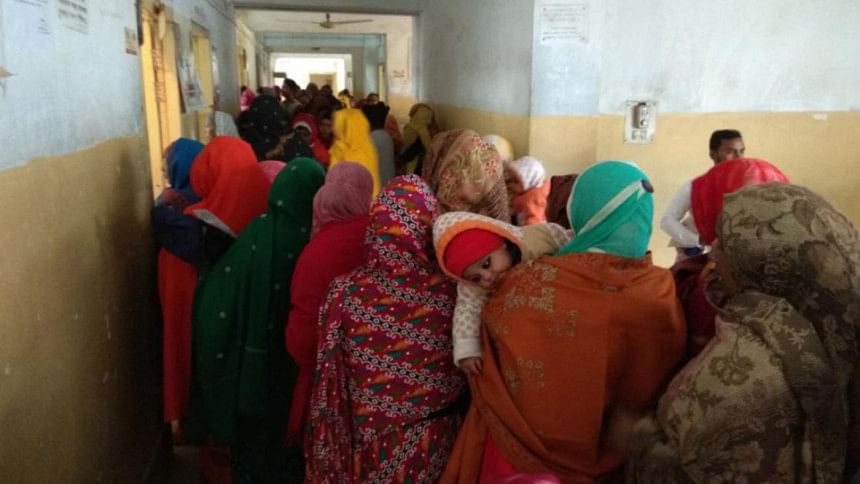 Bangladesh is being urbanised at a rapid pace, fuelled by rural poverty, climate change and the promise of a better economic future. It is estimated that 300,000 to 400,000 new migrants leave their rural homesteads annually, heading for Dhaka (World Bank, 2007). Dhaka is overwhelmed by urban poverty and slums. Very high population densities and deteriorating city infrastructures worsen the already difficult living conditions of poor people living in Dhaka.
Issues of urbanisation have been taking centre stage as traditional focus of economic policymakers have been relegated to the rural front. Experts concur that the quality of life of the urban poor is also worse than that of the rural poor. The factors that differentiate the urban poor from the rural also include transient living, environmental hazards, social fragmentation, exposure to crimes, violence and accidents. Therefore, the transition from rural to urban life is far from linear and usually a complex process.
Often, the urban poor living in slums bear the largest burden of such hazards and the evidence suggest that slum-dwellers are considerably worse off in almost every aspect of life. Within this framework of multidimensional poverty, health remains at the forefront of deprivations faced by the urban poor.
While health shocks are a major source of vulnerability among low-income urban households, it is also important to recognise ill health as a chronic condition emerging from adverse living and working conditions that often require greater resources to manage over the medium- to long term. Additionally, changing lifestyles, malnutrition, persistent social inequality, economic insecurity, and unstable social life have given rise to new health challenges—non-communicable diseases, substance misuse, and mental health problems.
Over the past 45 years, Bangladesh's health and nutrition policies and programmes have focused largely on rural health services and outcomes. The rural population, particularly the poor, can go to the community clinics at the village and ward levels for treatment of basic diseases and maternal health care. Unfortunately for the urban poor, especially those living in slums, these facilities are non-existent. Often the only option these residents have are to either visit expensive private facilities or oft-neglected public hospitals. Thus, unless you have money, and a good amount at that, there aren't many places you can go to for treatment and relief.
Equitable access to quality health and nutrition services for the urban poor has emerged as a major and pressing development issue. Hospitals and clinics are not necessarily physically distant, but they are socially and financially distant from poor urban populations. Government facilities that are meant to cater to the poor are functioning badly. A recent investigation from the Anti-Corruption Commission (ACC) revealed an astonishingly sad scenario. About 40 percent of doctors in 11 public hospitals and health centres were found to be absent from their workplaces. Due to lack of supervision from the authorities, the doctors and nurses are often found to be very inefficient and this further weakens the prospect of poor people being unable to get access to proper healthcare services from public hospitals.
Strengthening and reinforcing local-level involvement by urban governments to be responsible for their health services, with support from the two relevant central ministries—Ministry of Local Government, Rural Development, and Cooperatives, and the Ministry of Health and Family Welfare—is required to resolve the health issues arising from rapid urbanisation. Also, aligning donor support from international organisations such as USAID and World Bank with the central government's urban health strategy is important to bring about viable change.
NGOs and private providers such as NGO Health Service Delivery Project, the Urban Primary Health Care Services Delivery Project, Marie Stopes Clinics, and BRAC Manoshi project fill in some of the gap in urban primary health. Yet, their scope and coverage are limited. The government can look to subsidise or support such organisations to enable them to operate on a broader scale across highly urbanised areas such as Dhaka and its suburban areas to ensure minimal health care services for the urban poor.
Failure to improve urban health could undermine and erode the gains that Bangladesh has achieved as the country continues to urbanise, not only in terms of health but in terms of the growth in consumption.
Overall, unless a strong government institutional mechanism is established, it is difficult to envision the urban poor's equitable access to primary health care services any time soon.
---
Osman Mahmud Kim studies BSc Economics at the University of Amsterdam.
---
Follow

The Daily Star Opinion

on Facebook for the latest opinions, commentaries and analyses by experts and professionals.
To contribute your article or letter to The Daily Star Opinion, see our

guidelines for submission

.
---