The goal of 'zero hunger' in Bangladesh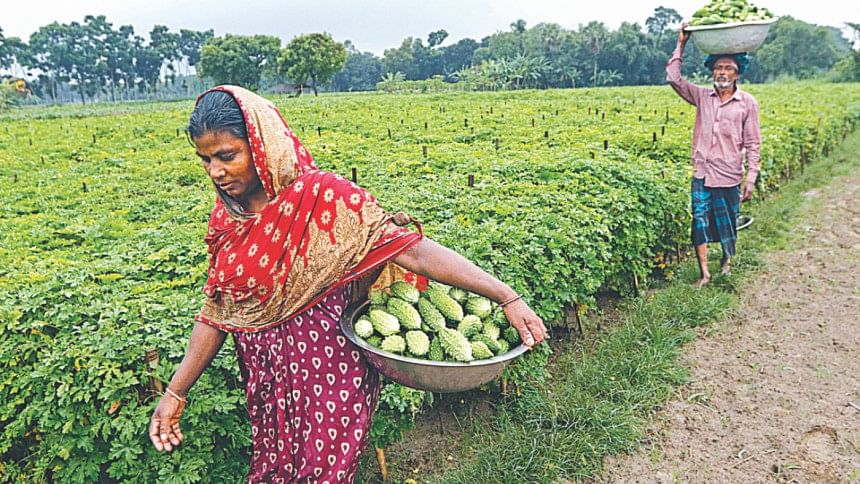 This year's World Food Day is not a happy occasion. After many years of continual progress, the number of malnourished people has begun to rise again. Today, there are 821 million hungry people in the world, a shocking outrage on a planet where there should be plenty of food for everyone.
The key theme of World Food Day 2018 is Zero Hunger, and the need to achieve this goal by 2030 at the latest. According to the United Nations, all of us have a part to play in achieving this goal—governments, NGOs, farmers and individuals.
Bangladesh has come a long way from being a chronically food deficit country in the 1970s. In the last three decades, even as its population has more than doubled, food production has more than kept pace with the population growth. There has also been a rapid decline in poverty, which has fallen from 56.6 percent in 1991-92 to 31.5 percent in 2010.
A recent cross-country study has concluded that from 1997 to 2007, Bangladesh had achieved one of the fastest prolonged reductions in child undernutrition in recorded history. The rate of stunting (low height-for-age) among children under five, which reflects the state of chronic undernutrition, has decreased from 55 percent in 1996-97 to 36 percent in 2014.
Although Bangladesh has achieved a lot over recent decades, a third of children in this country are still classed as "stunted" because of chronic malnutrition. Figures from 2014 suggest that about a quarter of the total population is food-insecure, which translates to 40 million hungry people, and 10 million of those suffer from acute hunger.
According to the World Food Programme, Bangladesh's progress is too slow for it to meet its current targets. For example, stunting will need to decline by 5.3 percent per year if the government's target for the year 2021 is to be achieved, but the rate at which it has actually declined in the recent past is only about 2.5 percent. According to the 2014 Global Nutrition Report, Bangladesh is not on course for meeting any of the 2025 targets agreed upon at the World Health Assembly in 2012.
This is not sufficient progress, and will not help the country achieve the fully developed country status by 2041, as the government has proclaimed as an aspiration. So how can we develop? It goes without saying that farming needs to modernise urgently and become more environmentally sustainable at the same time. The rate of pesticide use is far too high and is a danger to health. People need to adopt healthier diets with more varied fruits and vegetables.
One of the recent success stories has been the rapid adoption of Bt brinjal by Bangladeshi farmers. Brinjal, or eggplant (or begun), is an important culinary vegetable but has historically suffered from severe pest infestation and resulting in high rates of pesticide contamination. Since the Bt brinjal was deployed by Bangladesh Agricultural Research Institute (BARI), some 33,000 smallholder farmers—about 20 percent of the nation's total brinjal farmers—have begun to grow the crop. Overall, they have reportedly experienced a 61 percent reduction in pesticide use and a six-fold increase in income.
In addition to more varieties of Bt brinjal, public-sector scientists in Bangladesh are also engaged in collaborative efforts to develop local varieties of high-yielding rice enriched with vitamin A, potatoes resistant to the devastating late blight disease, which is currently controlled through the application of fungicides, and pest-resistant cotton that also can help farmers curtail their pesticide use.
All of these can contribute to a better situation for smallholder farmers and improved nutrition. However, many NGOs have spread misinformation about these improved crops because of fears about "GMOs" and suchlike. Again, the interests of farmers are not served by attempts to keep them in poverty without agricultural improvements.
Today it is time to leave the arguments of the past behind and to focus on improving the situation for farmers in Bangladesh, as part of a wider effort to reduce poverty and also tackle malnutrition more widely. With the thoughts of people everywhere on achieving Zero Hunger on the World Food Day, there is not a moment to lose.
---
Md Arif Hossain is Visiting Fellow, Cornell Alliance for Science, Cornell University, USA. Email: [email protected]
---
Follow

The Daily Star Opinion

on Facebook for the latest opinions, commentaries and analyses by experts and professionals.
To contribute your article or letter to The Daily Star Opinion, see our

guidelines for submission

.
---