Is Bangladesh ready for its urban future?
October 31 is 'World Cities Day'—a global call to promote sustainable urban development by partnering to take on the challenges and opportunities that urbanisation presents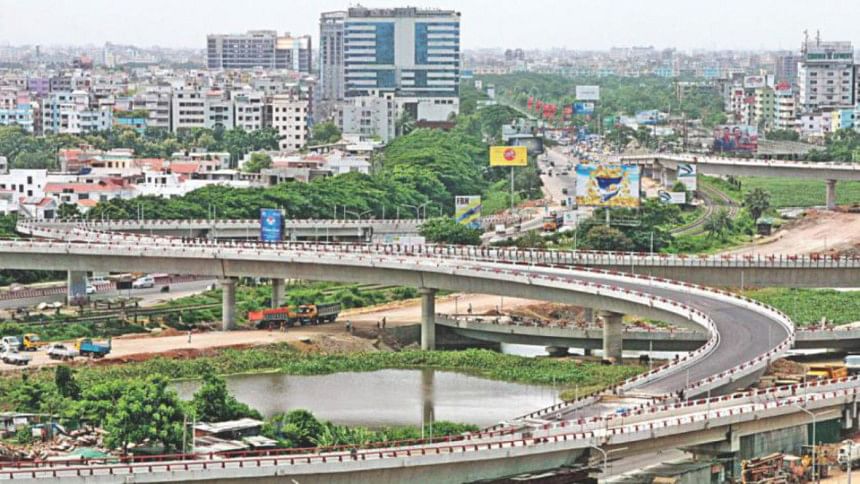 Today, at least one in four people in Bangladesh lives in urban areas. And in 30 years, at least half of the country's population will be living in cities. Dhaka is already the world's most crowded city and its population size will double by 2030. Chattogram will emerge as a megacity with 5-10 million people. Narayanganj, Sylhet, Gazipur and Rajshahi will experience a similar growth. Over time, the country will see its 4,500 Union Parishads convert into small towns.
These predictions are in line with 2018 UN estimates that more than half of the world's population will be living in urban areas by 2050. Globally, cities are emerging as platforms for production, innovation and trade. And more people are moving to tap into these opportunities.
But rapid urbanisation is also resulting in unbalanced growth. Targeting and reducing urban poverty, delivering public services and providing decent work for all, to name just a few key issues, are becoming more challenging. Climate risks are further compounding the problems. Cities are being forced to reconsider how to handle the effects of both slow and rapid-onset disasters such as droughts, floods and river erosion. What will these mean for governance, finance or inequality in urban areas? How can cities become more resilient and sustainable?
Bangladesh is also facing these tough questions while experiencing the fallouts of unsustainable urban development. Bangladesh is among the world's most climate vulnerable countries. Two hundred thousand coastal residents will be forced to migrate with the continual rise in the sea level, according to recent studies. The majority will likely head to Dhaka or to neighbouring districts in the coastal region. Already, inequality is rising partly because there are not enough formal jobs to absorb growing urban populations. Dhaka and Chattogram are under pressure as secondary cities are not growing as fast as the big ones. Affordable housing is another giant challenge as urban areas have a fragmented housing delivery system; this is resulting in a rapid growth of slums and informal settlements without any tenure security. Inadequate urban policies and lack of implementation are making the situation worse.
Despite the increasing significance of Bangladesh's cities, the role that urban areas will play is neither widely understood nor fully recognised in the public debate in the country. Municipal budgets tend to be strained and can depend heavily on government support. And even while more urban stakeholders are stepping in to tackle the challenges, work tends to be either siloed or uncoordinated.
Even then, Bangladesh can showcase good examples of urban development: in 2016, Rajshahi became a global model for tackling ambient air pollution in cities. Its efforts to clean up brick kilns and make the city greener were lauded and has had far-reaching impacts on public health.
Narayanganj has demonstrated how to become financially solvent. And, Jhenaidah municipality is determined to provide quality public healthcare and affordable housing to support low-income communities and help reduce urban poverty. Success stories such as these can inspire action for building resilience for more sustainable cities in Bangladesh. Next steps now should focus on replicating these home-grown solutions to the country's urban challenges.
Bangladesh's action on building sustainable and resilient cities will also have big implications for how well it meets its international commitments: the country is a signatory to the New Urban Agenda and 2030 Agenda for Sustainable Development Goals (SDGs). Discussions on these agendas emphasise on creating safe and inclusive cities so that no one is left behind. As a promising start, in line with the SDGs, the government of Bangladesh has already noted specific strategies and priorities for promoting sustainable urbanisation in its 7th Five-Year Plan (2016-2020). Now, the step forward should be to translate those commitments into action. To do so, Bangladesh needs its urban stakeholders—the government, communities, NGOs, urban activists and anyone with a stake in the country's cities—to partner. October 31, the World Cities Day, 2018 presents an excellent opportunity for doing so to help build sustainable and resilient cities in Bangladesh.
---
Ashekur Rahman is working with UNDP Bangladesh as Urban Development Specialist. Views expressed in this article are his own.
---
Follow

The Daily Star Opinion

on Facebook for the latest opinions, commentaries and analyses by experts and professionals.
To contribute your article or letter to The Daily Star Opinion, see our

guidelines for submission

.
---