WORLD CITIES DAY 2022
Mid-sized cities are our new urban frontier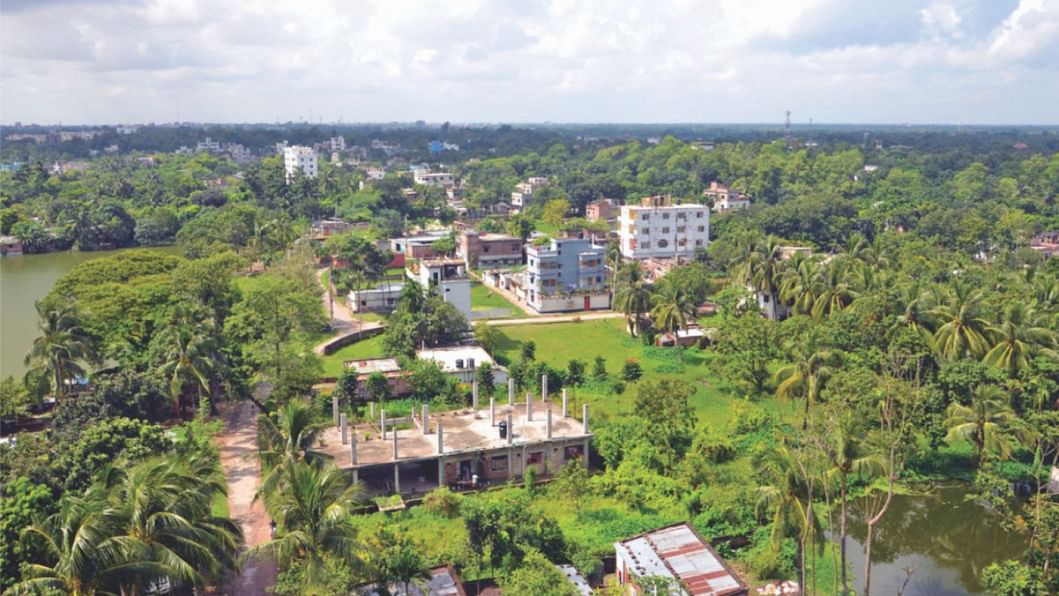 As Bangladesh, along with the rest of the world, observes World Cities Day today, I am wondering what its most pressing urban policy challenge is. The country has been urbanising at a rapid pace since the 1980s. But has it been an equitable urban development? The answer is no. The main problem is the overwhelming Dhaka-centrism that dominates our policy universe. We have become too Dhaka-focused – as if Dhaka's future is Bangladesh's future. Dhaka, of course, has its monumental historical place in the nation's economic, social, and cultural evolution, but it should not be seen as synonymous with Bangladesh.
Dhaka has become a colossal primate city, disproportionately larger than the next three big cities combined (the city accounts for about 35 percent of GDP, and hosts 10 percent of the country's total population and 30 percent of urban population). Yet, we continue to develop urban policies that result in more people, more vehicles, more shopping malls, higher buildings, denser built environment, and longer flyovers in the capital. We do need a functional and liveable capital city, and we must work towards that goal. But our lopsided infatuation with Dhaka is hurting both Dhaka and other cities of the country.
This year's theme for World Cities Day is "Act Local to Go Global." This is a good piece of advice from the United Nations General Assembly. We need to act local – consider local contexts and harness local resources – while thinking globally about the impact of our local acts, so that we can build sustainable and thriving cities integrated with the world systems of economy, ideas, and mobility.
We should have our own motto – under the umbrella theme of "Act Local to Go Global" – for this year's World Cities Day. It should be: mid-sized cities are our new urban frontier. Frontier is the unknown sphere where people chart the right course for their future. The future of Bangladesh's equitable growth is not in an outsized primate city, but in its mid-sized cities – a bridge between metropolises and upazila growth centres.
The only way to decentralise Bangladesh is to increase the liveability measure of mid-sized cities. A liveable city is the one that offers all its people – irrespective of their economic status, religious orientation, and birthplace – an equitable access to economic opportunities, quality healthcare and education, parks, and, most of all, the institution of social mobility. A liveable city supplies affordable housing, ensures clean air, low urban noise level and good sewage systems, reinforces cultural traditions, makes humane efforts to reduce urban poverty, and creates soft infrastructures like footpaths and green spaces that foster a healthy lifestyle. A liveable city produces law-abiding citizens and creates an inspiring built environment that makes cronyism, corruption, and oligarchic behaviour seem unhealthy and immoral. A liveable city must be administered with a good governance model.
Since most of our mid-sized cities are yet to firm up a stable urban DNA, we still have time to imagine and develop them as liveable cities. An integrated network of mid-sized cities – each with a population range of 100,000-1,000,000 – across the country should be Bangladesh's new urban frontier.
There will be interrelated and irredeemable damages unless we realise the vast promises of this frontier urgently. First, our national resource allocation will be inequitable, calcifying a permanently faulty urban footprint and eventually resulting in a stunted national growth. Second, all mid-sized cities in the country are likely to become a hodgepodge imitation of Dhaka (alas, this is already happening in some places), because city corporation and municipality leaderships erroneously see Dhaka as a model. I have come across local government officials in mid-sized cities who, unwittingly, would like "Dhaka-style" flyovers, shopping malls, and tall buildings in their cities as symbols of their progress.
I have recently toured a few mid-sized cities across Bangladesh: Barishal, Jashore, Kushtia, Faridpur, and Narsingdi, among others. The signs of the country's vaunted economic growth are clearly visible in these cities, both spatially and socially. There are four-star hotels, ostentatious shopping malls and restaurants, massive billboards advertising a vast range of commodities, apartment buildings, multi-storey office complexes, shiny local government offices, and growing traffic congestion in the inner city.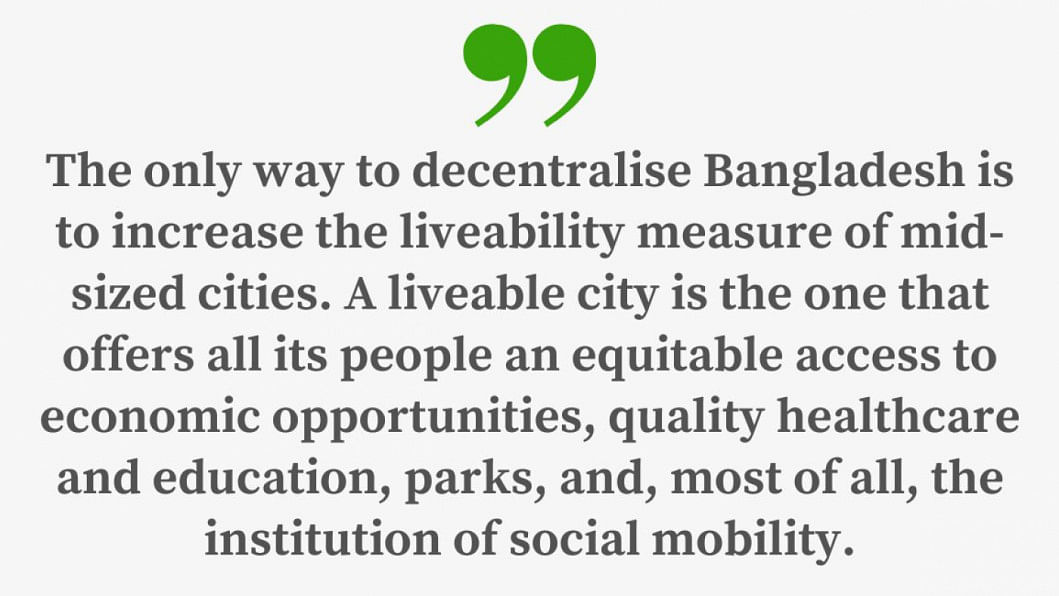 However, economic growth has not been translating into planned spatial organisation. Talking to local government officials, one is likely to conclude that there is no soul-searching as to what their city wants to be, based on its social, cultural, and environmental uniqueness. A tyranny of sameness plagues many mid-sized cities and their growing built environment. It is increasingly difficult to distinguish Barishal from Jashore.
It is time to harness local traditions and resources of each city as a basis for its urban development, thus enhancing its liveability measures. Furthermore, the mid-sized city must learn how to keep local talents local and resist brain drain from its midst.
A resilient and adjustable urban development policy for mid-sized cities is not only necessary to decentralise Dhaka, but also an effective economic model for the country. Here are some of the key reasons. First, high living costs are encouraging inhabitants of large metropolises to move to smaller cities and secure a more affordable lifestyle. Second, the growing economies of mid-sized cities offer opportunity-rich start-up ecosystems. Third, these cities help reduce the urban-rural and agriculture-industry divide, creating a range of hybrid works for their labour force. And, fourth, because mid-sized cities have not yet reached the frenzied development phase, their entrepreneurial class can participate in building a climate-resilient, human-centric, economically vibrant, inclusive city.
There are also challenges in mid-sized cities to attract the entrepreneurial class. These cities have not yet fully transformed its mofussil persona to a cosmopolitan mindset. Public transportation is insufficient, and so are quality education and healthcare. Their business competitiveness and investment friendliness have a long way to go.
Sadly, we don't have enough research on the economic and urban geography of mid-sized cities in Bangladesh. There is no credible and authoritative data on the GDP contribution of cities like Kushtia, Barishal, Sylhet, and Cumilla, relative to their budget allocation. To institute sound growth policies for mid-sized cities, we need to develop a new research agenda.
Dr Adnan Zillur Morshed is an architect, architectural historian, urban thinker, and professor at the Catholic University of America in Washington, DC, and executive director of the Centre for Inclusive Architecture and Urbanism at Brac University.