China's assistance for Chittagong port development, not a military conspiracy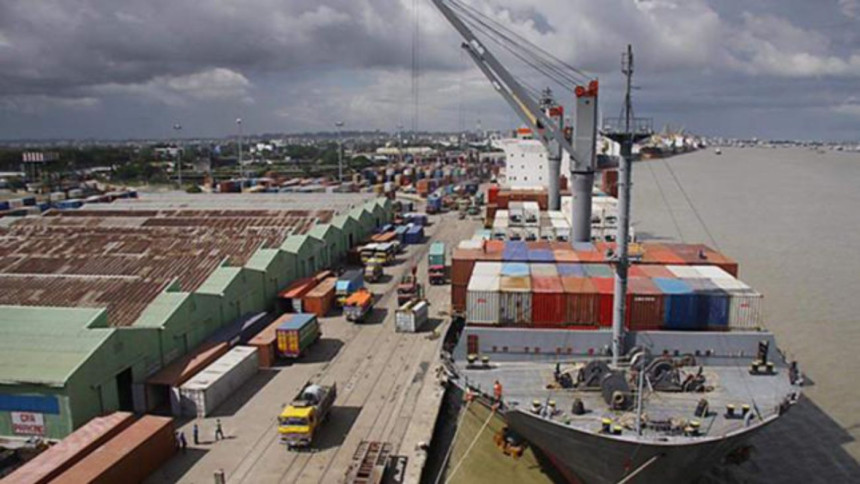 Along with deepening the implementation of the Belt and Road Initiative (BRI), China has also accelerated its cooperation with the rest of the world in recent years. However, some international media have increasingly reported China-led BRI as an ambition of military expansion. These reports purposely define the projects between China and countries along the Indian Ocean, particularly the Gwardar port project in Pakistan, Hambantota port project in Sri Lanka and Chittagong port project in Bangladesh, as a part of China's "string of pearl" strategy in the Indian Ocean Region (IOR). These reports also allege China's port construction in the above-mentioned areas as an ambitious military plan.
The international media also says that China intends to control the maritime energy channels in the Indian Ocean and expand the scope of its power through developing ports in South Asian countries. As for example, China's willingness to fund the development of Chittagong port is perceived by those media as a pearl of the "pearl string" and as a part of the implementation of its strategy in the Indian Ocean.
BBC, for instance, has published an article referring to whether Chittagong port would become an important link of China's "String of Pearls" in the Indian Ocean. The report claims that China's large-scale aid for Chittagong port development represents Beijing's attempt to realise some special purposes.
This judgment appears absurd to China. The country's participation in Chittagong port development is based on equal terms between China and Bangladesh. The two sides have also signed a reciprocal agreement for the sake of achieving joint economic and trade development. All details of the construction project have been made open to the outside world and can definitely withstand any inspection. Therefore, there is no military purpose behind China's funding of this project. Meanwhile, it should be noted that the Chinese government has never issued any strategy on the Indian Ocean in any occasion, let alone the "String of Pearls".
The bilateral cooperation on Chittagong port construction is a win-win choice for both China and Bangladesh. In fact, it is apt to say that Bangladesh can benefit more from the construction of the port than China. Chittagong port is the largest and most important seaport in Bangladesh. However, it faces huge pressure to handle cargo given the country's rising trade volume. The country's maritime experts have been urging the government to modernise the port's infrastructure. In addition, there is a strong demand from business communities in Bangladesh to develop a deep-sea port as the capacity of Chittagong port reaches its limit. In recent years, many countries in South Asia have upgraded their ports and even developed state-of-the-art deep-sea ports. It is in this perspective that Beijing's involvement in the port development has enabled Bangladesh to obtain access to China's funding, technological and talent support.
The successful implementation of the project can not only improve the capacity of the port bringing down cargo transportation cost by a large margin, but also significantly upgrade Chittagong port's position in the international shipping channels, turning it into a major port in the Indian Ocean. In this milieu, Chittagong port can make full use of its complementary advantages of Kolkata port in India and multiple ports in Southern Myanmar.
Most importantly, the development of Chittagong port project has also fuelled bilateral ties between China and Bangladesh in other fields. Trade between the two countries is booming. The single-point mooring and two 220km-long pipelines connecting with Eastern Refinery Limited is scheduled to be completed by China by 2020. The project is likely to greatly mitigate the dilemma of large-tonnage ports in Bangladesh to have no inland terminal depots in Chittagong port to stop at. Along with the port construction, the Karnaphuli river bottom tunnel project, Padma Bridge Rail Link project, and Tongji-Bhairab Bazar Railway Increased Construction Phase 2 project contracted by the Chinese enterprises are all related to infrastructure development in Bangladesh. Benefiting from these projects, the country can remarkably develop its sea ports and infrastructure, thereby, strengthening its interconnectivity with surrounding countries.
To China, the project is mainly out of the concern for win-win economic development. On the one hand, Chittagong port can facilitate trade activities among countries along the Indian Ocean and beyond. As a responsible major country in the world, China actively participates in overseas port construction. These efforts can guarantee efficient operation of maritime transportation lines of countries along the Indian Ocean and provide countries throughout the world with more convenient logistics support. On the other hand, this project can propel economic dynamism in the IOR.
To be noted, the IOR has been recognised as one of the major energy channels in the world. China's participation in Chittagong port development can not only help maintain China's energy channel safety, but also bring more transportation conveniences for other countries in the world. Gradually, the Indian Ocean will become even more economically dynamic and politically increasingly peaceful. From the global perspective, China-Bangladesh port cooperation could not only create mutual economic benefits, but also help other countries conduct trade and commerce, taking advantage of convenient maritime infrastructure.
Ports are an important part of international transportation. Chittagong port could play an even greater role, becoming an important bridge for South Asia to reach Southeast Asia, East Asia and beyond. Therefore, further development of Chittagong port will fasten Bangladesh's economic transition, making it into an important emerging player in the Indian Ocean in this century.
To sum-up, China's financial assistance for Bangladesh's Chittagong port is a pursuit of mutual benefits. It is an outcome of China-Bangladesh win-win economic cooperation. In fact, trade, investment, cultural, academic and military cooperation are all on the rise between the two countries banking on their mutual interest. No military conspiracy is involved in any of the projects that Dhaka and Beijing are embarking on.
For a long time, China has reaffirmed its position to the international community against military expansion, armament race and alliance building. Last but not least, China has long regarded countries along the Indian Ocean as partners rather than players in a "zero-sum game". The Chinese culture deeply believes that "reconciliation benefits both whereas discord hurts both." China has neither the capability nor the ambition to build the so-called "Pearl String" to besiege any country. Hence, the "China Dream" of the Chinese nation is consistent with Bangladesh's dream of a "Golden Bangladesh" as well. China's BRI can, thereby, bring more opportunities for a thriving Bangladesh. More significantly, China is committed to contribute to a peaceful and prosperous Indian Ocean Region with its wisdom.
---
Hongmei He is PhD Candidate, Minzu University of China, and Research Associate, Yunnan Academy of Social Sciences, PR China. Jiao Nie is Scholar, Yunnan University. Yao Wang is Scholar, Yunnan University.
---
Follow

The Daily Star Opinion

on Facebook for the latest opinions, commentaries and analyses by experts and professionals.
To contribute your article or letter to The Daily Star Opinion, see our

guidelines for submission

.
---