Bangladesh: From a take-off stage to actual take-off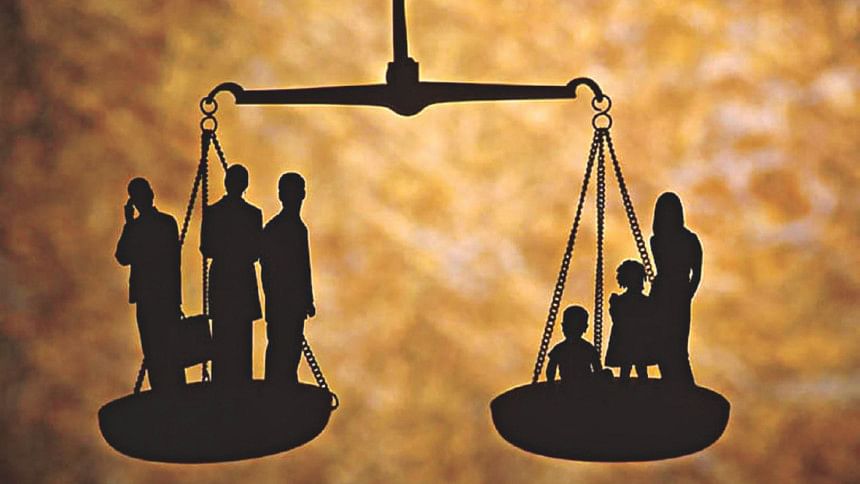 Budget implementation capacity of Bangladesh has been falling consistently for the last seven fiscal years, exposing poor capacity of government agencies, The Daily Star reported on June 4, 2018. Despite a sustained increase in GDP growth rate for over a decade, the implementing capacity has dropped from 97 percent in 2010-11 to a mere 78 percent in 2016-17, it further adds.
This should raise an alarm because such a downward trend will make it difficult for Bangladesh to achieve its vision of becoming a developed nation by 2041.
A large chunk of the budget is allocated for infrastructure projects. Delay in such projects is likely to be the main reason for the shortfall in budget implementation. We can point out several reasons for this poor performance, one of which is the relevant government agencies' lack of understanding of contract management and unwillingness to treat the contractual parties on a fair and lawful basis.
The Daily Star on its December 15, 2015 issue reported a comment by World Bank Senior Vice President and Chief Economist of that time Dr Kaushik Basu. According to him, poor infrastructure and slow bureaucracy are two major challenges for Bangladesh's economy that is standing at the "take-off stage". It's not just infrastructure, Bangladesh must also improve its investment climate, as reported by Jonathan Garber in the Business Insider (April 6, 2017).
The government understands this very well and has been trying to attract investors to infrastructure projects worth billions through Private Public Partnership (PPP) models. However, if the government agencies are not able to deal with contract negotiations and execution in any professional manner following internationally accepted norms and standards, will they be able to find any developer to take this risk of investing billions?
Those who are familiar with the consultancy industry in Bangladesh would notice that there is a clause in the standard form of contract called "Relation Between Parties" that stipulates as follows: "Nothing contained herein shall be construed as establishing a relation of master and servant or of principal and agent as between the Client and the Consultant" (emphasis added). This is a standard clause in the Form of Contract adopted by the government (General Conditions of Contract) and cannot be altered. Why was it necessary to categorically mention this? The simple answer is, this is precisely the attitude of the government officials; more often than not, they view a contractual counterpart as someone who is there as an inferior party. However, by definition, a contract, by all its intentions and purposes, is an agreement between two equal parties, each having a legally binding obligation to abide by its clauses. The sanctity of a contract between two parties is completely lost, when either party is unwilling to offer a fair treatment to the other.
Dr Basu, in another (opinion) piece in The Daily Star (27th April, 2018), mentions corruption, cronyism and inequality as potential threats to the Bangladesh economy. He might as well have added to this list another—difficulty to obtain justice. Implementation of contractual provisions in a fair and lawful manner can only be ensured through access to justice.
Francis Fukuyama makes an interesting point in his book "Origins of Political Orders". He says, while Islamic Civilisation was at its heyday during the 7th to 15th century or so, Europe was actually slowly developing a foundation of legal systems based on which they could learn from this and other civilisations and develop further in a more sustainable manner. Why did the Islamic civilisation not survive longer, while the Europeans out grew them within a short span of time? The explanation that Fukuyama offers includes rule of law, separation of the Church and the State, development of bureaucracy and spread of education. European state formation was based on their ability to dispense justice, more than anything else, including military power.
Successful implementation of the long list of infrastructure projects undertaken by the government needs participation by various contractual parties, including investors, builders, contractors, suppliers and consultants of adequate talent, qualifications and experience. All of them need to work with the government like an orchestra, with a common goal, in order to achieve the desired outcome. The question is whether Bangladesh can offer adequate legal safeguard that will attract investments, skill, experience and talent. Whether the implementing agencies have the professional attitude needed to negotiate contracts and execute them in a fair and lawful manner. Amartya Sen, in the preface of his "Idea of Justice" says: "What moves us, reasonably enough, is not the realization that the world falls short of being completely just…but that there are clearly remediable injustices around us which we want to eliminate." This is something the government of Bangladesh may like to look into, for the economy to move from take-off stage to actual take-off.
There was a time when Bangladesh was trying to connect villages with markets, markets with cities, etc. Now its vision is to become a hub of international business, transport, communication and culture. This means development at a much higher speed that needs professional skills and attitudes commensurate with accepted norms worldwide. In other words, without an overall paradigm shift in how the government agencies think and function, no reputed consultant, contractor or investor will be interested to come to Bangladesh, projects will keep getting delayed, quality will deteriorate and the vision of economic take-off may remain a mere pipe dream.
---
Sayeed Ahmed is a consulting engineer with experience in infrastructure project management in South Asia, South East Asia and the Pacific. His interest includes broad-based development and inclusive growth.
---
Follow

The Daily Star Opinion

on Facebook for the latest opinions, commentaries and analyses by experts and professionals.
To contribute your article or letter to The Daily Star Opinion, see our

guidelines for submission

.
---