What does sliding into 'autocracy' really mean?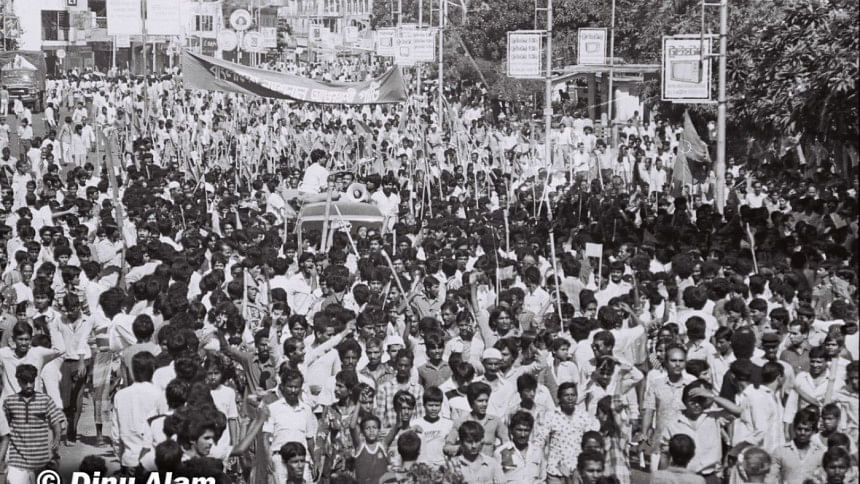 When I was a village boy, I learned from one of my grandparents that if I ever see a black cat, I shouldn't leave home to begin a journey for an auspicious cause. Later I realised that black cats are commonly visible in all villages and they come out of their dens particularly in the morning when most journeys are begun. Similarly, the ruling party has deemed the recent report by a Germany-based think-tank on Bangladesh's slide into "autocracy" as a black cat, this being an election year. They have reacted quite angrily without a diligent analysis on what such a claim could be based on. One high-level adviser went as far as to say that we don't need to learn democracy from Hitler's country. Let's not forget that Germany is a developed, democratic nation where Hitler was an exception. Germany is the proud mother of great philosopher Karl Marx, great scientist Albert Einstein, and musical geniuses like Beethoven and Mozart.
So the responses from the government level weren't particularly judicious. Some of them trashed the report, some theorised it as a conspiracy—a refrain that draws little curiosity. The opposition party, on the other hand, seized the report as if they had eventually found the needle in the haystack. Both sides failed to dig deeper in the same way they failed to take notice of the country's high ranking in the corruption index in the past.
Bangladesh has recently slid into "autocracy" according to a German think-tank's democracy measure—the Bertelsmann Stiftung's Transformation Index (BTI). This is not entirely a political index and many critics have failed to grasp that angle. The think-tank clearly acknowledges that its concept of democracy goes well beyond other traditional definitions which primarily deal with basic civil rights and the conduct of free elections. That is why its labelling of Bangladesh as an autocracy produced different results than others. The BTI evaluates how developing countries are steering social change towards democracy and a market economy. Guided by a standardised codebook, experts assessed the extent to which a total of 17 criteria have been met by each of the 129 countries in the study. Seven criteria out of 17 concentrate on economic indicators: 1) level of socioeconomic development, 2) organisation of the market and competition, 3) currency and price stability, 4) private property, 5) welfare regime, 6) economic performance, and 7) sustainability.
Notable too are the five governance-related criteria which don't exclusively fall into the political domain. Rather, they cover wide socioeconomic areas. For example, the features such as 1) level of difficulty, 2) steering capability, 3) resource efficiency, 4) consensus-building, and 5) international cooperation include the domains of economics, diplomacy, administration, environment, and technology along with the political health of a nation. Thus, the BTI is a misnomer of an index that treats democracy or autocracy in almost a binary fashion. Here most countries would rely more on the democracy index constructed by the London-based think-tank, the Economist Intelligence Unit (EIU).
The EIU's democracy index is focused on questions that are carefully more pertinent to democratic rights from a political angle, suggesting its greater acceptance. This index divides the countries of the world into four broad categories: full democracy, flawed democracy, hybrid regime, and authoritarian regime. While the largest part of Asia and Africa falls into the fourth category of the authoritarian regime, Bangladesh remains one step above in the hybrid regime. India sits one-step above that, in the second category of flawed democracy, and the rest including the US, UK, Canada, Australia, and most west European countries enjoy full democracy. Its classification reminds us of how usually British colonies which were capable of building their own institutions successfully, eventually enjoyed full or near-full democracy. Then why does Bangladesh fall in the third category? The quarter-century of Pakistani rule and post-independence military regimes largely explain why Bangladesh lags behind India in this scorecard. India, being the globe's largest democracy, didn't experience a military rule for a single day.
Thus, while the EIU's democracy index ushers in a new direction for Bangladesh, the Germany-based transformation index, being widely diluted with other indicators, labels the country as a moderate autocracy, sparking arguments across the entire political spectrum. Countries like Singapore, Malaysia, and Russia seem to pay no attention to this index since they are branded as moderate autocracies as well. India remains one-step above in the zone of defective democracy. The consolation for Bangladesh is that it ranks above hardline autocracies in the region such as China, Thailand, Myanmar, Vietnam, and Pakistan.
The BTI 2018 report acknowledges that the status of political transformation has reached a new low in global average. But it finds it more alarming to see that in Bangladesh, Lebanon, Mozambique, Nicaragua and Uganda there have been five regime changes to autocracy. The claim particularly for Bangladesh seems too abrupt. Although the last general election of 2014 wasn't as participatory as initially anticipated, this doesn't warrant labelling Bangladesh as an autocracy so abruptly without a period of observation. The country is heading to the parliamentary election at the end of 2018 and the regime is expected to reflect people's demand to make it as widely participatory as possible.
At a time when major parties are preparing for the election, the branding of Bangladesh as autocratic may be detrimental to prospects of foreign investment and international cooperation. This labelling rather portrays a defective perception of the German think-tank about Bangladesh's citizens and history. This is the nation that embarked on an independence war only when democratic rights were denied by Pakistani rulers. This is the nation that fought for its language and stood against any dictatorial rules in the past. There will be corrections in political behaviour, but democracy will never be given up in Bangladesh.
Let us not trash the BTI results entirely. They have some lessons for us. Bangladesh scores poorly in two criteria under political transformation: rule of law and stability of democratic institutions. The weak score (3.8 out of 10) for rule of law is mainly due to tardiness of justice, while the low score for democratic institutions (3.0 out of 10) can be corrected by investing in education and focussing on meritocracy rather than brainless loyalty to run institutions. Bangladesh's development must come through a competitive model of democracy. And a parliamentary democracy that promotes competition in development activities is the best model the country has earned through immense struggle.
---
Biru Paksha Paul is associate professor of economics at the State University of New York at Cortland.
Email: [email protected]
---
Follow

The Daily Star Opinion

on Facebook for the latest opinions, commentaries and analyses by experts and professionals.
To contribute your article or letter to The Daily Star Opinion, see our

guidelines for submission

.
---