What changes do we want in a post-pandemic Bangladesh?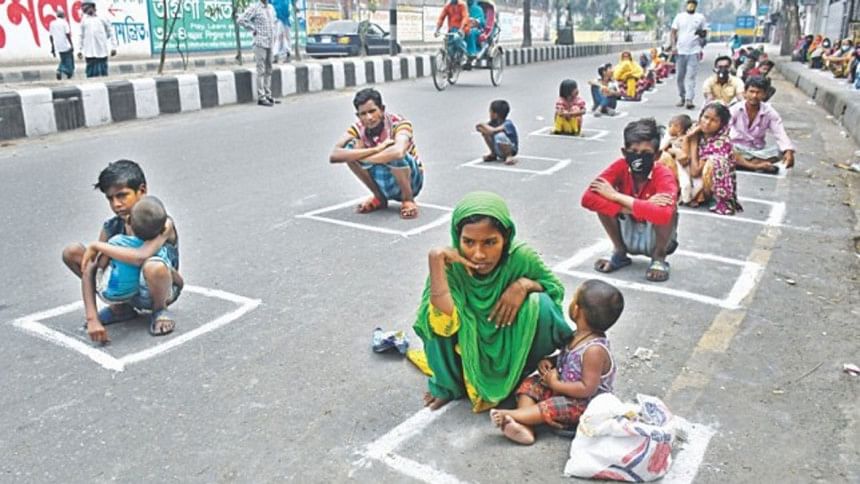 "It's going to be a long night," I thought to myself as I pressed the redial button for the fourth time. The phone started ringing and I waited for Moni to receive it. I dialled Abu Bakar Siddique's number. The phone kept ringing. No answer there either. Moni and Abu Bakar Siddique are homeless children I had befriended during my time as a student at the University of Dhaka. They live on the outskirts of Dhaka now. After all these years, they are still struggling to survive and that is where I, as a person who tried to make a difference for them, have failed tremendously. As much as I want to deny it, the worst is now here in the form of Covid-19 and it is, if anything, as revealing as a drop of blood in a clean glass of water.
It took me six years of running a school for these children with my friends, starting an NGO, arranging some meals every year on special occasions and then eventually four of our homeless children—our little brothers—dying in a fire, to finally realise that I was making no real difference in the children's lives. Through it all, my experiences have taught me one important lesson: empowerment should be the goal because charity is rarely effectively sustainable.
Just look at the situation around us. While I am writing this in the comfort of my home and while most of you are reading this from the comfort of yours, there are countless men, women and children—in our country alone—worrying about whether they will again have to go to sleep tonight on an empty stomach. For now, we need to save these people before anything else. Right now, nothing else matters. What is wonderful is how hundreds of people—the aam jonota—have come forward with their organisations, NGOs and businesses to feed families in need. What is sad is that the bigger authorities really could have done so much more for those amongst us who need help the most.
What use is celebrating our "soon-to-become-middle-income-country" status if when push comes to shove, we are still contemplating how to make sure people don't die of hunger? We need infrastructure and a systematic approach to be able to mobilise and distribute resources to the needy in a more effective way. The best ideal situation would be if all the NGOs were part of the same system, which makes sure that resources are distributed in such a way that nobody is left out. There is also the matter of consistency and keeping these efforts ongoing through the upcoming months of hardship. Systems matter, and emphasising the need to focus on empowerment and ending our reliance on charity is what brings me to the next point. If we are to start thinking about what needs to change based on the lessons this pandemic has taught us, what differences in policy, action and implementation do we want to see?
It is time to let go of the "cheap labour comparative advantage" that we have been so proud of. It may have brought us success in the past, but at a cost. At the cost of thousands of women and men working in factories ignoring the rules of compliance or other settings where their basic rights as workers are ignored, and earning not even enough to have a minimum standard of life with clean water, sanitation, quality health services and education. This is sadly the case for our RMG workers, farmers, day labourers and thousands of the people we, as a nation, have not cared about enough. It is time to change this narrative. No more cheap labour. Train our people, give them quality education, empower them. So that the next time a pandemic hits, our people won't have to fight for a handful of rice from the torn sack that fell off the charity truck onto the streets.
I admit, our people are trapped in a vicious cycle that is interlinked with poverty, inequality, healthcare, education and many other factors. However, factors such as corruption, indifference and sheer ignorance  also exists in this cycle. I believe we can restart and accelerate the whole process if we can finally start to call a spade a spade, and start with the latter factors. Any success this nation has is because of the hard-working "khete-khawa" people who have not been given the dignity they deserve. Once this is over, we need to brainstorm and figure out how to improve their standards of living. Basic income, welfare state or social security—we desperately need something.
What changes do we actually want? I want a decent quality of life for all our people. I want human rights and empathy to be our topmost priority. I want social work to be a part of our education system, right next to homework. I want videos to be made of the good initiatives and the love, so that one day when schools reopen—children will be shown films and be told stories with people at the centre as examples of real success. I want our children to be proud of our poor farmers. I want the narrative to be changed so that our children want to become researchers, not rich. I want that our country will pay twice, even thrice, to our Bangladeshi researchers and scientists spread all over the world to come back home and train, teach and raise the next generation of researchers. I want ethics, inclusiveness and tolerance to be the first output in every educated being in our country. I want our experts to be chosen not through connections, but through merit.
We don't need a high GDP to set our priorities straight. Tomorrow is ours, and we have got to start figuring out what we want tomorrow's Bangladesh to be. Arundhati Roy says "Historically, pandemics have forced humans to break with the past and imagine their world anew." This might just be the one chance our generation will get to set this country's priorities straight. This is our golden opportunity. We are in for a fight and hard times are ahead if we are to refresh and restart. I dedicate this article—my own little way of showing respect—to the people risking their lives for others and stepping out of their comfort zones to feed someone else, to give someone else care. It is for these people and the inspiration that they are that I am encouraged, willing and determined to be a part of changing the narrative. Are you?
Rubaiya Murshed is a lecturer at the Department of Economics, University of Dhaka.