From London To Dhaka
A Shingara Thonga for Kajol: missing journalist, photographer and father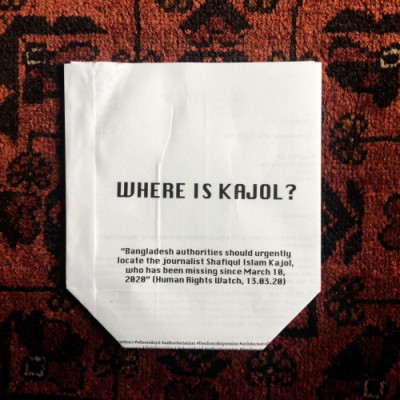 I do not know Kajol. But at a time when coronavirus casts its web over the world, his story has found its way into my art through the obscurest of routes: a shingara thonga made by my seven year old daughter.
Last month, sitting at home with her in London, I read the story of Kajol's case in the news. It troubled me deeply: On March 10, the day after police filed a case against him under the notorious Digital Security Act, journalist Shafiqul Islam Kajol left his office but never arrived home. CCTV footage released by Amnesty International shows unknown men moving about Kajol's motorbike whilst he is in his office. They appear to tamper with it. Within three hours of Kajol's last CCTV sighting, as he leaves the office on this motorbike, police filed a second case against him under the same Digital Security Act. Where is Kajol?
I kept turning his story around in my mind. I wondered about his family. How would Covid-19 impact Kajol's case? The virus would surely steal attention away from it. Starve it of oxygen as it starves the lungs.
Lockdown malaise was setting in and my daughter was restless—self isolation is a bizarre concept for a seven year old. I was several months into organising a joint artists' protest at Tate Modern museum in London. Artists, writers, poets and thinkers from across the world were creating samosa packets (shingara thonga) for "Turbine Bagh", a demonstration against fascism in India. For a period of one day, the cathedral like space of the Turbine Hall at Tate Modern, one of the world's most prominent art spaces, would be our Shaheen Bagh, our garden.
It was in that vast, humming engine room that I had staged a protest for my jailed uncle, the photographer Shahidul Alam in 2018. We laid his "Crossfire" series of photographs on extrajudicial killings in Bangladesh across the museum floor. Now, for Turbine Bagh, we would display our shingara thonga within a large rice circle, around which we would sing protest songs and read poems in solidarity with the mass resistance in India.
Why shingara thonga as a symbol for nonviolent resistance? The thread of the story winds back to Dhaka, February 2018 and a Dhanmondi street corner—before Kajol, before corona, before Free Shahidul, or Shaheen Bagh. For it was here that I bought a handful of shingara for my mother and I to share, and noticed that the packet was made from lists of court hearings; cases between citizens and the state. Entranced by this packet, I began to collect more. Constructed from throwaway papers—letters, corporate emails, official documents, kids' homework, poems, news, and court lists—collectively they painted an insightful portrait of a country.
Would my mama's case ever appear on a shingara thonga? When in August 2018 he was jailed after reporting on student protests, I began making my own, charting the stories of the Free Shahidul campaign that had spread across the globe. And somehow a samosa packet movement was born.
Was there a way to support Kajol through Turbine Bagh? As Covid-19 extended its grip on the globe, mass gatherings were banned and museums closed. We knew our physical event at Tate Modern would be postponed, but it didn't matter. Turbine Bagh had become a movement, a living thing. Grassroots in spirit, embracing emerging artists from India and beyond, it had also gathered support from figures including Sharon Stone, Anish Kapoor, Zehra Dogan, Arundhati Roy, Akram Khan, Vijay Prashad and Amitav Ghosh. Now it ran on its own momentum.
"Let's make a Turbine Bagh shingara thonga for Kajol," I proposed to my daughter. She jumped into action.
Children are perhaps my favourite allies. The hardening of attitude so prevalent in adults, is rare in them. Their courage has a distinct potency, as if it comes from the supernatural realm (the same place their fears come from).
So we made our "Where is Kajol?" shingara thonga, and put images of it onto social media. I did not foresee that Kajol's son would stumble upon the post but when he did, my daughter was both happy and unsurprised. She'd never doubted that an action would lead to a result. It is adults who are the cynics. It is adults who will tell you that resistance is futile.
Even my daughter can sense that there is nothing futile about resistance. Because resistance is a measure of dignity. It is nothing to do with profit or loss. Those who resist dignify those they fight for. And in doing so, they dignify humankind.
After seeing the shingara thonga post, many artists on the Turbine Bagh platform, from India and beyond, emailed the government of Bangladesh about Kajol. During a global pandemic, they took the time to support an unknown family from another country.
The fact that (to my knowledge) not a single person has yet received a response from the Bangladesh authorities, is telling. That is a measure of shame and immense cowardice.
The letter Polok Monorom has written to his father Kajol, published in The Daily Star, is a haunting thing. The desperation of the family's situation, the chilling sense of being watched, and the terrifying paralysis of lockdown impeding the search for one's father, are shocking.
But what is more astonishing is Polok's strength. It takes courage from the supernatural realm to fight the monster that he fights. He enters the labyrinth of paranoia alone, armed with weapons of love, a son's infinite resolve to rescue his father and the belief that he is still alive and will return.
Polok survives on hope. But it is also up to us to make that hope real. If everyone reading this spoke out, or took four minutes to send an email as the Turbine Bagh artists did, perhaps Kajol could return to his family. Had we spoken out each and every time prior, things would never have gotten to this stage. Silence nourishes well the poisonous flower of abuse.
Some might know Kajol's fate. They might know his condition, keeping it from his family as a means to torment. To treat another human being this way is to have lost control, be it on a personal or a state level. There is opportunity for redemption still and it is in Kajol's captors' hands. We ask that they, and anyone reading these words heed Polok Monorom's appeal: "Everyday I hear my father's footsteps and wait to catch a glimpse of his voice, maybe you're also wondering about my father. We can find my father with your help. Even from afar, I know you want what's best, which is my father's return… Let's come together from near and far, in times of corona, with strength in our hearts to live and die. With love and prayers, Monorom Polok, April 9, 2020, Dhaka, Bangladesh."
Sofia Karim is an architect and visual artist based in London, UK.
If you wish to write to the government of Bangladesh about Kajol, some guidance is provided by Amnesty International via the following link, or of course, you can write words of your own. https://www.amnesty.org/en/documents/asa13/2065/2020/en/