RMG makers must adapt to the ongoing volatility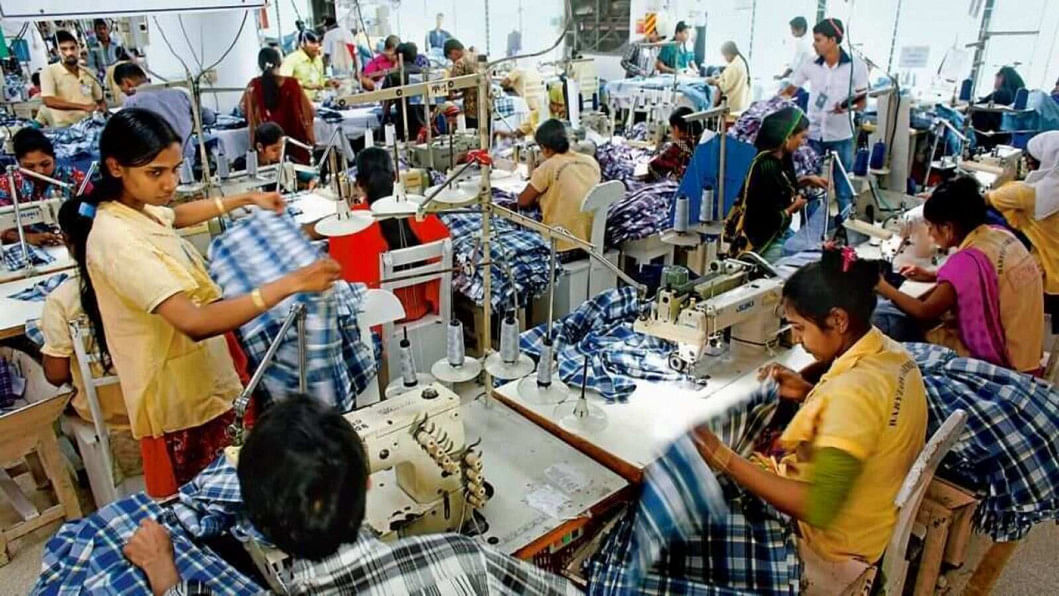 As per the latest government figures, work orders for Bangladesh's ready-made garment (RMG) sector for the September-November season has fallen by more than 20 percent. Many believe business won't pick up until February next year (at the earliest) as the global uncertainty dampens consumer demand in the Western markets.
Our end consumers in the US and Europe are cutting spending due to the rising inflation and uncertainty caused by the Russia-Ukraine war. Friends in Europe tell me that prices of petrol and household energy are through the roof. There is a cost-of-living crisis and this is reducing disposable income. We are looking at the grave possibility that our two largest markets – the US and Europe – may fall into recession this year.
It seems that just as we recover from one crisis – the global pandemic – another one begins. From autumn last year till mid-summer this year, we felt some relief as work orders picked up. But now we are once again staring down the barrel of an uncertain future.
I do wonder whether we, the RMG makers, should start thinking of this uncertainty and volatility as the new normal, and adapt accordingly. If it's not the pandemic or war, it may well be something else: climate crisis, trade wars – you name it.
A few potential tactics spring to mind when I think about adapting. All, I believe, could help our RMG makers become more resilient in an increasingly unstable global market.
The first is shorter runs, flexibility and increased agility. Factories better placed to respond to a less stable trading environment will be in a stronger position to capitalise on opportunities that make themselves available. It might be that big orders are not on the table for the next few months, or even beyond. But people will not stop buying clothes altogether. More nimble and agile factories that can meet different market needs on time will be the winners in a difficult trading environment.
Point Two ties into Point One, and is about speed and responsiveness. We need to look at our rivals in China. Shein, one of the world's fastest growing fast fashion brands, is now working closely with a cluster of supplier factories, all of which are operating within a two-hour drive of its Chinese headquarters in Guangzhou. I expect Shein's model to influence the rest of the market. Shein's rivals will be placing pressure on competitors to speed up their own acts, and this has huge implications for us as suppliers. Can we meet the rapid delivery requirements? Can we begin to reduce our speed to market? New port services between Bangladesh and Italy will help our cause here as far as European markets are concerned, but as an industry, there is so much more we can do.
Point Three is about broadening our client base. As much as the challenging business environment represents a threat, there is also an opportunity to win new business. Fashion brands are still shifting sourcing hubs. There is still a large withdrawal from China, while uncertainties exist in many rival RMG sourcing hubs, such as Myanmar (military coup), Sri Lanka (bankrupt government) and Ethiopia (civil war). Can we pick up business from any of these markets? We might need to, as we may not be able to rely exclusively on our existing clients as we move through 2022.
Point Four is about shifting into niche and high-value products. Our industry leaders have already talked about increasing the use of non-cotton, man-made fibres such as polyester and viscose in Bangladeshi supply chains. This would enable us to move towards other market segments such as sports, athleisure wear and luxury fashion. There's no time to waste here – we have to begin to reduce our dependence on staple cotton garments in order to remain competitive.
Finally, we can truly make ourselves stand out by continuing to invest in sustainability. In the past few weeks, Europe has experienced record-breaking heat waves, which has spooked industry leaders as well as government officials and regulators. The consensus seems to be that the extremes of global warming will be upon us quicker than we think. With this in mind, I see a major focus on sustainability and a renewed drive towards net zero commitments by governments. This all has huge implications for fashion. Regulators will be coming down on fashion brands and their supply chains like never before in the coming months and years.
I cannot emphasise enough how much of a competitive advantage our domestic RMG makers could achieve by shifting to renewable energy and other green measures. Industry leaders, government and legislators need to work to help make this happen.
It's tough out there. But have no doubt: agile, responsive, diverse, and sustainable factories will win business as we move forward.
Mostafiz Uddin is the managing director of Denim Expert Limited. He is also the founder and CEO of Bangladesh Denim Expo and Bangladesh Apparel Exchange (BAE).