Rivers need more than a legal status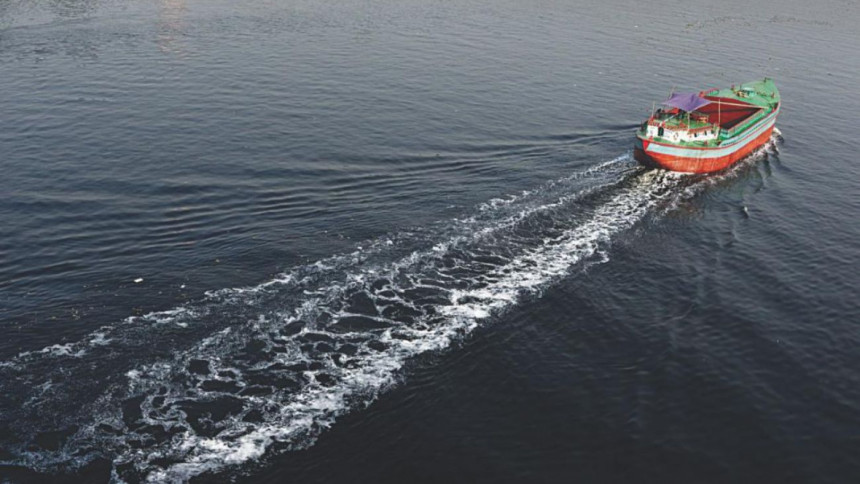 Rivers are no longer just rivers bound only by the laws of nature. The High Court has recently given a verdict awarding the status of "living entities" to the country's rivers in a bid to protect them and raise awareness of their importance. By any measure, this is a landmark judgement coming out of the court, a ringing endorsement of the fact that our rivers are in dire need of help. For the ordinary citizens, those caught between complicit spectatorship and dismay when it comes to the destruction of our rivers, it also offers a rare glimmer of hope. While the conferring of a legal status is a symbolic gesture, the High Court has also offered a realistic plan of action. It sought to strengthen the National River Protection Commission, which it assigned as the "legal guardian" of all rivers in the country, outlined a mechanism to implement their "rights" and also gave detailed instructions for several government agencies to that effect.
So, what does it mean for rivers and their associated natural elements to have rights? Is a legal status enough to save our rivers? Since the verdict was given on February 3, there has been an ongoing debate about how effective it will be. Some people are less enthusiastic than others, and for good reasons. It's hard to believe a single move, however revolutionary, can alone bring change. Recall the last notable HC verdict on rivers—a ruling in 2009 about the demarcation of four rivers surrounding Dhaka—which was met with utter neglect, and nothing came of it eventually. But because of the groundbreaking nature of its content, the latest verdict will at least serve as a point of reference for evaluating all future endeavours in this regard, and may set in motion a groundswell of popular support for rivers which will embolden the activists.
But in all fairness, there is a limit to what a court can and cannot do. It cannot, for example, transform a society that takes rivers for granted, or radically alter how the "system" works, or get the policymakers to see eye to eye with the experts on pressing environmental concerns, or dismantle the industrial-political complex that profits from riverbank encroachment.
Rivers run through our country like veins run through the human body. This is hardly comforting when you consider that some of our rivers are already dead, some slowly approaching extinction. Like clots that form in our veins and cause life-threatening blockages, our rivers too are facing life-threatening challenges in the form of plastic litter, discarded packaging and various household and industrial wastes that stack up on their shores, choking and scarring them until they are robbed of their natural character; and then, you have the double whammy of sand extraction and what is popularly known as "river grabbing". The High Court's verdict is significant as it envisages a future for rivers shielded from all these manmade hazards, but any lingering doubt about its success will owe its existence partly to the challenge of clearing up this gargantuan mess that we've made over many years—and partly to the inflexible nature of our approach to rivers.
Md Khalequzzaman, a professor of geology at the Lock Haven University, USA, posits that it will require more than a court order to undo all the damage that has been done to our rivers already. In an article published by The Daily Star recently, he put up a list of things-to-do for the verdict to bear fruit. Everyone has a part in it: the parliament, politicians, citizens, industries, the implementing agencies. It will take "a concerted effort and a commitment from everyone" for the verdict to be implemented, he said, outlining his view of what possible role each can play and the changes that will be required.
For the government, a major challenge will be to address the seismic fault lines within its existing river policy to make it compatible with the High Court's vision for rivers. A recent interview of two well-known environmental activists by The Daily Star's online Bangla site highlighted several such fault lines, including the drive against riverbank encroachment. The drive, said architect Iqbal Habib, is usually done without any conservation plan for the post-eviction period. "An unplanned drive is actually harmful and counterproductive," he said, explaining that often a vacated place is reoccupied and illegal structures crop up again as soon the drive is over. The worst part is that those in charge of the drive have demonstrably little knowledge of how to preserve riverbanks and keep them open and accessible and free of all structures. "It is difficult to assume that the same persons who have frustrated us in the past will not do the same in the future."
Dr Abdul Matin, general secretary of Bangladesh Poribesh Andolon (Bapa), believes the government's river policy is riddled with contradictions. "We've often noted contradictions in the government's actions. The government's approach to rivers is not correct; it doesn't fit with that of environmentalists. The government is principally of the view that it is okay for it to interfere in rivers as part of its development work or as a means of flood control," he said. He thinks a river policy should be based on scientific considerations. In this connection, he drew attention to the fact that Bangladesh didn't ratify the 1997 UN Watercourses Convention which is widely regarded as an important document on river use and conservation and a guideline for establishing laws governing waters.
"The Bangladesh government has been trapped in the labyrinth of its own misguided policy because of its refusal to recognise and abide by the UN convention. All its projects are being undertaken based on this wrong policy. Sometimes illegal structures on river banks are demolished, but at the same time, government structures [and even private ones] built inside rivers are spared. It symbolises an inconsistency within the government caused by its own policy blunder," Dr Matin said.
Clearly, some of our laws and plans will need a radical revision and realignment in light of the vision set by the High Court. The society has to transform itself, too, to be truly worthy of its rivers, to co-exist, not to coerce into submission or destroy. If it feels like a civilisational wakeup call, it is because the situation is that much dire. But the bigger challenge right now will be to implement the court verdict, directive by directive, as no half-measures and quick fixes—which usually follow court verdicts of this nature—will be enough. The court has done its part to protect our rivers. The spotlight is now on the administration.
---
Badiuzzaman Bay is a member of the editorial team at The Daily Star.
Email:badiuzzaman.bd@gmail.com
---
Follow

The Daily Star Opinion

on Facebook for the latest opinions, commentaries and analyses by experts and professionals.
To contribute your article or letter to The Daily Star Opinion, see our

guidelines for submission

.
---