An Indo-Pacific Outlook for Bangladesh
Indo-Pacific politics has garnered a lot of interest lately. This was noticeable during consecutive US officials' visits to Bangladesh in recent months. The publication of the US Indo-Pacific Strategy in early 2022, followed by Canada's and South Korea's IPS later that year, provided a better understanding, along with previously adopted policies and outlooks of Japan, Australia, India, Germany, France, the UK, the EU, ASEAN and The Indian Ocean Rim Association (IORA). As a resident country of the Indo-Pacific, Bangladesh, too, can formulate its own outlook and determine its engagement with the region.
In formulating an outlook for the Indo-Pacific, it is important to identify Bangladesh's regional scope. Although existing Indo-Pacific strategies are concerned with the two oceanic regions as a whole, different countries can emphasise selective geographic areas based on strategic objectives.
South Korea has the most expansive view of the region. It starts from the African coast of the Indian Ocean and stretches all the way to South America. For Japan, it starts from the eastern coast of Africa and expands to North America. For the US, it stretches from its Pacific coastline to South Asia. Australia's strategic emphasis is from the north-eastern side of the Indian Ocean to the Southwest Pacific. France's focus is on its overseas territories in this region.
Similarly, it is important for Bangladesh to develop a mental mapping of the Indo-Pacific based on its interest areas. It can start with the immediate Bay of Bengal and cover the countries, trade routes and flashpoints that have significance for Bangladesh's foreign policy and security. This tailored approach would help Bangladesh sharpen its focus in areas important to the country and avoid being dragged into geopolitical vicissitudes in areas where it does not have a stake.
The sectors of engagement are also important. Most documents emphasise securing global trade, exploring economic opportunities, developing connectivity, supporting technological development, and addressing climate change. The US introduced the Indo-Pacific Economic Framework for Prosperity (IPEF) as part of this process, and Japan has its Bay of Bengal Industrial Growth Belt initiative (BIG-B).
Bangladesh, too, must identify the areas where its interests converge with the priorities of regional and extra-regional countries.
Security cooperation is a key aspect of most of these strategies. In the traditional aspects of security, the attention is towards modernising existing alliances, strengthening relations with regional partners, and enhancing military exercise, naval deployment and defence-industrial cooperation. Non-traditional areas include maritime security, energy security, global health, cyber security, humanitarian assistance and disaster response, etc. Cooperation in these non-traditional security areas is also emphasised among QUAD members.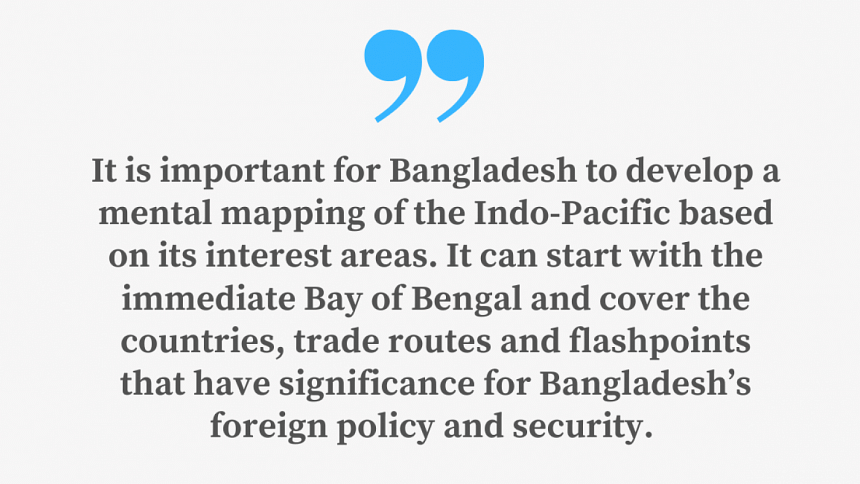 Two existing strategies already refer to security cooperation with Bangladesh. Japan's FOIP mentions working with Bangladesh in counter-terrorism and disaster risk reduction. The US IPS also aims to build the defence capacity of South Asian partners, including Bangladesh.
The US and Bangladesh are already cooperating in areas like climate change, counter-terrorism, maritime security, military training and UN peacekeeping. The details regarding what additional areas the US would want to expand cooperation in are not yet available, but it is clear that the expectation is to strengthen bilateral security relations as part of its IPS. Other strategies or policies do not specify Bangladesh, but South Asia is among the priority areas.
Bangladesh has been open to expanding cooperation in non-traditional security areas, as many of these issues cannot be addressed without international cooperation. However, when it comes to traditional security cooperation, Bangladesh has always maintained a cautious position. Publishing Bangladesh's outlook for the Indo-Pacific would give clarity to international partners regarding this. It will also allow the country to highlight additional important areas where it seeks international cooperation, like drug and human trafficking, and Rohingya refugee repatriation.
Clarity regarding the position on China is also important. The conceptualisation of Indo-Pacific policies has commonly been seen as an effort targeted against China. The documents of the US, France and Canada view China as an assertive actor. However, other countries and organisations avoid adopting such views. For example, South Korea calls for inclusiveness. It sees China as a key partner for achieving prosperity and peace in the Indo-Pacific region. The EU also states that its view is inclusive of all partners wishing to cooperate with it. ASEAN calls for inclusiveness in terms of ideas and proposals. This shows that not all stakeholders view the Indo-Pacific through the lens of great power competition; some prefer a cooperative approach like Bangladesh.
As part of our "friendship to all and malice towards none" foreign policy dictum, Bangladesh has been working closely with all partners. We have always advocated for a free, open, inclusive, peaceful and secure Indo-Pacific region. A policy document elaborating on these views would be immensely beneficial to guide Bangladesh's international engagement and foreign policy discourse. This will provide clarity and prevent misinterpretation, which is very important in the current context of global politics.
The Indo-Pacific has undoubtedly become a core area of global politics and its importance is only going to grow. Publicising a holistic outlook on the Indo-Pacific would be a timely initiative to project Bangladesh as an active, interested and responsible stakeholder of the region.
Ayesha Binte Towhid is a Research Officer at the Bangladesh Institute of International and Strategic Studies (BIISS).