Hugh Brammer: Remembering an exemplary geographer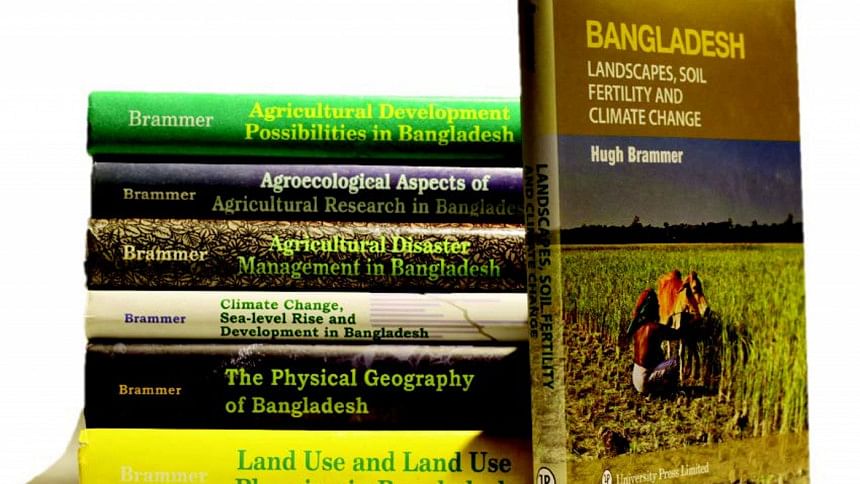 Hugh Brammer was unique in many ways.
His life's mission was to study the soil, agriculture and climate of a country that was not his own, and to disseminate the knowledge he gained in the most scientific and authentic manner.
Hugh Brammer produced 11 books that are all published from Bangladesh, and the publication of a Bengali translation of his final book is underway. A bachelor all his life, he dedicated his time in advising public policymakers and NGOs with sincere commitment to his field of knowledge. Through his work and dedication, he came to be known as "the foremost authority on the soil and agro-ecology of Bangladesh".
Brammer spent 25 years studying the soil of Bangladesh as Agricultural Development Adviser and Soil Scientist at the Food and and Agriculture Organization of the UN (FAO), and he diligently strived with his evidence-based analytical work to challenge the myths and misunderstandings about Bangladesh's physical environment. These myths include the popular understanding that the annual river floods replenish the fertility of the country's soils, and, in his words—the "wild assertions and assumptions" made by academics and the media about the impact of sea-level rise on Bangladesh, the most popular being that a large part of the country might be inundated by the end of the 21st century and about 30 million people may be displaced.
Hugh spent 40 years trying to scientifically disprove these claims through the books he wrote. In the prefaces of his latest two publications, his frustrations and impatience with the lack of factual engagement of academics on the soil and climate change of Bangladesh was rather pronounced.
In his preface to the book Climate Change, Sea-level Rise and Development in Bangladesh, he wrote: "The author attended a meeting on climate change between representatives of the Bangladesh and United Kingdom governments in London in September 2008. He was disturbed to find that speakers from both countries were speaking of ongoing climate change entirely in anecdotal terms. After the meeting, he spoke with a number of delegates from Bangladesh whom he knew, drawing their attention to the country's meteorological records and the analyses of climate data up to 1984 that had been made in the FAO Agroecological Zones Study (FAO, 1988), which the author had managed before his retirement from FAO in 1987. Analysis of the following 24 years' data, he said, would make it possible to measure actual changes since the earlier period and so enable factual evidence to be substituted for anecdotes, assumptions and convictions. Regrettably, he found no interest in taking up such a study."
In a later part of the preface, he wrote how strongly he felt about the importance of drawing attention to the dynamic characteristics of the Bangladesh delta, and how its nature may influence the actual impact of sea-level rise. He attempted to raise funds for a technical study from the University of Cambridge, but found that there was more interest in policy measures, rather than in proper scientific enquiry into the physical geography of Bangladesh's coastal area that could determine the actual impact of sea-level rise.
He clarified his position further into the preface: "The author is not a climate change denier. As a geographer, he is well aware of the potential for global warming to affect Bangladesh's climate and coastal areas. But he is also aware, both as a geographer and on the basis of his long experience in and with Bangladesh, that changes due to climate change and sea-level rise are progressing much more slowly than are other important factors that are affecting economic development and human welfare in Bangladesh now: rapid population growth for one; and for another, the impact on the country's growing population and expanding economy of its continuing exposure to natural disasters unrelated to climate change."
He relentlessly pursued the government, donors and NGOs to reassess their priorities based on the scientifically oriented views he was presenting, but to little avail.
Hugh Brammer had the unique advantage of living in the country for almost 25 years and of measuring factual information on the country's environment. On the reconnaissance soil survey of the country (then East Pakistan) in 1961-1971, in which over 70,000 soil observations were made, he walked through almost every upazila in the country. Those who worked with him closely would say that Brammer knew the nature of the soil of Bangladesh like the palm of his own hand. He would point to the soil of any district from an aircraft and describe its unique characteristics in great detail to his fellow travellers. He was a keen observer of how farmers adapted their crop and cultivation practices to different environments and natural disasters, and with the advent of high-yield crop varieties and other technological advancements. Even when he was unable to travel to Bangladesh, he would regularly collect Geographic Information Systems (GIS) data and climate data on Bangladesh for his work, and would read Bangladeshi newspapers everyday to stay on top of what went on in the country he loved.
The kind of seriousness with which Brammer engaged in the agro-ecology and climate is rare even in a native geographer or climate scientist today. It is a pity that Hugh received little accolade and insufficient attention, despite the vast body of knowledge he produced for our country. In October 2017, the Prothom Alo published a feature on him, through which his name reached a wider audience, and some more people came to know of him and his work in Bangladesh.
Hugh Brammer received the President's gold medal for services to Agriculture in Bangladesh in 1978; a number of significant recognitions from his country, and in 2018, his publisher, The University Press Limited (UPL), honoured him with a Lifetime Achievement Award.
In Brammer's acceptance note of UPL's Lifetime Achievement Award, he wrote: "I didn't write my books for personal gain, of course. I wrote them because I wanted to share with others... the technical information that I had been privileged to gain during my long career in the country. ...There is still much to be learnt in Bangladesh that needs to be learnt..."
The royalties from the sales of his books go to BRAC as scholarships for college education of meritorious students from poor families.
It was often a challenge to keep up with Hugh's expectations, and his unending drive in producing new manuscripts for dissemination. Even though he passed on at the mature age of 95, it still feels like a major loss because he was being just as productive with generating new knowledge, until he fell sick with pneumonia. My regret will remain that he left with a sense of unfulfillment, and a deep disappointment that he could not see his work available in Bengali during his lifetime. He mentioned in an email to me, "I am almost daily disturbed by articles by Bangladeshi authors that I read in the press or in academic journals revealing their ignorance of the geography of their own country. At 94, I'm running out of time! My urge is to get my information out in Bengali where it is more likely to be read and used."
As his publisher, our aim is to fulfil his unrealised wish before the end of 2021. Beyond being a longstanding and loyal author, Hugh has also been a guardian angel of UPL, a champion of the mission that UPL upholds—enabling a knowledge-based society. Losing Hugh was like losing a very close relative and guide, whose presence we feel every day, and will continue to feel in our journey ahead. Our deepest respect and gratitude to a selfless giant. If UPL ever builds a garden, it will be dedicated to his memory.
Mahrukh Mohiuddin is the managing director of The University Press Limited (UPL).