In his words: The last conversation with Aly Zaker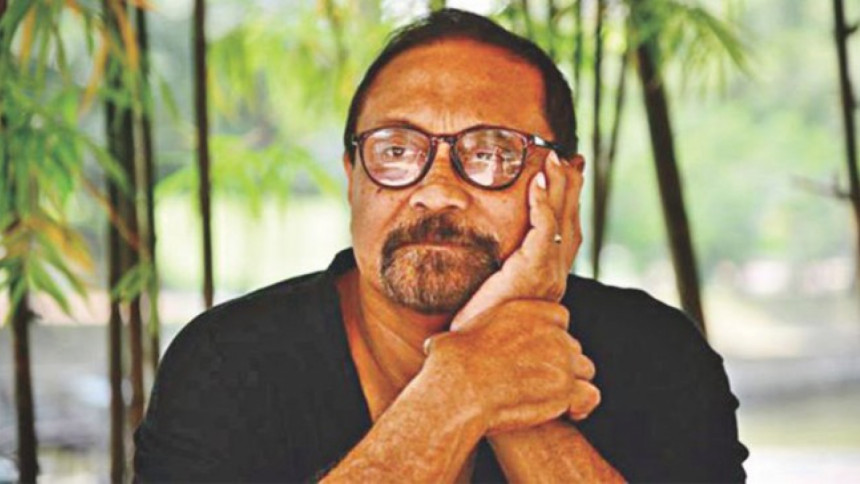 Conversing with Aly Zaker has always been a treat. From talking in detail about the early theatre days to his first taste of a liberated Bangladesh—Aly Zaker would become an animated storyteller, mesmerising his audience and listeners with his added footnotes and mischievous smiles. The Daily Star's Elita Karim retrieved a recording from 2018, where Aly Zaker talked about how he became an advertising man. The 15-minute interview turned into an hour-long chat where he reminisced about his days from Kolkata, Karachi and Dhaka. Below is a small part of the interview, minus the infectious guffaws and the beautiful modulation of the storyteller's voice.
I have written my life story from the time that I can remember till early 1971. It was published by Ittadi Prokashoni. The one I am writing is the second part where I talk about my philosophy of life; so much happened after independence—theatre, love, marriage, children. More importantly, my ideas changed. So this will be a very comprehensive document; 30,000 words have been written, I need to write 50,000 more! I am calling it Modhyanno Oporannyo.
I did not complete my Masters, I just did my Honours from Dhaka University. You see, there were many ups and downs in my family. I lost my father, my mother and within a year I lost my eldest sister who was like my mother. Three deaths in my family in a row, and I was devastated. My brother worked in PIA back then. I wanted to leave Dhaka, so he presented me with a one way ticket to Karachi.
I was looking for work and ended up at a UK based advertising agency, where I joined for Rs 400 a month and would write English copies. Eventually, Asiatic, an advertising company in Karachi, offered me a job. A separate company was being formed in East Pakistan, now Bangladesh, and I was asked if I wanted to go back home. I grabbed the opportunity immediately! I joined as Senior Client Executive at the age of 24 and this was back in 1967.
I was posted in Dhaka and joined the company called East Asiatic Advertising Limited. I also worked with Enayet Karim and Latifur Rahman back then in Interspan, which later changed to Interspeed. The history of my career has no colour in it, it has been the same—advertising! I know no other trade.
I think I had always had an inclination towards the theatre. My nana (maternal grandfather) had settled down in Kolkata, though he belonged to Comilla. Every summer vacation my mother, my siblings and I would visit him. My father could not go because he was a senior bureaucrat in the Pakistan government and he was not allowed to go to India.
My mother and I would go watch stage plays and the theatre regularly. The curtains would go up and everything would play out like magic in front of me. I would tell myself that if I ever wanted to act, I would do this. This inspired me to work in this field professionally after Liberation.
I want to share an interesting story with you. I joined Nagorik in 1972. In Kolkata, Mamunur Rashid would occasionally act and participate in the Swadhin Bangla Betaar Kendra plays. I remember, there was a horrible restaurant nearby which would serve equally horrible food. They would serve a beef dish made from the worst possible pieces—but one plate of it cost around one taka, along with two rutis. This was our regular lunch. One day in November 1971, after eating there, Mamun asked me what my plans were now that the country would be liberated. I said, I will do stage plays. Mamun would not forget this!
In 1972, my older brother and I rented a flat in Rajarbagh, where Mamun came to visit us one day. He said, "I hope you did not forget what you had told me. I am building a team of stage actors. We want you to act with us as well." I said, sure I will. We were doing Shahid Munier Chowdhury's Kobor. I played the role of a Pakistani neta, because I was well built. We started to rehearse at Chayaneer, the building where our rented flat was located. I remember, Shubhash Dutta, the famous film director and actor, played the role of the police inspector — the conscience of the play.
Professor Zia Haider from Chittagong University and theatre personality and also my friend, Ataur Rahman, had come to watch the play. Zia bhai had formed Nagorik in 1968, but could not organise any stage play as such. After liberation, he wanted to revive the group and start actual theatre and stage plays.
Immediately after our play got done, they came to see us and asked if I would continue with my acting. I said yes, I would, but I would have to speak to Mamun first. Mamun was fine with it and that's when I joined Nagorik.
If I have any contribution, this is the contribution that you should write about and I want you to write about this—changing the concept of staging plays in Bangladesh. At a Nagorik meeting, I said that we would need to introduce a process whereby, every evening, a person will have the option of buying a ticket and watching a play, like how it happens in every other major city in the world. Mind you, back then people did buy tickets to watch stage plays, but the plays would be staged on three random days in a year.
The new process would bring about a regularity where staging and watching plays were concerned. Only then could we call ourselves professional actors in a proper industry. Of course we had challenges, but we could take steps to face them. For instance, we would work our way around the budget, spend less, sometimes act without a set, do one-act plays—but we would not stop staging plays, every evening.
Golam Rabbani, one day, shared a book with me called Baki Itihash by a young writer from Kolkata, Badal Sarkar. I read it and I was charged—we had to stage this soon! I gave it to Zia bhai and Ataur and they loved it as well. We were organising rehearsals, looking for actors—the preparations had begun. Naila Ehmar Zaman, who is now Dr Naila Khan, had joined us and was playing the role of Bashanti in the play. We had Abul Hayat playing a very powerful role as well. But we needed someone to play the role of Kona Chakrabarty. It was difficult to find young women back then, who would act or work in theatre. It was Naila who told me that she knew a young woman, who was slightly younger than Naila. Her brother, who was lost in the war, used to be a very good actor. Naila wanted to ask the young woman and her parents as well, if she would play the role of Kona Chakraborty. And that was Sara. She came and did a wonderful job with Kona. Incidentally, we booked the hall at the British Council for eight Sundays in a row and staged the play at 11:00am in the mornings. The first three shows had between 16-40 people in the audience. The fourth show onwards, we would have a house full every Sunday—all 300 seats! Ticket prices were kept at Tk 3 and Tk 5.
I remember returning to Dhaka the same day Bangabandhu returned, January 9, 1972. I couldn't return on December 16, Victory Day, because I was the programme producer for the English language programme for Shwadhin Bangla Betaar Kendra. My boss Alamgir Kabir asked me to stay on for a while. He said that I would have to hand over the tape recorders and devices to the Indian army and only then could I return home. So that took some time.
The journey back home was fabulous! Very early in the morning at 4:00am, we started from Kolkata by bus, through Jessore. There were 22 men and women on the bus. All the ferries were devastated and bombed by the Pakistani army. So we had to hire boats to reach Aricha Ghat, from where we would take another bus and continue with the journey. We even had to spend a night there. I wrote about it in my memoirs—how the wind and soil from an independent Bangladesh were now a part of me, while I spent the entire night by the river. When I reached Independent Bangladesh, I saw celebrations everywhere. The whole country was rejoicing. I remember roaming about the streets of my country at 2am!
And the conversation continued for a good quarter of an hour, in between sips of tea and snacks. Aly Zaker mentions names of old friends, stories of family members, and of course, loved ones who are now no more. Aly Zaker himself is now no more; however, he will forever be alive through his work. The retrieved recording has turned out to be a gift.
Elita Karim is Editor, Arts & Entertainment and Star Youth. Her twitter handle is @elitakarim.