A different kind of new year
Noboborsho in the era of Covid-19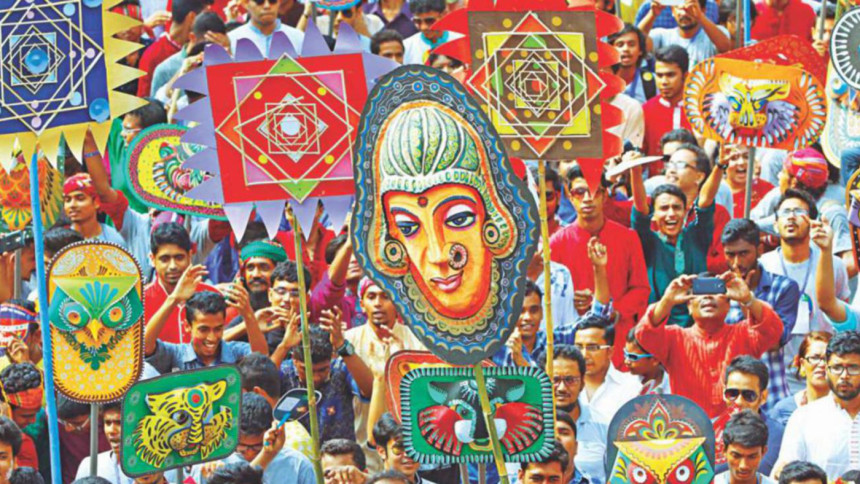 Two months earlier, workers on the third floor of New Market in Dhaka were busy dyeing/preparing sarees, mostly white and red, to be delivered to boutique shops ahead of the New Year. Fine Arts students at the University of Dhaka (DU) started creating masks, paintings and replicas for the Mongol Shobhajatra. Shopping malls were about to fill their shelves with colourful clothes and jewellery. Who could imagine then that a deadly global pandemic—novel coronavirus or Covid-19—would take away all the excitement of festivity, and saving lives would become the priority?
Things changed very quickly and beyond our dreams. All of humanity is suffering today as we are in the middle of health and economic emergencies. Not just the festival economy, but most of the economy is now on hold. This year's Baishakh is perhaps the gloomiest one we are having in generations. Why is Pahela Baishakh important in these gravest of times in recent history?
We are almost four weeks into the crisis. Apart from emergency workers, we are mostly confined at home with family members. Living in lockdown or quarantine in tiny rooms can be painful. It is more painful when there is so much uncertainty. No work means many families are struggling to put food on the table. There are growing concerns about the possible health consequences of an extended period of physical distancing, particularly on mental health. Pahela Baishakh as a festival reinforces the idea of the universality of the human condition and injects a sense of togetherness, even in deeply unequal societies. It is also a time to reflect on our past mistakes and misdeeds and plan for the days to come. These are some of the strongest feelings that we need to embrace as we wade through this crisis.
Though differently, people will still celebrate Pahela Baishakh with family and friends. They will not pour onto the streets to celebrate the festival as they usually do. There will be no welcoming of the New Year by Chhayanaut artistes at sunrise at Ramna Batamul. There will be no displays of having panta-ilish. Welcoming the New Year, many indigenous groups living in Bangladesh were also preparing to celebrate their main festivals, but had to drastically curtail their celebrations of Baisu, Sangrai, Biju, Bisu, and Bihu, in the Chittagong Hill Tracts and beyond. Their celebrations are significantly different from Chhayanaut's Borshoboron and DU Fine Arts Faculty's Mongol Shobhajatra. Yet, it is a day that brings everyone together, celebrating harmony in diversity. Understandably, there will be a lack of vibrant colours, rapturous rhythms, new dishes and excitement as a general mood of fear, depression and uncertainty prevails this year.
Originally a harvest festival marking the beginning of the crop cycle, Pahela Baishakh is also a time to reflect on issues that govern our lives. In these turbulent times, which are often described by world leaders as war-like, our top priority must be to protect the most vulnerable segment of society, who are disproportionately affected by the lockdown. The government has to find ways to minimise hardships by ensuring that people do not die of hunger and lack of treatment. Unfortunately, the early signs are ominous: one DU student died without getting treatment, and starving people under lockdown reportedly looted a truck carrying relief goods in Jamalpur. April is very crucial for us. By the end of the month, it should become somewhat clear how deep the crisis is in our country. 
When a calamity strikes, it exposes how dangerously unprepared our government is. Despite getting several months for it, the efforts to contain the pandemic lacked coordination, a fact that the health minister himself admitted. Then, unprecedented quarantines have been imposed throughout the country. People are being prevented from travelling, or even going out of their homes. Despite calls for national unity from all sides, we are not all in this together. 
The government has announced six stimulus packages totalling BDT 77,750 crore, which is 2.7 percent of the GDP. All of these are for formal sectors. While these packages are very important for setting the stage for a strong economic recovery, the more immediate need was a survival package for the most vulnerable people under lockdown, who are mostly from informal sectors. The vast majority of those people, living on daily wages and with very low savings, cannot stock up on essentials. Several weeks into the lockdown, community support is also drying up for them. It is imperative that a public distribution system is developed to ensure essentials are delivered to their doors.
What we require urgently is funds and goods for stabilisation during the pandemic, and then to stimulate the economy after the pandemic. What we witnessed is the announcement of stimulus packages, but not many stabilisation efforts. This is symptomatic of a disproportionate influence of businesses over the government. What will happen after the lockdown? We must start preparing ourselves for post-coronavirus challenges. Diversification of our economy in a reordered global economic order is essential. Labour and health policies need rethinking. We need to invest heavily in universal health care, public education and food security.
Amid these turbulent times, there are signs of hope and courage. Initiatives like Bidyanondo Foundation's alternative food distribution or a leftist group's alternative ambulance services and "Manobotar Bazar" have drawn popular attention. There are many more community and local initiatives throughout the country.
Everyone's life depends on making sure that they have supplies of essential food items. As we are in the middle of agricultural high season, small farmers and day labourers will be putting themselves in the path of Covid-19 to feed the people. We should not forget that they are especially prone to respiratory illnesses due to their nature of work and ways of living. In this high season, when Covid-19 is spreading in different districts, more measures are needed to change the way these essential workers are forced to live and work.
Some people, especially the lower classes, will possibly experience the greatest hardships of a lifetime. We need the positive powers of Baishakh to help them get through it. Baishakh prepares us for a new beginning and to dream—not just lofty dreams, but those that are grounded in reality and are achievable. Not only on an individual level either, but a collective dream that puts collective wellbeing at its centre. In spite of Covid-19, dengue or any other public health threat, its spirit means our will to survive and our love of life will triumph.
In this crisis, we are required to face Covid-19 together, even when we are distancing ourselves physically. Pahela Baishakh gives us a chance to experience our community and reminds us of our togetherness, interdependence and solidarity.
Zobaida Nasreen teaches anthropology at Dhaka University. She can be reached at zobaidanasreen@du.ac.bd.