Amazon Kindle, here we come!
Pioneering programme launches Bangla e-books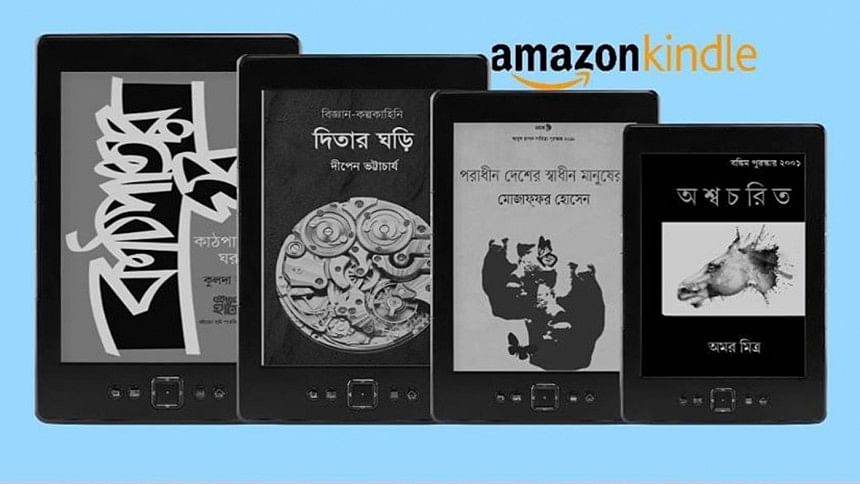 Online juggernaut Amazon owns Kindle, the 600-pound gorilla in the US electronic book space. Its global presence is also formidable.
Its dominance in online book readership is overwhelming in the US and substantial in the rest of the world. A pioneering new programme has just launched Bangla books on Amazon Kindle. It is an exciting e-publishing landmark for Bangla.
Thirty books are part of this growing list of Bangla books available for sale on Kindle. These books are also available on Google Books. Authors include such leading names as Bangladesh's Anisul Hoque and West Bengal's Akademi Award-winning author Amar Mitra.
This is a complex story where digital technology, publishing and the future of Bangla intersect.
We Bangla aficionados are rather a quaint, old-school lot. The thought of Bangla literature invariably sends us into a nostalgic reverie, basking in fond memories of the annual book fairs at the Bangla Academy (or its gargantuan cousin in Kolkata). Where's the fun of a digital book where the physical joy of a book nestling in our hands is replaced by ephemeral bits and bytes?
The fact of the matter is it's crucially important to bring Bangla publishing up to speed in the digital age. This is where the 150,000-member Bangla bibliophile Facebook group Boier Hut comes in. Started in 2012 by passionate book-lover Riton Khan, a 40-something Atlanta-based Bangladeshi expat, the Facebook group is hard to pin down geographically. Its members run across the length and breadth of the world, and its administrators are in Dhaka, Kolkata and Mumbai, and it boasts of—I kid you not—over 40,000 online Bangla books.
These books are available freely, but Riton is keen to take it a step further. "The Amazon Kindle e-book ecosystem is so big, it just bothers me that Bangla does not have a footprint here," he told me.
Two years ago, he discovered that Amazon Kindle did not even support Bangla. In India, Amazon Kindle supports Hindi, Gujarati, Malayalam but not Bangla. He harangued the folks at Amazon Kindle support. The response was coldly businesslike—it is not clear there is significant interest in Bangla books to merit support, the Amazon folks said.
In a word, the futile circular logic of a classic Catch-22 situation. Bangla books are not available, so there's no demand. There's no demand, so Bangla books are not available.
Riton, though, wasn't about to take no for an answer. An IT healthcare solutions expert, he worked out the technological kinks. A few months back, he launched a few Bangla books using Unicode Bangla fonts on Amazon Kindle to test the waters.
After that seemed to work fine, he registered a company in Georgia, Boier Hut Publications, and officially joined as a publishing associate at Amazon. Then he began negotiating with authors in Bangladesh and West Bengal.
The whole point, Riton said, was to make publishing economically more viable for Bangla writers. Riton offers authors a straight 30 percent royalty from books sold on Kindle. This is generosity bordering on madness, because to promote its fledgling Bangla e-book sales, book prices are kept as low as USD 2. At that price, Amazon itself often keeps 70 percent of proceeds.
That's okay, says Riton, who is not in it for the money anyway. For somebody whose passion for Bangla books borders on obsession, Riton's goal is more lofty: to help digital publishing turn the tide of what he sees as impending doom for Bangla books. His group Boier Hut says in its mission statement:
"Boier Hut began with a simple premise. The digital age has ushered a new age in the dissemination of books. Many advanced countries have jumped on the digital bandwagon, and e-books have resulted in an exponential increase in the dissemination of books. Bangla books have failed woefully to take advantage of this opportunity. This is where Boier Hut decided to step in. Our goal is to use digital tools to make Bangla books easily available everywhere in the world."
The Facebook page of Boier Hut is a wondrous salon for vibrant discussions of books. Boier Hut multimedia has video chats with authors, podcasts.
The bottom line is that Bangla publishing is struggling to make the transition into financially remunerative digital publishing. This is happening at a time when Bangla publishing, in Bangladesh at any rate, is in deep crisis.
Riton says writers need to be financially compensated, otherwise literature will die. The response from writers in Bangladesh and West Bengal has been overwhelmingly supportive. Talks are ongoing to publish Hasan Azizul Huq and Tanvir Mokammel in Bangladesh and Bani Basu and Mihir Sengupta in West Bengal.
Now with Kindle, there's a big catch. While Amazon Kindle books can be downloaded and read nearly everywhere in the world, it's not available in Bangladesh. The workaround for that is to get it from Google Books, where the same titles are also available for download.
Riton is tight-lipped about initial sales figures. All he will say is that currently sales are in the low three digits. But here's the interesting thing: Just being on the Amazon Kindle space gives Bangla books huge exposure. Amazon has a monthly subscription plan, Kindle Unlimited, where book reading figures are calculated in number of pages read. The plan is available in the US as well as in India. Boier Hut e-books have a cumulative 150,000 pages read to date—no mean achievement.
Riton's goal is to get digital Bangla book publishing going. "Ultimately, if it really takes off, I'm looking forward to the day when heavyweights like Ananda Publishers and Prothoma will start their own programmes on Kindle. Only then will this whole thing work."
(For more information about Boier Hut e-books, visit: eboi.in/kindle or eboi.in/google.)
Ashfaque Swapan is a contributing editor for Siliconeer, a digital daily for South Asians in the United States.