August 21 verdict and its implications for BNP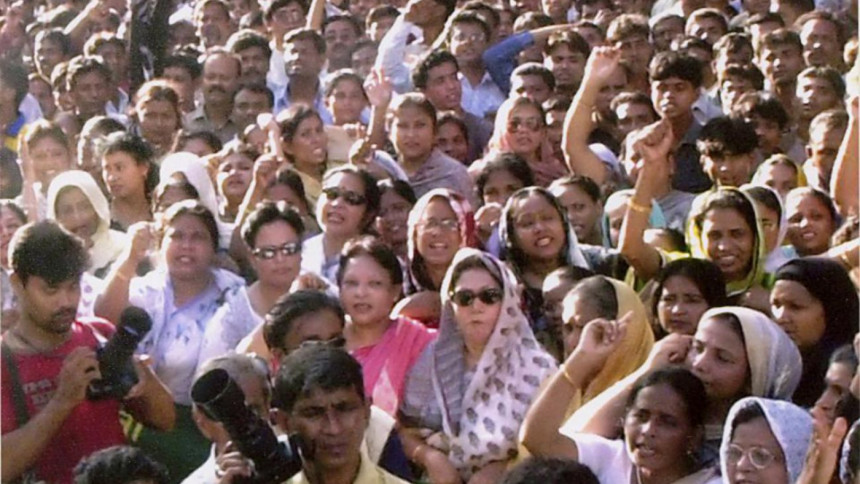 The grisly attack on Awami League's rally in Dhaka on August 21, 2004 marks a watershed moment in Bangladesh's contemporary political history. It was the day that changed the political discourse of the country, turning the toxic hostility between the two major political parties—Bangladesh Nationalist Party (BNP) and the Awami League (AL)—into a deadly and violent one. The grenade attack left 24 people dead and hundreds wounded including AL chief Sheikh Hasina, who was clearly the target of the attack.
Was the attack conspired and orchestrated by the then party in power, BNP, as held by its opponents? That was up to a court to determine. And after a 14-year-long investigation, which was stained from the onset, a court in a verdict delivered on October 10 did just that. It sentenced Tarique Rahman, the de facto BNP leader exiled in Britain, to life in absentia for his role in the attack.
In no way can the BNP downplay its role in the aftermath of the attack. It used the entire state machinery to make a total mockery of the investigation process. This one single act of duplicity should be enough to indict the then administration in the entire affair.
For a party struggling to mount a challenge to the AL's decade-long rule, this verdict could prove to be a severe blow—especially when it's trying to unify parties belonging to different aisles of the political spectrum, which already are uncomfortable over the party's ties with Jamaat-e-Islami.
True, the BNP still has legal avenues to clear, or at least soften, the sentence awarded to Tarique Rahman, but its current strategy is to wait out this government. Sanaullah Mia, one of his lawyers, told reporters that Tarique would appeal to the higher court once he came back to the country.
While Law Minister Anisul Huq said that he would have to appear before the court within 60 days after the verdict was given in order to appeal against it, BNP leader Moudud Ahmed disputed the claim, saying he could invoke the "condonation of delay" clause to appeal beyond the prescribed period of 60 days.  
The state prosecutors are in no hurry either. Syed Rezaur Rahman, the principal prosecutor, reacted positively to the outcome. "However," he said, "whether or not to appeal for Tarique Rahman's death sentence would be decided after consultation." Such deliberation hints at renewed efforts to pressurise the British government to hand him over to Bangladesh authorities.
In his reaction to the verdict, Attorney General Mahbubey Alam said, "International law doesn't allow [a country] to provide shelter to a convicted criminal. Since Tarique Rahman has been sentenced to life, it wouldn't be difficult to extradite him." He, however, acknowledged that a death penalty would complicate the process.
Both parties had long prepared themselves as to how to respond to the case's possible outcome. Yet, while it would still be premature to write the epitaph of the Zia dynasty—which ruled the country for multiple terms—the judgment certainly is a major setback for the BNP's efforts to recoup its strength. This gives more scope to the ruling party to try to discredit those who try to join hands with BNP.
And, for people like Dr Kamal Hossain, who has advocated for the rule of law throughout his entire life, it would be more difficult to defend their decisions to associate with BNP. In fact, attacks from ruling party leaders already put Dr Hossain, who once headed an investigation committee into the attack, on the back foot, forcing him to clarify that his National Unity Process had no contacts with Tarique and that the unity process was all about the people, not a certain individual.
While the verdict's political fallout may be felt profoundly, there's an important takeaway for public servants—especially those serving in the security forces. Apart from political leaders like Tarique, Lutfozzaman Babar, Abdus Salam Pinto and others, a whole bunch of former high-profile senior security officials—including then chiefs of intelligence agencies and police—were given harsh punishments. If anything, this judgment should serve as a wakeup call for unscrupulous public servants willing to go to great lengths to serve their political masters beyond legal limits. This is a judgment they should remind themselves of when their instincts are inclined towards what is clearly unethical and criminal.
In his observation, Shahed Nuruddin, the tribunal judge who pronounced the verdict, said, "In a democratic state, there have to be efforts to strengthen democracy by applying liberal policy towards the opposition." It is a recommendation that the current party in power, which was the victim of this heinous act, should pay heed to when dealing with its political opponents.
---
Nazmul Ahasan is a member of the editorial team at The Daily Star. His Twitter handle is @nazmul_ahasan_.
---
Follow

The Daily Star Opinion

on Facebook for the latest opinions, commentaries and analyses by experts and professionals.
To contribute your article or letter to The Daily Star Opinion, see our

guidelines for submission

.
---