The road to development is 'always' under construction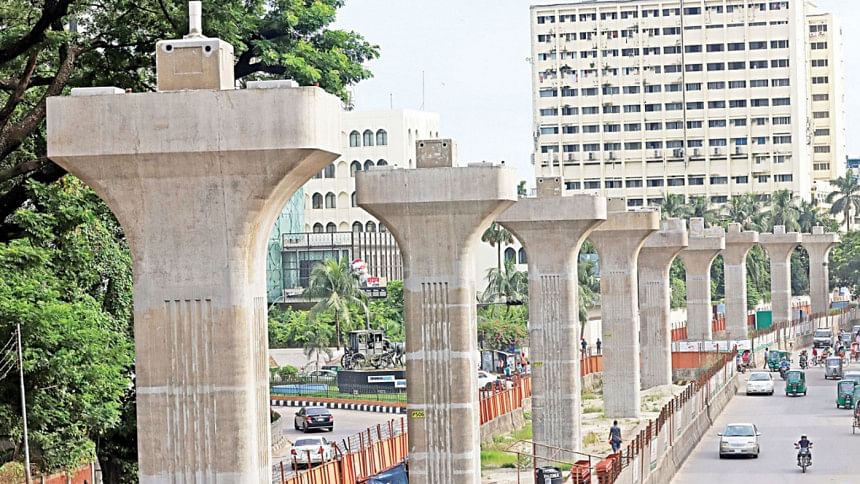 What is the first image that comes to your mind when you think of the word "development"? I see an image of a signboard, and it's about the Metro Rail (MRT Line-6) being constructed in Mirpur, connecting different parts of the metropolis. The signboard has been put up on the fences surrounding the pillars of the overhead rail line and assorted building materials near Agargaon, telling commuters and pedestrians: "We sincerely apologise for the temporary inconvenience." As road construction signs go, this seems pro forma, except for the fact that it's accompanied by other promotional signboards that basically offer a reward for the trouble taken: a green, smart, gridlock-free city once the metro rail gets operational. Who wouldn't want that?
But this "temporary" inconvenience happens to be the longest that Mirpur residents have faced, for five years and counting. And the road that is about to host this miracle of a rail line now lies in tatters, causing endless sufferings, and making the promised future seem more distant every day. For me, the image of that inanimate signage offering empty apologies has come to be a metaphor for the anaemic state of our development policy. It asks you to wait and suffer silently, for the sake of a future that will be transformative, although there is no way of knowing if that indeed will be the case or if that future will be imminent.
In recent decades, the drive for economic growth in Bangladesh has spawned a vast number of development projects, big or small. A lot can be said about how effective those have been or will likely be. But what strikes me more, after having lived through the protracted birth pang of Metro Rail, is that we clearly have a finish problem when it comes to development. Any analysis of the history of these projects will demonstrate that they suffered one of the following unfortunate outcomes: Most completed projects were handed over well after their initial deadlines; many had to revise deadlines for several times, prompting significant cost escalations; many saw artificially inflated prices drive up their budgets; many of the projects were never finished; some never started at all, even after a budget had been allocated; some got pulled down by bureaucratic deadweight; some exist in name only, while the enthusiasm for others petered out mysteriously. Worst of all, many projects, far from addressing the problem they were meant to, ended up being counterproductive. The capital's flyovers are not the only examples.
How these projects end up, both midway through their construction and post-completion, is a far cry from the rosy pictures drawn of them in the initial phrases. It reminds me of the editor of Clark Gable's journalist character in the classic Hollywood film It Happened One Night. After the latter's failed attempt to produce a scoop, the editor memorably comments: "You think you've got a great yarn and then something comes along and messes up the finish." Similarly, something always seems to come along and mess up the finish of our development projects. 
Three cases recently reported by The Daily Star show how some of the smaller projects end up post-completion. In one, you have a public library in the Notun Bazar area of Tahirpur Upazila, Sunamganj. Since its construction thirty-three years ago, it has been used for everything except what it was intended for: a place to read. Because there are no books to read. Instead, the two-storey building is now used variously as a de facto community centre, an indoor sports club, an officers' club, and an auditorium for meetings and seminars used by local officials and public representatives. The "library" was originally built to encourage reading habits among the residents of this backwater town surrounded by wetlands.
In the second case, you have a nursing institute in Pabna which, even after two years of its construction, is yet to become operational, thanks to the negligence of the authorities concerned. The health ministry and Diabetic Association of Bangladesh started the project through a public-private partnership in 2013. Construction of the three-storey building ended within the scheduled time in 2018, a feat achieved by few projects in Bangladesh. But then "something came along" and the Public Works Department (PWD) stopped short of handing it over as, we are told, it has yet to put the finishing touches to the building, while the electric and power supply lines remain uninstalled. As we wait for the mercy of the PWD to move the needle on this important public health institute, the building risks being damaged due to lack of maintenance.
A similar fate also awaits a trauma centre in Habiganj's Bahubal upazila. It was constructed in 2013 but has yet to launch operations, due to lack of electricity and gas connections. The facility is part of a government project aimed to build 10 trauma centres on six national highways to provide emergency treatments to the victims of highway accidents. Like many "ghost" medical centres spread across the countryside, it now exists in name only.
What's common to these projects is that they have been hamstrung by lack of support upon completion which proves that a project, regardless of how slow or fast it is completed, means nothing if it is not put to its intended use. Those that are ongoing also suffer from myriad problems during their execution period. We have seen how the twin challenges of cost escalations and deadline extensions have bedevilled multiple projects in recent years including billion-dollar megaprojects like Dhaka Metro Rail, Padma Multipurpose Bridge, or Dhaka Elevated Expressway. We've seen how corruption, inefficiency, lack of foresight, and the red tape culture—four frequent collaborators in almost all our public works and services—have combined to jeopardise their execution. It, then, must be one of these influences that led several ministries and divisions to declare as "complete" 157 unfinished development projects marked for the 2018-19 fiscal year, as a report launched by the Implementation Monitoring and Evaluation Division (IMED) of the planning ministry in March this year shows.
True, there have been projects that finished admirably on time, and within budget. But those are so far and few between—and the number of ill-conceived and ill-executed projects is so great—that it created a profound distrust in the ability of the current development policy to deliver the future it promises. Something must be wrong with how we're approaching the concept of development. Today, we seem to be running around in circles, with an endless stream of old and new projects jostling for public money and space simultaneously. The road to development is "always" under construction, their scars equally visible in cities and across neighbourhoods, leaving in their wake a long trail of sufferings. Ask anyone what image they have of "development" and you'll be surprised to know how many have come to despise it, despite acknowledging its importance for the goals we've set as a nation. 
Many of the infrastructure and power projects that are now underway may be profoundly impactful, transforming the lives of millions of people in ways we may not yet imagine. But that future must not be at the expense of our present—our happiness, safety and wellbeing. We must make a balance between our needs in the present and our ambitions for the future, and find a way to ensure we don't pit one against the other. And we must fix our finish problem so that projects end up right where, and when, they were meant to be, shutting the door on all avenues of exploitation.
Badiuzzaman Bay is a member of the editorial team at The Daily Star.
Email: [email protected]