PM Hasina's India visit: Will our expectations be met?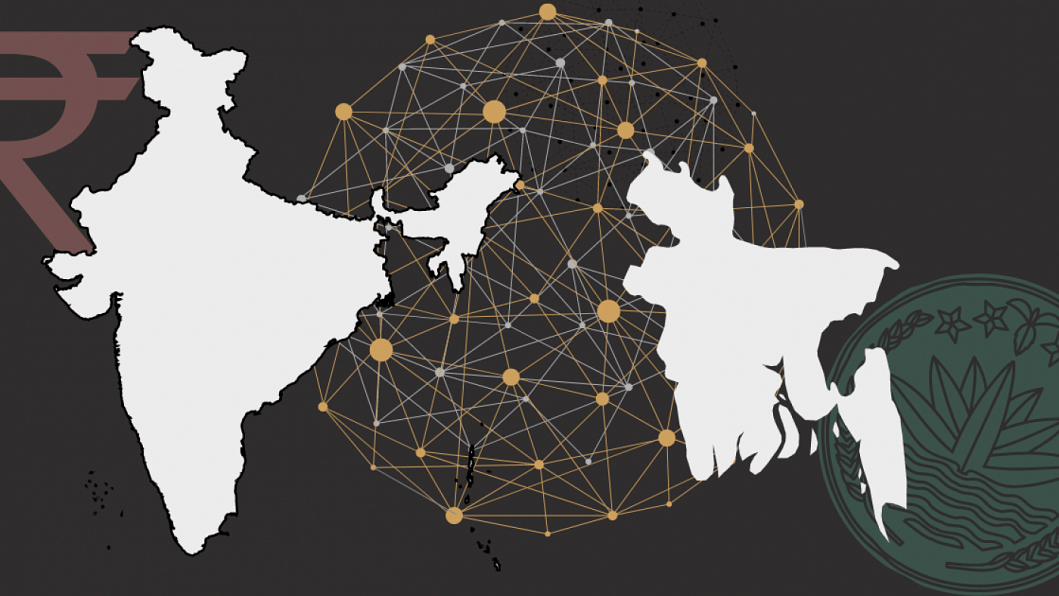 High-level state visits between Bangladesh and India always carry importance for both the countries. This time is no exception. Prime Minister Sheikh Hasina's visit to India is taking place at a time when the world is trying to recover from Covid-19 fallout and is reeling from the effects of the ongoing Russia-Ukraine war. High inflationary pressure, fuel and food crises, and low job growth have crippled many economies around the world. International organisations have forecast that this situation will not be normal before 2024.
Unfortunately, when an economic crisis of such nature and scale occurs, countries resort to protectionism instead of cooperation as they want to protect their own interests first – the pandemic has shown us that. This inward-looking strategy leads to further inequalities between advanced and poor countries. Hence, Prime Minister Sheikh Hasina's visit to India on September 5-8, 2022 is critical for Bangladesh. This visit is expected to resolve some economic and political issues that are mutually beneficial.
Sharing water of common rivers, long-term supply of fuel oil from India to Bangladesh, unhindered supply of essential commodities, withdrawal of anti-dumping duty on jute exports from Bangladesh, removal of other non-tariff barriers on exports from Bangladesh, speeding up rail, road and waterway connectivity, and border security and management are some of the issues that are likely to be on the discussion table.
As far as the economic issues are concerned, the Bangladesh-India relationship covers a wide range of sectors. Bilateral cooperation can only be meaningful if Bangladesh can benefit from this and leverage such cooperation for strengthened regional and global integration of its economy. We are currently on a journey towards dual graduation, during which Bangladesh will not only have to work on its strategies and policies, but also need support on a host of areas including trade, investment and finance from friendly countries.
Over the last decade, a few initiatives have been undertaken to deepen bilateral cooperation in areas such as trade in goods, services and energy, multimodal transport connectivity, cross-border investment, capacity-building, people-to-people connectivity, and security measures. In the case of trade, it is not only about trade in goods, but there are also opportunities for trade in services and energy. In view of the emerging demands of Bangladesh's economy, there are opportunities for trade in services in healthcare and education, digital and information technology services, skills development, and technology transfer.
Bilateral trade between Bangladesh and India has been increasing over time; in 2021, the volume was over USD 14 billion. India has provided duty-free market access to Bangladesh under the South Asian Free Trade Area (SAFTA) arrangement, which helped Bangladesh to increase its exports. In 2021, Bangladesh's export to India was about USD 2 billion. But Bangladesh's trade deficit with India is rising, and the country is yet to benefit from India's large import demand, which it fulfils from the global market.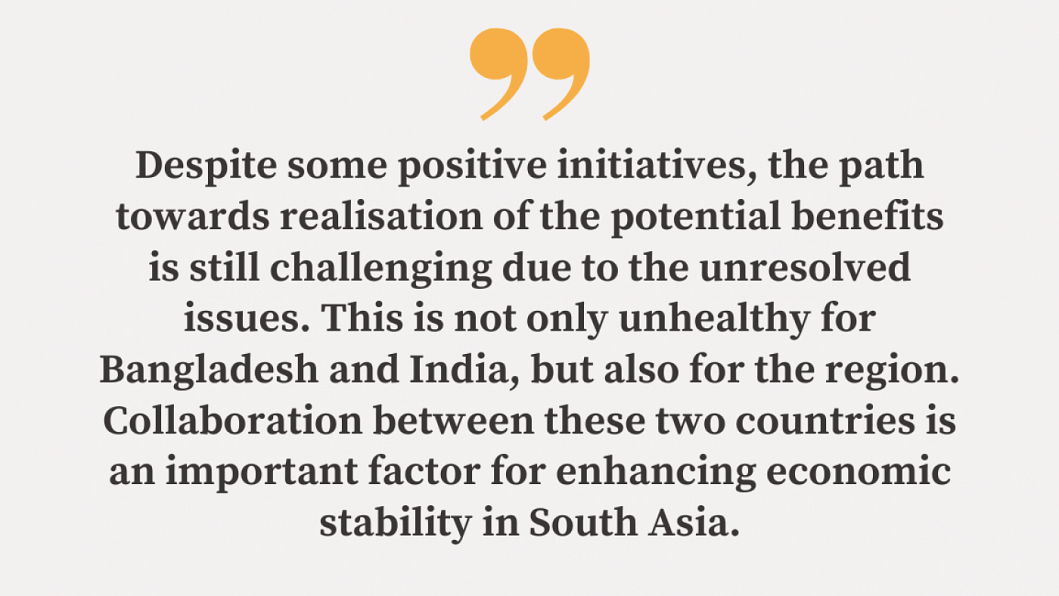 The attempt to increase Bangladesh's exports to India is hindered by several challenges. The non-tariff barriers (NTBs) that India has put in place restrict the full utilisation of duty-free market access facility it offers to Bangladesh. India has imposed anti-dumping duties and countervailing duties on Bangladeshi exports. Another important NTB is the inadequate trade facilitation. This, of course, exists on both sides. Due to a lack of appropriate trade facilitation and good logistical arrangements, the cost of trading is high since time requirements for trade is high. This is discouraging for traders. Also, the land ports through which about half of the total bilateral trade between the two countries takes place are somewhat inefficient. So, the delay at the control and checkpoints increases the cost. Inspection also takes a long time, since results come from laboratories far from the border. Therefore, effective transport, investment and logistics connectivity can help increase trade between the two neighbours.
Bangladesh's graduation from LDC status will result in the loss of duty-free access to all markets, including in India under SAFTA. A joint study by Bangladesh and India has been prepared for new means for cooperation through the Comprehensive Economic Partnership Agreement (CEPA). This is expected to help realise opportunities in areas of trade, transport and investment connectivity.
Bangladesh also requires huge financial resources to undertake its development activities. Following the graduation from the LDC category, most of such resources will have to be mobilised through higher revenue generation domestically. Given the continuous decline of funds from the developed countries, the importance of South-South cooperation has increased. Large developing countries such as India and China have emerged as major players in the landscape of South-South cooperation. The New Development Bank (NDB) and Asia Infrastructure Investment Bank (AIIB) have the potential to help Bangladesh in accessing a greater amount of financial resources. In 2010, India committed to lend about USD 7.86 billion under three lines of credit (LCs). These are supposed to help Bangladesh implement some projects in economic, social and human capacity-building areas, and institutional strengthening. However, implementation of projects under the Indian LCs is very slow due to some conditionalities and the slow disbursement of funds. For effective utilisation of the LCs, these issues will have to be resolved.
Bangladesh is keen on enhanced investment and efficient connectivity. It has offered two special economic zones (SEZs) to India for private investment at Bheramara upazila in Kushtia and the coastal Mongla belt in Bagerhat. Bangladesh has allowed India to move goods between its western and northeastern states through Bangladesh's territory. It expects that the Bangladesh-Bhutan-India-Nepal Motor Vehicle Agreement (BBIN-MVA) signed in 2015 will facilitate movement of cargo-carrying vehicles across the borders and reduce costs significantly.
Despite some positive initiatives, the path towards realisation of the potential benefits is still challenging due to the unresolved issues. This is not only unhealthy for Bangladesh and India, but also for the region. Collaboration between these two countries is an important factor for enhancing economic stability in South Asia, since all the other countries in the region have exposed their vulnerability. The people of Bangladesh are eagerly waiting to see the outcome of this high-profile state visit.
Dr Fahmida Khatun is executive director at the Centre for Policy Dialogue (CPD). Views expressed in this article are the author's own.