'Clash of civilisation' or crash: Environmental doomsday?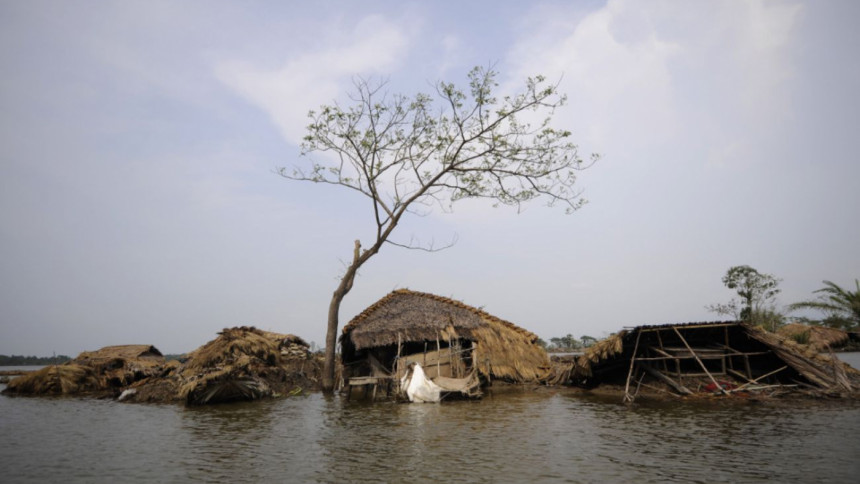 What do the following civilisations have in common: Mesopotamia four millennia ago; the 8th-century Viking Greenland settlement; Mayas from the 10th century; and the Khmer empire in the 15th century? All were victims of climate change, caused by multiple factors, indicating the scourge's outreaching tentacles. Respectively, these were drought and desertification; a deep-freeze prohibiting farming; over-population producing drought; and drought alternating with quick but violent monsoon rains (Sean Fleming, World Economic Forum, Newsletter, March 29, 2019).
Whether the 21st-century civilisations follow the same pathways will depend as much on what we do about reducing emissions, adjusting to rising ocean water consequences (like coastal erosion, social dislocations, and economic disruptions), and effectively waging the green campaign of planting more trees, as it will on population controls, resource distribution, and ending conflicts. None of the above cases of collapsed civilisations happened suddenly, but the point of no-return was crossed most likely unnoticed, as reversing gears to return to normalcy became rapidly impossible.
That, however, is not the case for the most modern civilisations we have today, yet the human instinct of postponing corrections to concurrent malaises, like consumption, eventually takes us to our own Rubicon. Every day we keep having mind-boggling information of more coal being mined in the wrong places, for the wrong customers, clothes getting manufactured because we simply cannot do without fashion to show us off and keep us one step ahead of our neighbours style-wise, plastic being produced until fishes choke and get slowly dwarfed by polypropylene (of which cups, coolers, and utensils get made), and chopping trees down for cattle-breeding, with both deforestations and meat production taxing the earth's vital resources elsewhere: one million of the earth's eight million species have become extinct, so much so that in "10 years [we] will have a quarter less, in 50 years only half left and in 100 years [we] will have none" (Damian Carrington, "Plummeting insect numbers," The Guardian, February 10, 2019).
Even when campaigns get launched to correct part of this mess (no one individual or institution, campaign or country can literally tackle the entire problem), they run out of steam or succumb to an increasingly materialistically-driven social media pressure accenting the vices more than the virtues. Greta Thunberg began something exceptional to mitigate these lapses, losses, and laggard responses. Fed up of her adults being so hypocritical, she began a school movement in her own locality in Sweden that turned since into a global movement. Whether this drive peters out or not, what is striking is how, once begun in the youthful years, habits like this protest can turn into a far more deterring consequence: repeating an instinctual youthful action carries a greater probability of replication than her previous generation's indulgences in material acquisitions offset by token corrective campaigns.
A Thunberg beacon of hope is embedded in Britain's pledge to purify the air completely by 2050, just as it drove French President Emmanuel Macron to propose a CCS technology for all of West Europe (and finding support from nine others). This is a "carbon capture and storage" facility which would then be pumped into an empty gas-field, as the Netherlands already practices. This does not eliminate the carbon, and requires expensive, almost constant governmental support, subsidy, and steering. At the other extreme of reforestation, there are not many places left on earth that will pick up remediation formulas like this: poverty eliminates sustainability attempts, just as conflict ignores them entirely (one might recall how Saddam Hussein's 1989 invasion of tiny Kuwait resulted in oil-fields being left ablaze, causing enormous visible and residual losses).
Yet, these might be precisely the areas where civilisations would be increasingly vulnerable. As a perpetual cauldron of conflict, the Middle East leads the road towards long-term extinction as an inhabited region. Migration to adjoining regions would then carry the food-security pressures, eliciting populist reactions, as we currently see across Europe: these are so noisy and blind, but behind their extremist my-country-right-or-wrong thrust, the environment, ultimately the ecology, changes beyond retrievable points. Europe may conceivably be at such a tipping point under pressures from the Middle East and Africa.
Another could be China's Belt and Road Initiative. Created to access markets and extract raw materials in the construction phase, China completely ignored environmental safeguards; yet as it nears completion, China's environmental about-turn exposes an inherent duplicitous approach, building energy-producing facilities—mostly fossil fuel-driven—along the BRI tracks, mostly in the South East, South, Middle East Asia, and eastern Africa through festering conflict, feeds into the unfolding human migration problem, and breeds environmental damage, and abandonment. China cannot shield itself from that. China's growing power has induced a fearful Japan to recruit overseas workers (though a demographic ghost may be a more urgent reason). Just as BRI transit countries complain of the debt-burden entailed, those working in China-constructed special economic zones have begun standing up to complain about fossil-fuel being shoved down their nostrils (even though their routine lifestyles may have produced the same effects).
One more type illustrates how the "crashing civilisation" phenomenon is not just an Asian and African curse. Industrialised countries have themselves released more carbon into the air as to begin melting Arctic ice. As the fabled northern route to Asia from Europe begins to take shape, the loss of ice may inflict severe damage across North America and Europe.
Of course, these have already started changing weather patterns: colder winter, at times meshed with spiralling temperatures on a more regular basis, with forest-fires to lace the catastrophes, and earthquakes from depleting water tables worldwide.
As a civilisation, none may be done as yet. There are counter-forces. Yet, without concerted and extensive action, à la Thunberg, we might envision the whole doomsday enchilada consuming us without proper actions today.
Imtiaz A Hussain is the head of Global Studies & Governance Program at Independent University, Bangladesh (IUB).