Angela Merkel's legacy: 'Holy Roman Empress'?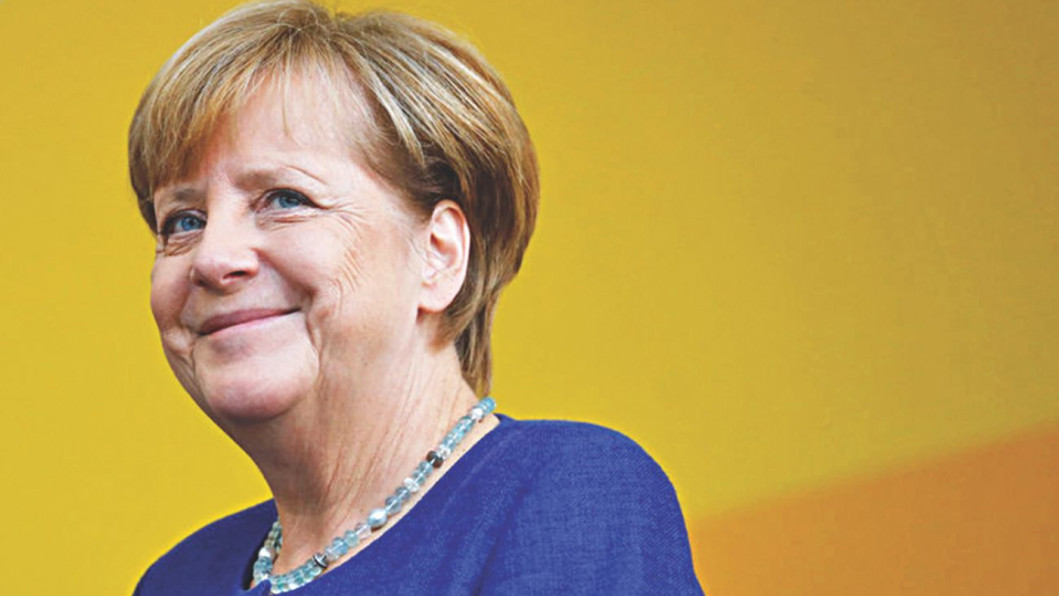 Historians are often bemused by how the millennia-old Holy Roman Emperor was not holy, nor Roman, nor even an emperor. True on all three counts, they ended up describing feuds between a host of princes, kings, or would-be emperors, many of them of Germanic origin. Whether reeling from Europe's most magnificent city of the last millennium, Vienna, or, through marriage, from the continent's other citadel cities, Germanic people were writ large all over history books even before Germany was created by Otto von Bismarck, that too, in France's glorious Versailles Palace, in 1871.
Against that tapestry of European conflicts (managed by the fabled "Concert of Europe balance of power" that Count Klemens von Metternich developed and implemented throughout the first half of the 19th Century, which US Secretary of State Henry Kissinger tried to reproduce to stabilise the 1970s), it is fitting to dub Germany's outgoing Chancellor, Angela Merkel, as the Holy Roman Empress, perhaps history's one and only stamp of its kind there may ever be. Though she is endearingly called "Mutter" (Mother) by her people and across Europe, she has created a Germany capable of balancing a fractious 21st-century global power rivalry with a kind of balance and harmony that one typically gets from a mother at home.
As she prepares to exit the stage in 2021, this might be her swan song: solid country-building leadership (as opposed to the self-promoting inclination of so many of her global companions), partly inherited from her immediate predecessors; she is leaving Germany as one of the least internally-corroding democratic or industrialised countries in a panoply of many illustrious others. Germany faces neither the Brexit divisiveness, French yellow-jacket protests, Italian flirtations with economic insolvency, or Spain's bifurcating Damoclean Sword, or even as much of the populist plague enveloping Europe; and it depicts nothing like the "Me First" mindset of the current US leadership, the "We first" counterpart of the developing world's most powerful country, China, or even the demographic entrapment looking Japan directly in the eye.
Given her keen desire to reach the zero-carbon emission by 2050 that her next-door neighbour, Emmanuel Macron, is championing, she could help many ground-zero climate-change countries such as Bangladesh to learn from German policies and practices.
"The old certainties of the post-war order no longer apply," she observed of the changing global order on the eve of the May 2019 European Parliament elections. Rather than Germany, the European Union, she continued, "needs to reposition itself in a changed world" (Stefan Kornelius, Nico Fried, and Philip Otterman, "Merkel: Europe must unite to stand up to China, Germany and US," The Guardian, May 15, 2019). Note one similar thread and one different strain: she identified Germany, not in the singular, but the plural, as part of Europe, a theme consistently pursued in her 14 years as chancellor, and almost as many in previous high official German politics, for instance, as Environment Minister for the chancellor who united Germany, Helmut Kohl. What is startlingly different, though not initiated at this particular juncture, is her not wanting to stand in the shadows of the Trump Administration in the United States. Until President Donald Trump's rambunctious presence behind US policy-making, Merkel's own administration always carried a deferential and respectable US relationship.
China, Russia, and the United States, she posited, "are forcing us, time and again, to find common [European] positions." China's undeterred march to the top global pedestal behind some very unilateral positions and undemocratic methods (in short, authoritarian streaks), may be beginning to sound European alarms now that the Belt & Road Initiative (BRI) has penetrated Europe (through Italy) and seems poised to unravel an increasingly unpopular regional association through its very own people. Russia's Ukrainian infiltration also bothers Germany but galvanised, as she acknowledged, a united European response. Eventually, the country that salvaged Germany from the rise of Adolf Hitler and Nazism lost its place in the German firmament through several Trump actions, beginning with the US NATO (North Atlantic Treaty Organization) retreat, resorting to imposing tariffs rather than negotiate, rejecting the P5+1 agreement with Iran, and befriending very questionable global leaders.
Of course, Merkel's positions will hardly be replicated with as much authority or genuineness as by the chancellor herself, but she has removed the lid behind three-quarters of a century of bonded German-US relationship. Perhaps the proverbial deluge will follow her, not immediately but at some future point. Yet the more we look at German history after World War II, the more the signs of stability and maturity, behind an almost effortless ride to the global economic pinnacle, the less we may have to fear than if it were other major European countries today, even more so globally.
Germany clearly cannot match any of the three countries she identified as forcing Europeans to unite. Yet, Merkel could ramp up her and her country's credentials in other parts of the world. Given her keen desire to reach the zero-carbon emission by 2050 that her next-door neighbour, Emmanuel Macron, is championing, she could help many ground-zero climate-change countries such as Bangladesh to learn from German policies and practices. This could be extended to the rest of Asia and Africa, in both of which her soft-pedalling approach may actually out-wit and out-do China's BRI heavy-handedness. European unity also shows in that continent's (Africa's) developmental plans and strategies.
If these are areas and issues where Europe, led by Germany, and hopefully leaders of the Merkel cut, can find the foothold to dangle close to the global pedestal, much will depend upon how the European Parliament election results alter the continent. Predicted to do well, and riding upon a groundswell of anger and frustration for reasons economic (no-growth), social (refugee admission), and political (the advent of poor leaderships, almost all across Europe right now), the populists can claim the subjugation of Merkel's party in the last local elections as a pivotal turning point. Their noisy presence contrasts the affable, lovable Merkel personality. This, more than anything else, can save Europe from an irreversible regression into its dullest historical page in the Modern Age. Should the populists be contained, Merkel will get one last chance to put into place policies to push the green environmental button and elevate collective action over the egoistic across Europe.
Even if that does not transpire, no other European leader will have commanded so extensive a European support-base since those "Holy Roman Emperor's" days, and if we add her stint with Kohl, not a single other European leader commanded so admired a commitment to peace than Metternich did in his time. With her, an environmental champion singing Metternich's song shows how far Europe has retreated from battle-mindedness. Without her legacy, the drums may beat, harking of a perpetually forthcoming deluge.
---
Imtiaz A Hussain is the head of Global Studies & Governance Program at Independent University, Bangladesh (IUB).
---
Follow The Daily Star Opinion on Facebook for the latest opinions, commentaries and analyses by experts and professionals.
To contribute your article or letter to The Daily Star Opinion, see our guidelines for submission.
---