Why is the price of killing a worker only Tk 2 lakh?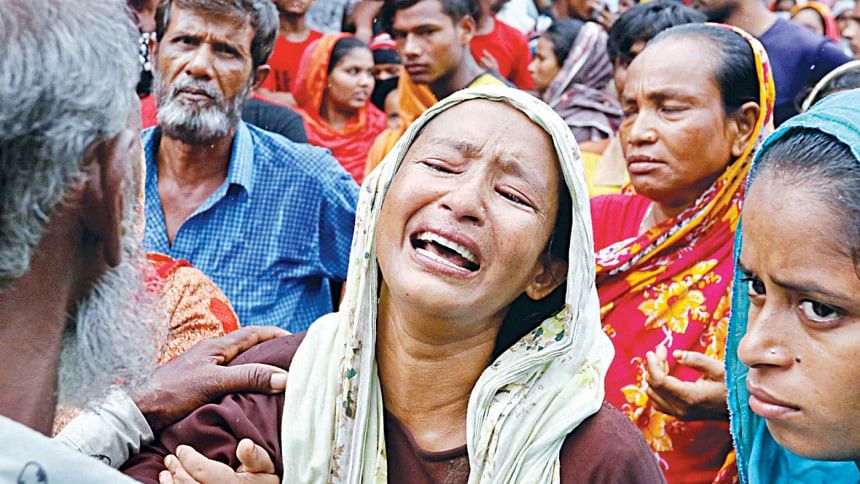 Fifty two workers have so far been declared dead as a result of the horrific fire that engulfed the Hashem Foods factory in Narayanganj, where famous products such as Shezan juice and Nocilla spread were produced. 49 of them were burnt to death inside the factory, while three others died after leaping from the factory building in an attempt to save themselves from the fire.
Preliminary reports indicate that all 49 charred bodies were recovered from the third floor, the exit of which was locked up—thereby preventing workers from being able to save themselves, as 25 other workers had been from other floors.
Hashem Foods Limited is a sister concern of Sajeeb Group of Companies, one of the largest business groups in the country. When such heinous yet preventable killings of workers occur in one of their factories, a key question that should come to anyone's mind is: what would be the liability of Sajeeb Group? According to the Bangladesh Labour Act 2006 (BLA), an employer is only required to pay Tk 2 lakh for every worker killed in an "industrial accident" inside their establishment. That is how little value is attached to a worker's life by the very law that was meant to "ensure labour rights".
Therefore, the total amount Sajeeb Group would have to pay under our labour law as compensation (to the family members of the workers killed by their lethal greed) is a measly 1.04 crore taka—probably a fraction of their daily revenue. For perspective, this amount is only 1.2 percent of Sajeeb Group's Tk 85.8 crore unclassified loan taken from Mutual Trust Bank in 2015, according to the bank's Annual Report 2015.
The BLA initially fixed the amount of compensation for a worker's death at Tk 1 lakh, but this was later increased to the current Tk 2 lakh in 2018. So rather than introducing a minimum amount of compensation that has to be paid to workers or their dependents in case of an occupational injury or death, our labour law set a ridiculously inadequate sum as the maximum amount. Does this legal limit favour the workers the BLA set out to protect or the industrial employers it sets out to hold accountable?
However, my research on 80 compensation cases under labour law litigated by Bangladesh Legal Aid and Services Trust between 2008 and 2019, has found that victims of "industrial accidents" seldom receive even this paltry amount of compensation prescribed by the labour law. Rather they are met with a world of challenges. This is largely because most corporations being sued for compensation under the labour law, instruct their team of lawyers to prolong the litigation period as much as possible. As a result, these lawyers employ an abundance of dilatory tactics by abusing technicalities in procedural law to their utmost advantage. Family members of workers killed in industrial establishments who dare to exercise their right to seek compensation against an industrial employer in labour courts become tired out to the point where they feel compelled to abandon the case.
For instance, many employers ignore legal notices and refuse to appear in court during the trial and the case is then scheduled to be decreed ex parte. The employers then strategically appear on the day that the ex parte judgment is scheduled to be pronounced by the court and plead for an opportunity to be heard, citing lack of notice as their reason for non-appearance. Judges then often restart the hearing, from the initial arguments stage, thereby doubling the trial period and frustrating claimants who have to go through a time-consuming and cumbersome process all over again—just as they thought this costly process had finally come to an end. One Labour Court lawyer I had interviewed as part of my research summarised the situation quite poignantly: "I will not blame victims for abandoning the compensation case. They are tired. They are depressed. They are frustrated. They are compelled to think to themselves: 'I will not get anything out of this claim, so better to just leave it'."
Due  to this calculated game to "tire them out", and despite the insistence  of their lawyers, victims either abandon the case or or if they are "lucky enough", they are offered an out-of-court settlement by the employer for an even smaller amount of money. The same lawyer also explained this phenomenon quite clearly:
"The victims strongly feel that it is better to receive something than nothing at all. Their employers make it clear to them that they can accept a lower amount of money offered as out-of-court compensation, which will also be paid immediately. However, if they refuse and dare to continue pursuing the higher (legal) amount of compensation through litigation, then their employers will do everything in their power to keep the case hanging for years and years to come, to tire them out. So, tell me, which option will they then choose?"
This is the unjust reality of the justice system under our labour law. A seemingly endless litigation period caused by abuse of process by employers who refuse to be held accountable means that "seeking justice" becomes too costly an endeavour that victims can no longer afford. Therefore, even the minimal labour rights that exist in theory continue to be trumped by unfettered labour wrongs in reality. Why must this be allowed to continue?
Taqbir Huda is a Research Specialist at Bangladesh Legal Aid and Services Trust (BLAST) and coordinates Justice for All Now (JANO, Bangladesh). Email: [email protected]