Why is child labour still legal in Bangladesh?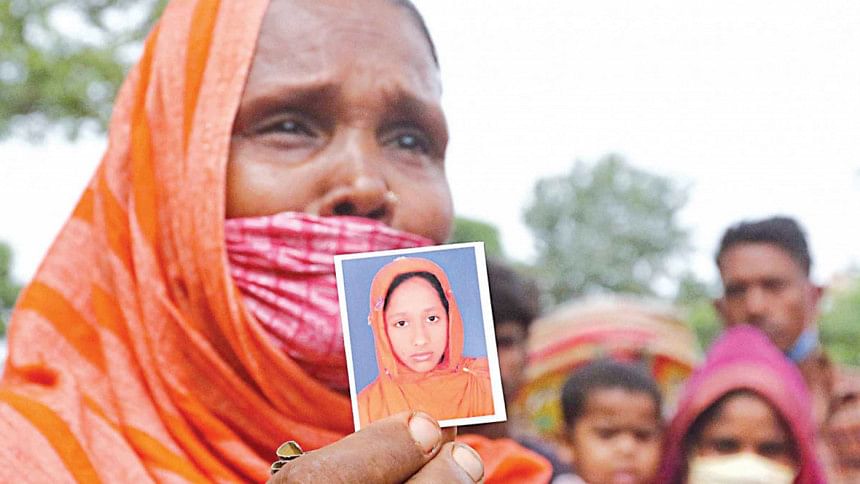 What were you doing on a Thursday morning when you were 14?
14-year-old Selina woke up and left for work at 8 am on one fine Thursday morning—to catch her shift at the Hashem Foods factory. The factory then caught fire, and workers on the third floor were ordered to remain and locked up inside—prohibited from escaping a fire that would burn for almost 24 hours straight. The shift had to go on.
No trace of Selina was found by her grieving family, when they were interviewed by Somoy TV two days after the fire. Selina's family were seen holding a photograph of her, ardently hoping the child in it will soon reappear. Selina's sister said grimly, "Please return my sister. I do not need anything else, I just need her back." Will Selina return to her family? Or is she one of the 49 humans burnt beyond recognition, and her photo is all that remains?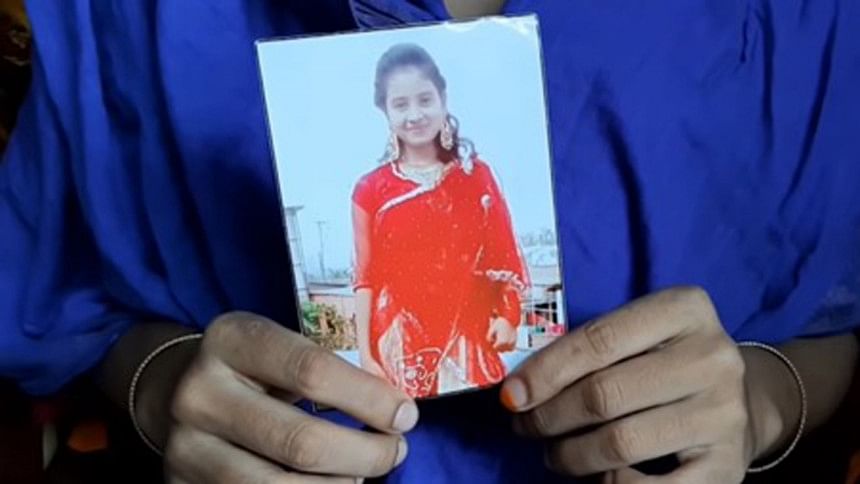 A report by The Daily Star suggests that besides than Selina, at least 16 other children were "missing" after the Hashem Foods fire. Children who died producing snacks such as lollipops and chocolate spreads for our children, inside a six-storey death trap we chose not to see.
That fateful Thursday was also 12-year-old daughter Shanta Moni's third day at work. Shanta had lost her father seven years ago. She was enrolled in a madrasa but stopped studying as it was closed. Shanta Moni's mother, who was gasping for breath after having frantically searched every children's ward in Dhaka Medical College Hospital hoping her beloved daughter would be in one of them told The Daily Star, "They were going to give her Tk 5,500 per month for making lollipops. She used to work on the third floor."
According to the National Child Labour Survey 2013, 3.45 million children aged 5 to 17 were engaged in child labour. The Hashem Foods fire momentarily exposed the prevalence of child labour in Bangladesh and temporarily penetrated our consciences from which this unpleasant and cruel reality had been conveniently filtered out. As a result of this slippage, many of us were forced to wonder how is it that in a state of lockdown all educational institutions are seen as being too unsafe for children to visit, but working inside factories is not?  Many of us took a step further back and asked: why, if at all, is child labour still legal in Bangladesh?
That is the question I hope to explore in this piece. Under the Bangladesh Labour Act 2006 (BLA), child labour is legal for children aged above 14, since the law creates a rather artificial distinction between children and adolescents. An "adolescent" is defined as a "person who has completed fourteenth year but has not completed eighteenth year of age" (Section 2(8), BLA). By contrast, a "child" is defined as a "person who has not completed fourteen years of age" (Section 2(63), BLA). Therefore, employing a 14-year-old girl like Selina to oil engines of industrial growth is perfectly legal.
The labour law's definition of a child is at odds with that provided in the Children Act 2013, the main law intended to advance the rights of children in our country—Section 4 of which states, "all persons aged up to eighteen years of age shall be treated as children." Section 2(f) of the earlier Children Act, 1974 (which the 2013 Act replaces), had defined a child as "a person under the age of sixteen years" and therefore had introduced a wider definition of child than the BLA.
While our labour law does legalise the employment of children above 14, Chapter III of the BLA specifically deals with the employment of adolescent workers. Section 34(1) of the BLA states that, "No child shall be employed or permitted to work in any occupation or establishment," while Section 34(2) places some restrictions on employment of adolescents (i.e. those aged above 14) subject to two conditions being met. The first requirement is for the employer to obtain a certificate of fitness granted by a registered medical practitioner. The second requirement is for the adolescent to carry a token containing a reference to such certificate while at work.
It is not yet clear whether either of these two conditions were met by Hashem Foods Ltd. However, when confronted about the question of exploiting child labour, Md Salauddin, the administrative spokesperson for Sajeeb company told The Daily Star: "The issue about the age of the workers is wrong. They were hired after reviewing the relevant documents. If the age is less, it is the workers who tampered with the documents." Under the labour law, if there is any dispute as to the age and whether a particular worker is a child or an adolescent worker, any of three documents must be used to resolve it: (i) a birth registration certificate; (ii) a school certificate; or (iii) a certificate issued by a registered medical practitioner certifying the age (Section 36, BLA). However, the disputes relating to the real age of the child workers "missing" after the Hashem Foods fire exposes the pitfall of relying exclusively on documentary evidence (which can easily be "tampered with") in resolving disputes as to the age of child workers. While most families of the "missing" child workers insist that their beloved daughter or son was underage, the factory authorities insist the exact opposite—and claim to have the papers to prove it. It would be unlawful to employ a 12-year-old like Shanta, but having her age "certified" to be 14 or above through one of the three aforesaid documents would be enough.
Other than the need to obtain and display fitness certificates, Chapter III also places two key prohibitions in the employment of adolescents. Firstly, it prohibits adolescents from being employed in work that is declared too hazardous by the government (Section 39(2), BLA). In 2013, a government order declared 38 processes and activities as being hazardous for children, which includes working in a biscuit factory. In 2015, when the Bangladesh Labour Rules were formulated, Rule 68 also listed 32 activities which are deemed to be too hazardous for adolescents, which includes working with cutter machines. The National Child Labour Survey 2013 found that 1.28 million children were engaged in hazardous labour. Secondly, adolescents cannot be made to clean, lubricate or adjust any machinery of any establishment while it is in motion or to work between moving parts or between the fixed and moving parts of such machinery (Section 39(3), BLA).
If any person employs any child or adolescent, or permits any child or adolescent to work in contravention of any provision of the labour law, they are to be punished with a fine that may extend to Tk 5,000 (Section 284, BLA). This penalty is rather minimal when compared to the severity of the offence, with no prison sentence being prescribed, and the amount of fine being capped at a very low level—despite the varying degree of harms that may result due to the offender's contravention of child labour laws in the country. Then again, limiting the liability of those that violate labour rights seem to be a rather defining feature of our labour law. For instance, all an employer has to pay if a worker is killed in an "industrial accident" (which, more often than not, is a foreseeable outcome of the employer's failure to ensure occupational safety), is Tk 2 lakh.
On 30 November 2020, the National Child Labour Welfare Council published a draft National Plan of Action to Eliminate Child Labour. How can we possibly hope to eliminate child labour while keeping it legal?
Taqbir Huda coordinates Justice For All Now (JANO, Bangladesh).
Email: [email protected]