From toil to tail end: At least 16 children missing in Rupganj factory fire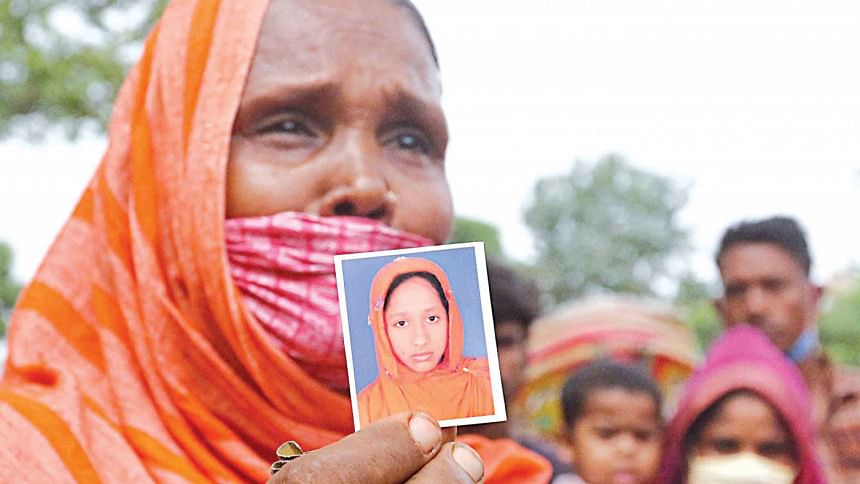 At least 16 children are missing -- and possibly dead -- in the fire at Hashem Foods Ltd. All of them were working at the factory.  
To arrive at this number, The Daily Star contacted families who reported missing loved ones, and collected information from lists made by the Criminal Investigation Department of the police and the Narayanganj district magistrate's office. 
Most of the children missing were aged between 13 and 16 and paid between Tk 5,000 to Tk 6,000 for their labour.
A lot of the children were school dropouts during the pandemic, and had recently taken up factory jobs because schools have been closed for over a year.
The stark irony of the matter is that the factory that these children worked at -- and possibly died in -- manufactured treats for children. This includes Nocilla chocolate hazelnut spreads, noodles, lollipops and juice boxes.
The missing children include Shantamoni, 12, Hima Akhter,16, Takia, 14, Tuli ,15, Nazmul ,15, Mahmuda,14, Shahana,16, Hasnain,14, Swapan, 15, Farzana,14, Fatema Akhter,11, Champa Barman,14, Labonno Akhter,14, Khadija and Noman Miah.
Another child, 14-year-old Mitu Begum was missing a day after the fire, but The Daily Star could not confirm if she was found yesterday.
While we are refraining from declaring these children as dead, until it is confirmed through DNA matching, it should be noted that there are 48 dead bodies and 52 families claiming them, diminishing the odds of these missing children being found alive. 
All of the children were locked in and could not escape, said their families. The only children who did survive, managed to do so by jumping off the third floor of the factory.
The number of children recuperating in hospitals could not yet be determined.
In 2006, the Bangladeshi government outlawed employment of anyone below the age of 14. According to the labour law, those under 14 years of age are children, while those between 14 and 18 are adolescents.
"Adolescents can be employed as per the labour law, but cannot work with hazardous labour and cannot work for more than five hours a day in a factory," said Jafrul Hasan Sharif, a labour expert involved in drafting the Bangladesh Labour Act 2006, National Labour Policy of Bangladesh 2012, Bangladesh Labour (amendment) Act 2013, and Bangladesh Labour Rule 2015.
"Thirty-four types of work are classified as hazardous according to the labour regulations, and operating machines with moving parts is one of them," said Jafrul Hasan.
They also cannot work after 7:00pm, says the law.
All of the missing children were working the afternoon-evening shift, and were working between 8 to 12 hours a day, according to testimonials from their families.
Md Salauddin, the factory's admin officer, had previously told this newspaper, "The issue about the age of the workers is wrong. They were hired after reviewing the relevant documents. If the age is less, it is the workers who tampered with the documents."
But no amount of tampered papers can make Shimu Akhter's tiny 12-year-old daughter Shanta Moni look like an 18-year-old. She frantically searched the long corridors of DMCH peeking into every single children's ward.
"This was her third day at work. Her father died seven years ago, and she used to be in class 4 in a madrasa, but stopped studying because it was closed. They were going to give her Tk 5,500 per month for making lollipops. She used to work on the third floor," said Shimu.
Shimu refused to believe that her daughter was dead. "Please take me to where the living children are, she must be there," she implored.
Fifteen-year-old Nazmul used to be a ninth grader before the pandemic struck, and had only been working for a month, informed his brother Mobarok Hossain.
"School is closed, and our father is a farmer, so he thought of earning some money during this time," said Mobarok. "He used to make Nocilla."
Thirteen-year-old Moni broke down while describing how her 16-year-old sister Shahana died.
"We used to work at the same factory compound, just different buildings. She made Nocilla and has been working at the factory for three years. Because she was young, she was not given the night shift, but rather the evening shift," said Moni. "They locked my sister in and killed her," she sobbed.
16-year-old Hima Akhter was a class five drop-out, and had been working in the factory for three years, said her sister Arjina. "She used to work the chocolate machines, the one that packages chocolates into containers."
According to the labour law, it is illegal to have children operate machines, and for this hazardous work, the girl used to get Tk 5,600 per month.
Hima's cousin, 14-year-old Takia used to be in the same line as her and is missing.
"Their factory's licence was renewed two months back. How did the authorities renew the licence of a factory employing children?" said Jafrul Hasan.