'Society is evolving; we have to evolve with it'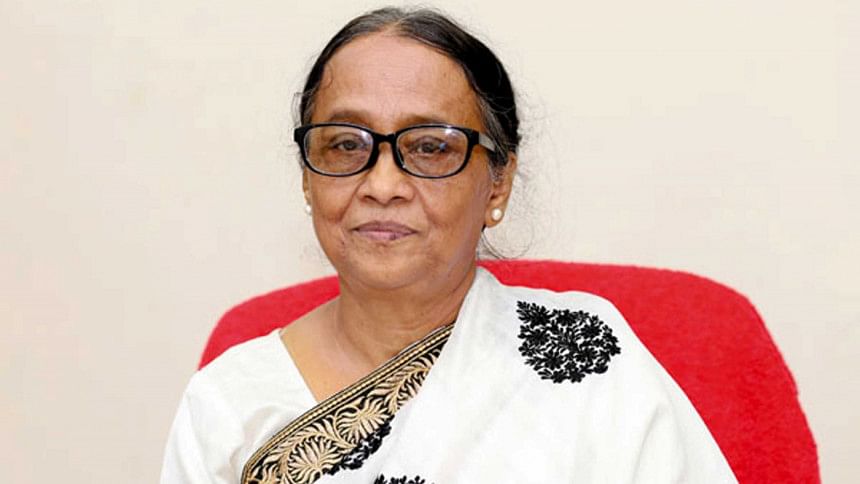 Renowned novelist Selina Hossain, after retiring as the director of the Bangla Academy, has recently been reappointed as its chairperson. In a conversation with Emran Mahfuz of The Daily Star, she talks about the academy, the Ekushey Book Fair, society, culture and more.
You retired as a director of the Bangla Academy, then returned as its chairperson. How do you feel about this transition?
Bangla Academy is quite close to my heart. I am very delighted today. I joined the institution on July 2, 1970. Around the same time, I also got an interview call from the Public Service Commission to join the MC College in Sylhet. There, the salary would have been Tk 450. But I was waiting to get an offer from the Bangla Academy, which I did. As a research assistant, my salary was Tk 250, but the financial aspect was not a concern for me.
I have always tried to embody my beloved Bangla Academy. I developed my literary perspective after joining this institution. It became my preferred outlet for literary exercises, where I got a lot of opportunities to spend time writing and editing. This is how the academy gave me a sense of fulfilment.
How long have you been with the Bangla Academy?
Before retiring in 2004, I had worked there for 34 years. After receiving my postgraduate degree from Rajshahi University in 1968, I arrived in Dhaka the following year. I saw a newspaper advertisement and applied for the job at the academy.
Bangla Academy was founded with an objective to intellectually develop and uplift the nation. To what extent do you think this objective has been fulfilled?
Since its inception in 1955, the Bangla Academy has been working with this objective in mind. The academy's first initiative was the dictionary project. Once that was completed, Muhammad Shahidullah edited the Ancholik Bhashar Abhidhan (dictionary of regional dialects). He compiled words from different districts in it, which helped open up brand new avenues. Subsequent generations are now getting the opportunity of expanding their linguistic knowledge with these dictionaries.
When I was at Bangla Academy previously, I assumed the responsibility of editing Nazrul's work, with Prof Anisuzzaman working as the chief editor. Later on, I took on the responsibility of publishing the science encyclopaedia and biographical dictionary (Charitabhidhan).
A lot of literary works were published during your tenure, but the flow seems to have slowed down since then. Many legendary works still remain unpublished. What could be the reason behind this?
Many did not follow in my footsteps at Bangla Academy. In my years at the compilation sub-committee, I would never have allowed the funding to be returned to the ministry in June. My view was that the fund was allocated so that our writers, researchers and publishers could benefit from it. So why should it go back to the ministry? Hence, I would work all year round at formidable speed to ensure that the fund was used up before June. However, many do not hold the same point of view now, which is why the flow of publication has slowed down.
The Bangla Academy Awards generate a lot of interest as well as controversy. What is the authors selection criteria for the awards?
A committee is formed and nomination forms are sent to 30-35 people. They each nominate individuals and from there, the committee decides on its picks. The committee only elects deserving nominees from within the sphere of art and literature, and their choices are ubiquitously accepted by the academy. Bangla Academy is more than a mere building; it is made up of people working together who are spiritually and intellectually connected.
A part of the Bangla Academy works dedicatedly for the Ekushey Book Fair for two to three months. Do you think relieving them of this task would ensure a higher amount of research and development from them—and for the academy, by extension?
No, a month or two is not that significant a length of time. The Ekushey Book Fair is a crucial part of our history and tradition, which we must put effort into. Individuals dedicated to the book fair belong to the relevant department, so they are merely fulfilling their duty. This does not hamper the academy's overall work. In fact, it inspires all of us and is a great way of ushering in new readers.
The book fair has strong ties with the month of February, but last year we could not maintain this synchronicity. What are your thoughts about organising the Ekushey Book Fair in February?
I am absolutely in favour of the book fair being held in February. But it is also a challenge to maintain health guidelines and hold the book fair amid the Covid pandemic. Besides, the need for the public to abide by health guidelines is not something that can be, or should be, ignored.
Last year, publishers participated in the Ekushey Book Fair and incurred losses. They asked for compensation, but the state's response was lukewarm. What are your thoughts on this?
Support from the state in this regard would have been ideal, and it is something which needs to increase in the future. The book fair is an essential part of the nation's art and literature sphere. It is the state's responsibility to support such initiatives, and it would have pleased me if they had done so last year.
During this online era, e-books are in vogue and the number of printed magazines and books are going down as well. What has been your observation regarding this?
We are seeing a variation among readers. It is inevitable, because different steps are being taken in different directions and as a whole, society is advancing. We have to evolve to keep up with it.
Every year, you publish your own books. Have their sales increased or decreased?
The sales have increased a lot. I am happy with the readership of my books.
Libraries play a vital role in creating new readers. For the last 10 or 15 years, there has been a demand for higher salaries for librarians. Instead, the budget allocated for them has been curtailed.
Libraries not only create readers; they also enrich their minds. Supporting libraries is part of the government's moral duties. This can create a place for dispensing social values among the people, and avid readers can influence those around them to also take up reading. Thus, funds for libraries should not be curtailed, but should be distributed freely by the state in order to cultivate readers.
You have written novels on the Language Movement and the Liberation War. How far do you think we have advanced in terms of socio-cultural aspects?
We have come a long way. This advancement has enriched our world of art, literature and culture, and we have secured a distinct position in the global arena. The Bengali nation and Bangla speakers have also advanced accordingly.
During your tenure, three volumes of Abul Mansur Ahmad's complete works were published. What is your evaluation of his literature?
I liked Abul Mansur Ahmad's work very much. I was awestruck by how, through his writing, he transformed the natural state of society into a transparent and surreal space of knowledge, which aided our generation in bettering itself.
Whenever we discuss culture, people often point their fingers at women's attire. Does this mean that only women embody culture in their attire? Why is no one equally concerned about men's attire?
No, this is not right. Men and women need to uphold our culture collaboratively. We have to keep in mind that society will not advance by any individual's efforts alone.
This interview has been translated from Bangla by Mohammed Ishtiaque Khan.