Budget FY2018-19: How does education fare?
Are we giving enough priority to education?
The proposed national budget for FY 2018-19 allocated 11.41 percentage of the total budget for education. Moyukh Mahtab talks to Rasheda K Chowdhury, Executive Director, Campaign for Popular Education (CAMPE) and Vice-President, Global Campaign for Education (GCE) about the budget allocation and the state of the sector in the country.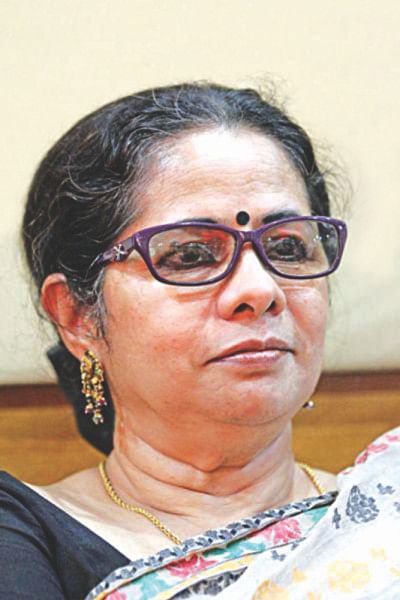 The proposed budget for FY2018-19 has allocated Tk 53,054 crore for education, about 2 percent of the GDP. Is this enough?
The size of our budget is continually expanding. So, on the face of it, we will see that the allocation for education has increased. But if we take a closer look, we will see that as a percentage of the total budget, the allocation has actually decreased. Even in the revised budget of the last fiscal year, the education budget was over 12 percent of the total. Now in 2018-19, even before the revision—budget allocation usually decreases after revision—the allocation has been reduced to 11.41 percent. This is disappointing.
The number of students is increasing every year. We have created a demand for education. But when it comes to dealing with the challenges on the supply side, especially the challenge of providing quality education, we are not investing adequately. The budget allocation for education is simply not adequate.
If we take another example, in FY1999-2000, the allocation for education was 14 percent of the total budget. The actual amount of money might have been less, but proportionately, it was higher. That is where we now have a lacking—the budget is not commensurate with the needs of the time. It does not reflect the government's commitments, be it to Vision 2021, the 7th Fifth Year Plan or the SDGs. According to global standards like the SDGs to which we have committed, the minimum allocation for education should be 4 percent of the GDP or 20 percent of the total national budget. We are going in the opposite direction. So the question is, are we prioritising education?
It is disappointing that as a percentage of the GDP, this budget allocation is the lowest in South Asia. We want to go to the ranks of a middle-income country, but without adequate investment in human capacity development, we can't reach that goal. Even if we do, there will be questions of equity.
You have mentioned that most of the allocated budget will be spent for operating expenses. What are the areas where more resources were necessary?
Of the allocated money, the operating expenditure alone will be over 37,000 crore, and development expenditure will be 17,000 crore. This operating expenditure will be mostly spent on teachers' salary, because we have to invest in teachers. It will also be spent on infrastructure, which is also another area that cannot be de-prioritised.
But these are hardware. But when it comes to software, i.e. quality of education—what happens inside the classroom, the teaching-learning process, teacher capacity and curriculum development—where is the money for those? Continuous revision of curriculum is a regular process everywhere in the world. You cannot go with a 10-year-old curriculum in the ICT age. We need investment for textbook development, teaching aids, libraries, laboratories, lab equipment, etc. These are essential for quality education. But our investment for these is decreasing. We might have teachers, but the teachers might not be qualified. We might get beautiful classrooms, but the teaching-learning climate might not be appropriate.
Questions are already being raised regarding the quality of our education we are imparting—even the concerned ministers are getting worried about it—that even though we have achieved a lot in terms of numbers, we are still lacking in quality. There comes the question of quality delivery—that is, education management. So in education management or administration, do we have well-equipped people to deal with the challenges of quality education?
We have achieved a lot in terms of access, but a good number of disabled children, children from ethnic minorities, children from urban slums, chars, haors, tea gardens are still not in school. A number of school children drop out from the system—15 percent drop out from the primary cycle according to government data, and 20 percent according to ours. According to government statistics, 40 percent students drop out from the secondary cycle. How do we find out the reasons behind these dropouts? We need research. Is there any allocation for such research in our budget? If we don't know why we are still lagging behind other countries in terms of quality, why our children are dropping out of the system, how can we address them?
Then there is the budget allocation for maintenance of infrastructure. Every year, there remains a question as to how it will be spent. There is mismanagement and corruption. According to data from the education ministry, there are around 11,000 institutions in Bangladesh which are in a dilapidated condition. We need adequate investment for those.
We have a great achievement: demand for education. You ask a rickshaw puller, he will tell you he wants to send his children to school. In many developing countries they have not been able to do this. Where we are facing challenges is the supply side intervention. We need investment there—for quality education, service, teachers and infrastructure.
As the number of coaching centres, guidebooks and question leaks suggest, education has become largely exam-centric. Could the budget have addressed those issues?
The budget is a reflection of the government's philosophical vision. Naturally, policy is involved here. So we need a change in the government policy in this regard. Education today has become synonymous with certificate. Attaining knowledge is no longer the priority. It is so exam-centric that students, teachers and parents are chasing numbers. They need a GPA 5. Parents are sending their kids to coaching centres, thinking classrooms are not enough. Guidebooks are becoming more important than textbooks. If we want to bring back mainstream education to the classroom, there is no alternative to proper investment. We need to reduce the number of public exams, and instead go for regular classroom based assessments. Even the government is thinking along this line.
The budget could be considered a vision of the government. Appropriate investment alongside proper strategy are, of course, a prerequisite if we want to fix the system. Our exam-centric education system is not fulfilling the objectives of Vision 2021. There were 29 lakh students who appeared for public exams in class-V three years ago. This year, in class-VIII public exams, the number was 24 lakhs. Where did the remaining five lakh students go? What's the reason behind this dropout? We need to find these things out and for that, we need research and monitoring. Where is the budget for that? The last National Student Assessment by the Directorate of Primary Education showed that students of classes III and V are below the benchmark in Bangla and maths. This assessment is conducted every two years. There should be a budget to conduct this assessment every year.
In terms of implementing our education policy, is our budget allocation feasible?
In 2010, when the Education Policy was made, the committee had made an investment mapping. They had showed that if we start investing in education, say starting from 2014, then a gradual rise in the budget allocation to 3 percent and then 4 percent, would result in comprehensive implementation by 2018. We could have done it by raising investment gradually. But that didn't happen. We bypassed our own policy outline and guidance. The 2010 policy even mentioned that primary education should be made compulsory up to class VIII. After five years, the SDGs came and said the same thing and that the government has an obligation to provide free primary education. We had thought of it five years ago, but we didn't implement it.
As public investment in education decreases, education is becoming more commercial. This is creating serious inequality. Those who can afford it are getting quality education. People, as a result, are losing confidence in mainstream education. True, we have a lot of achievements in education. To sustain those and go further, there is no other alternative but to invest more.
---
Follow

The Daily Star Opinion

on Facebook for the latest opinions, commentaries and analyses by experts and professionals.
To contribute your article or letter to The Daily Star Opinion, see our

guidelines for submission

.
---