America First, Bangladesh Second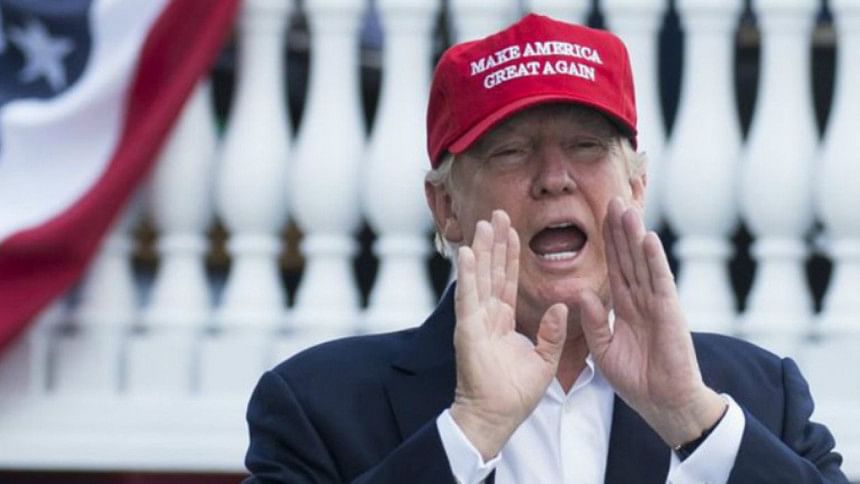 President Donald Trump said during his inaugural speech: "From this day forward, it's going to be only America First!"
Holland's late night comedy show, Zondag met Lubach, responded immediately with "America First, The Netherlands Second" so as to "get along" with Trump. What followed was a similar response from many late night shows around the world. The Naveed Mahbub Show on ATN Bangla, appealed to POTUS for the coveted second spot, stating stark similarities between the US and Bangladesh:
"Dear Mr President
Bangladesh is as young as Melania Trump, but its ancient culture is as old as Bernie Sanders. The only war we fought was in 1971 and that was the only war that you didn't fight, thanks to Richard Nixon. You occupy countries, we occupy sidewalks. You're the Land of opportunities. We're the land of possibilities, oh, anything is possible. You had a million people on inauguration day. We have a million people on the inauguration of every day. We complain about vote rigging after losing an election. You do it after winning an election. On the streets you achieve, we relieve. That's why we have heeeuuuuge walls. On our border with India, there's also a HUGE wall, well, fence and we made India pay for it.
Khan Academy founder Salman Khan and YouTube co-founder Jawed Karim are of Bangladeshi origin – somewhere, although Wikipedia doesn't say so. Fake news! But we love them as ours just as Kenya loves Barack Obama as theirs. We have the Royal Bengals, well, I think we still do and you have the Cincinnati Bengals. America is rich, huge but has no room for [Syrian] refugees. We're poor, tiny and have taken in a million Rohingya refugees.
Based on fake news, the World Bank didn't give us a loan to build a bridge across the Padma River. So, we'll grab you by your bridges. We have bananas. You have Bennon, who has gone bananas. We make the best garments. You'll find them at Nordstrom. You'll love our USD 5 Make America Great Again caps. They're fantastic.
We eat with our hands. The smaller the hands, the better. It's a great way to eat. You should try it. We also clean ourselves with the hand. It's fantastic.
You have the largest military with WMDs. We have the largest NGO, BRAC, with WMDs—Weapons of Mass Development.
Mr President, we completely understand that it's going be America first. But since we have so much in common, shouldn't it also be Bangladesh first? No, you may then want to bomb us, that is, if you can locate us on the map.  Ok, ok, it's America First and Bangladesh Second."
But Trump HAS located us on the map and heaven knows what fire and fury has been unleashed that the world has never seen before. For we ARE number two—The Economist Intelligence Unit has once again ranked Dhaka as the second least liveable city while Melbourne is the second most liveable city in the world. Bangladeshis living in Melbourne can now claim to be number two right side up or upside Down Under.
Global Innovation Index 2018 has ranked Bangladeshis as the least innovative in Asia. Really? Haven't they seen our road warrior, the Laguna? Wait, is that why it just got banned in Dhaka city? You know who's sad? The mobile phone thieves!
But that's not all. Our innovation is up to challenging Google's claim of being able to provide information on earthquake aftershocks using artificial intelligence. We, using Bangladeshi intelligence, can provide that information—on Facebook. Didn't we just see that recently with a jolt? 5.3 on the Richter scale, 5.8 on the Robi scale—when the whole country goes 4G, Robi goes 4.5G.
We have even brought Tim Cook to tears as he realised that before they could inaugurate the new iPhones at the Steve Jobs Auditorium in California, we had inaugurated them at Motaleb Plaza. We have even prompted Apple to incorporate into its new iPhone XS and XS Max the ability to function up to two metres below water so that we can use these phones on the streets of Dhaka during monsoon…
We have invented the technology for mass evaporation of elements and metals as seen in the case of minerals in Madhyapara, Dinajpur and the coal of Barapukuria.
Our literacy rate has climbed to 72 percent. That means, 72 out of 100 are educated, while the remaining 28 walk across the road despite there being foot over bridges right in front of them.
We have even managed to stay out of WHO's list of laziest nations where Kuwait tops the list. Well, Saddam Hussain sure took advantage of that. The third laziest country is Saudi Arabia with 53 percent of its population lazy. I suppose the nation's 53 percent citizens are members of the royal family. Bangladesh is not even in the top 10! That's because our lazy bodies are super busy…on Facebook. Maybe a reality show to find them—Bangladeshi Idle.
And last, but not the least (and jokes aside), the best claim we make today, is that Tamim Iqbal "single-handedly" helped Bangladesh win against Sri Lanka.
---
Naveed Mahbub is an engineer at Ford & Qualcomm USA and CEO of IBM & Nokia Siemens Networks Bangladesh turned comedian (by choice), the host of ATN Bangla's The Naveed Mahbub Show and the founder of Naveed's Comedy Club.
E-mail: [email protected]
---
Follow

The Daily Star Opinion

on Facebook for the latest opinions, commentaries and analyses by experts and professionals.
To contribute your article or letter to The Daily Star Opinion, see our

guidelines for submission

.
---