Social security for migrant workers: Some suggestions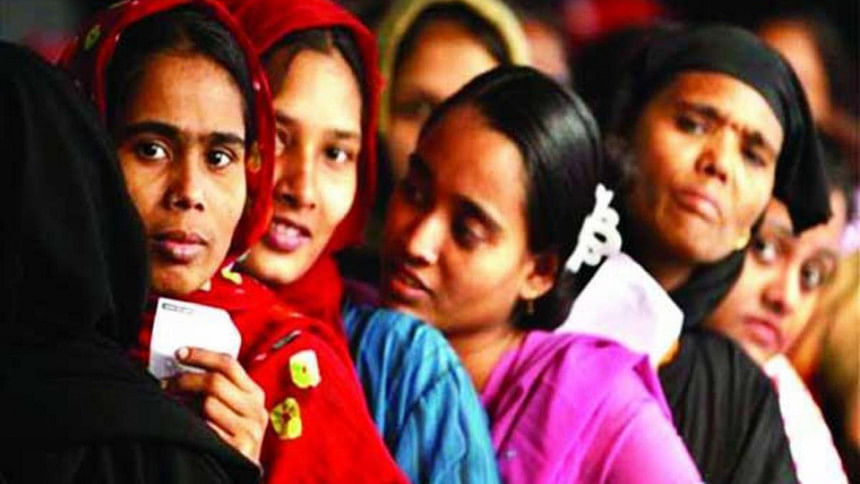 Labour migration is significant for the economy of Bangladesh for many reasons. Almost a quarter of job seekers who enter the country's labour market every year are employed through migration overseas. In 2018, 734,181 Bangladesh migrant workers travelled abroad. Of them 13.85 percent were women.
During the same year, Bangladeshi migrant workers sent USD 15.54 billion in remittances, more than the annual average in the last 10 years. The constant flow of migrants' remittances plays a significant role in increasing the Bangladesh Bank's foreign currency reserve. Bangladesh earns 3.3 times more from net foreign exchange through migration compared to that from the readymade garments and seven times more than foreign aid. In addition to remittances, migrant workers boost the country's revenue through fees paid for employment clearance (USD 2.21 million in 2018) and their contributions to the Wage Earners Welfare Board (USD 30.95 million in 2018).
Despite the obvious contribution to the country's economy, the government of Bangladesh has invested little in the protection and welfare of migrant workers. The budgetary allocation for the Ministry of Expatriate Welfare and Overseas Employment (MoEWOE) was the third lowest of all government ministries in FY 2018-19. Furthermore, the MoEWOE allocated only 0.088 percent of its total budget that year on development programmes. In any case, these programmes rarely directly benefit the welfare of migrant workers and their families which is primarily supported through assistance from the Wage Earners' Welfare Fund.
Bangladeshi migrant workers pay extremely high migration fees; OKUP research shows that 76 percent take out loans for migration, and many others are forced to resort to selling land. The lack of safe and orderly recruitment practices as well as adequate protection and welfare services abroad result in thousands of migrant workers becoming victims of trafficking, abuse, exploitation, and other rights violations. Many return empty-handed, with broken dreams, or with critical illnesses and psychological trauma. Some returnees must sell their land to repay debts which puts them into further economic hardship.
Women migrant workers face even greater challenges as, upon return, they are often abandoned by their husbands or their physical and mental illnesses remain untreated due to lack of financial resources. This leaves them highly vulnerable with little or no support in a society that tends to further persecute victims causing their situation to increasingly deteriorate. According to media reports, in 2018, 5,000 women returned home from Saudi Arabia alone as victims of abuse and exploitation. Interventions to assist these women migrants reintegrate into their family and society were rare, and many reported facing social stigma and discrimination upon return.
If there is no measure to protect migrant workers including women, it is almost inevitable that Bangladesh will face a real social and financial burden in the near future.
The Bangladesh government has a wide range of social protection and safety net programmes, which in 2018 reached more than 7.4 million people. The coverage of these programmes has expanded gradually each year as budgetary allocations and numbers of beneficiaries have increased, and new vulnerable groups are included (such as transgender people, wounded and sick freedom fighters and their families, tea plantation workers, and those in the haor wetland areas).
Currently, migrant workers, including women, are not covered in the social protection and safety net programmes. It is vital that these programmes are extended to include Bangladeshi migrant workers, especially women, for a number of reasons—firstly, the commitment of the government through adopting international agreements including the Global Compact on Migration (Objective 21 (h)), the Commission on the Status of Women, Sixty Third Session (CSW63) (Point u. P13-14), and also SDG 8.8 (protection); secondly, the number of migrant workers are increasing, with more women migrating to existing and new destination countries; and thirdly, migrant workers make substantial financial contributions to the national economy through remittances and social benefits.
Other migrant sending countries provide social security schemes for its migrant workers both at home and abroad. For example, the Philippines provides social security coverage to its workers abroad through voluntary insurance with the Social Security System (SSS), the Supplementary Pension System (SSS Flexi-Fund), and the Philippine Health Insurance Corporation (PhilHealth). Schemes such as those in the Philippines can provide key lessons for the development of such initiatives in Bangladesh.
Apart from that, here are some steps the government could take to help migrant workers and make their lives much easier: i) The government should include 2 percent of annual remittances sent by migrant workers for the protection and welfare of returned migrant workers and their families.
ii) The government should include returnee migrant workers, especially women, in the National Social Safety Net Programmes (NSSPs) from FY 2019-2020, and therefore, allocate the necessary budget. Like other vulnerable groups covered in the NSSPs, returnee migrant workers require a monthly allowance (similar to living wage) for the first few months upon arrival as they may be victims of abuse and exploitation and/or suffering from critical illnesses and difficulties reintegrating into society. And introduce an online automatic system for selection, database and electronic fund transfer to make the process transparent and effective.
iii) The government should provide social security coverage and universal pension scheme to Bangladeshis working abroad.
Whilst the government has already undertaken steps to prepare a National Social Security System (NSSS) which includes universal social protection and a pension scheme, the government must ensure that migrant workers and their families are included in the NSSS and the proposed universal pension scheme by integrating a dedicated component for them.
Shakirul Islam is a Migrant Activist and Chairperson of OKUP, a grassroots migrant organisation in Bangladesh.