Food security for Rohingyas is beyond blanket assistance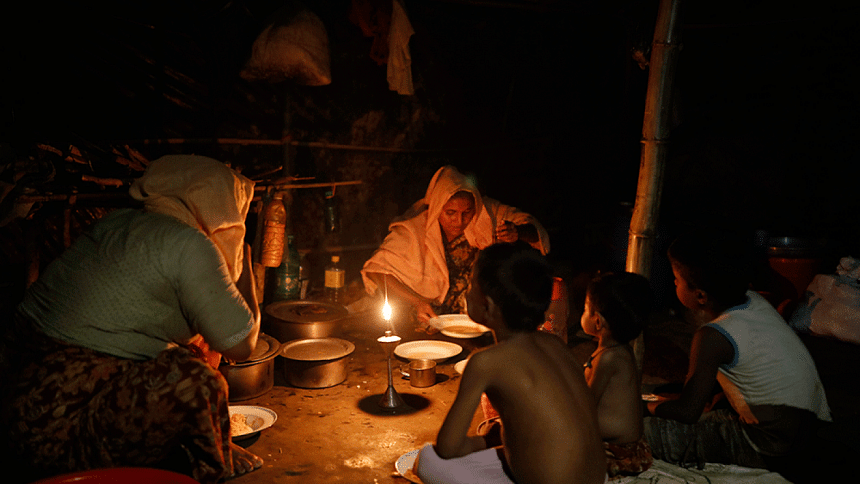 October 16 marks World Food Day, an annual event which this year focuses on food security, conflict, displacement and migration. To date, about a million Rohingyas have fled Rakhine State of Myanmar, over half of them since August 25 this year. This mass influx presents a tremendous challenge not only to their food security but to that of the Bangladeshi host communities as well.   
The government of Bangladesh and local communities in Cox's Bazar have shown a strong and praiseworthy commitment to care for this population in crisis; so has the international community. The United Nations World Food Programme (WFP) has by now reached 570,000 people with ongoing rice distributions, nearly the whole incoming population. This is in addition to the food assistance provided to over 100,000 people living in official camps and makeshift sites in Cox's Bazar who have arrived from Myanmar in earlier waves. But rice alone is not enough. Other food items such as pulses and oil are needed. Nutritious food is necessary for small children and pregnant and nursing women in order to reduce the risk of widespread child malnutrition.
Thanks to the commitment and hard work of the government of Bangladesh, the armed forces, host communities, government and private donors, and NGO partners, we will be able to provide more diverse food assistance to the refugees for a further few months. But long-term food assistance for all is beyond the capacity of WFP and the international community, no matter how much goodwill there is. Host communities have been very generous in sheltering and supporting the new arrivals, but for how long will they be willing and able?
Food security beyond the initial period of blanket assistance will require that the new arrivals have opportunities and support for self-reliance, to the extent they can contribute. Men and women should have the opportunity to increasingly earn their basic living through wage labour or self-employment that does not distort local markets. It will require cooperation not only from the government and NGOs, but also from private sector partners to create such opportunities. 
To facilitate this process of increased self-reliance and to reduce the pressure on a particular location, it would be desirable if Rohingya settlements could be distributed more broadly rather than being clustered in a few mega sites. As it stands, the clusters of makeshift camps are difficult to supply due to storage and road transport limitations. They will also make it more difficult for people to earn their living. Tightly clustered settlements are also vulnerable to natural disasters, including landslides and cyclones.
The recent influx of over half a million people is a big challenge for an area of Bangladesh that has faced challenges well before the current crisis. To ensure food security and a decent living for both local communities and new arrivals, we must collectively look to create opportunities from which both can benefit. In doing so, we may prevent an even bigger crisis from arising when negotiations could be underway for a safe return of those who have fled to Bangladesh.
---
Christa Räder is the World Food Programme Representative in Bangladesh.
---
Follow

The Daily Star Opinion

on Facebook for the latest opinions, commentaries and analyses by experts and professionals.
To contribute your article or letter to The Daily Star Opinion, see our

guidelines for submission

.
---