Make Dhaka liveable again
The case for a city government system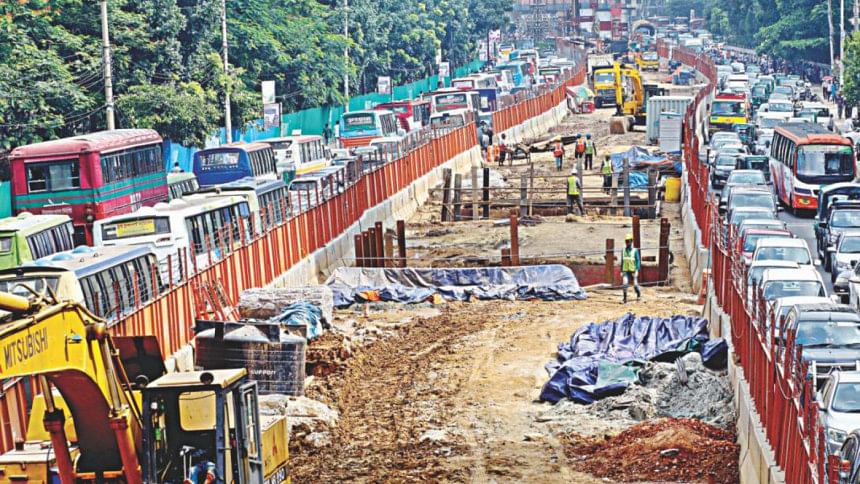 Dhaka is one of the fastest growing megacities in the world. It is predicted to be one of the world's largest metropolises by 2025, along with Tokyo, Mexico City, Shanghai, Beijing and New York City. But Dhaka is not exactly what you'd call a "pretty" city by any means. With more than 44,500 people sharing each square kilometre of space, it's chaotic, it's dirty, and it lacks good infrastructure. The overburdened roads are jammed most of the day. Then there is the problem of clogged drains while the low-lying city is filled with water like a bathtub during monsoon. No wonder the Global Liveability Index 2019 has ranked Dhaka as the third least liveable city in the world, just after the war-torn Syrian capital Damascus and Lagos.    
To ensure better services with improved civic amenities for its 20 million residents and reduce their sufferings, on November 29, 2011, the then Dhaka City Corporation was divided into two parts: Dhaka North (DNCC) and Dhaka South (DSCC). The government's goal for doing so was good but it remains elusive to this day. Now, the elections to the capital's two city corporations are set to be held on February 1. Some 5.4 million voters are set to seal the fate of about 758 candidates who are contesting for the posts of mayors, general ward councillors and councillors of wards reserved for women. More than a dozen candidates are vying for the mayoral posts in DNCC and DSCC, but the main contestants are four: two each from the ruling Awami League and opposition BNP. Awami League's Atiqul Islam is contesting for DNCC and Sheikh Fazle Noor Taposh for DSCC, while BNP's Tabith Awal is contesting for DNCC and Ishraque Hossain for DSCC.
According to affidavits submitted to the Election Commission, of the four front-runners, Sheikh Fazle Noor Taposh completed his education in law from the UK between 1996 and 1997. He is currently a lawyer in the Supreme Court of Bangladesh. Atiqul Islam, a businessman and former mayor who is seeking re-election, is a B.Com graduate. On the other hand, BNP's Tabith Awal is a graduate from George Washington University in Washington DC, USA. He also obtained a combined degree in MSc in Information Systems Technology and a BBA in Management Information Systems and is currently involved in a family business. Ishraque Hossain, on the other hand, completed his Bachelors and Master's degrees in mechanical engineering from the University of Hertfordshire in the UK, and is involved in a family business too. All of them are, clearly, well-educated and highly qualified.
As the polls of the two corporations near, the cacophony of candidates coming up with farfetched plans to solve all of the city's problems is growing louder, in an attempt to woo voters. Many have pledged to turn Dhaka into a highly developed city. Sheikh Fazle Noor Taposh has said that he would work to craft a "new city" if he is elected, and also pledged to ensure all civic amenities for city-dwellers and turn the corporation into a service-oriented organisation for businessmen. His opponent, Ishraque Hossain, said that if elected, he would free the corporation from corruption, and take short, mid and long-term projects to solve the city-dwellers' problems. He also said that the city authorities over the last 12 years have turned Dhaka into a dirty city, and that he would strive to restore democracy and turn the city into a clean and developed one.
BNP's DNCC mayoral candidate Tabith said, if elected, his priorities will include a pollution-free environment; safe and open footpaths and public spaces; freeing Dhaka from water logging; and proper road management for controlling traffic congestion. He further said he wants to introduce three separate zoning systems—commercial, residential and mixed—in the areas under DNCC's jurisdiction. His rival Atiqul Islam said, if re-elected as mayor, he would work to build a modern, planned, smart city and take the initiative to free Dhaka from traffic congestion and air pollution. He said he would like to launch a mobile app—Sabar Dhaka, or Dhaka for All (in English)—a platform where citizens could ask for their required services.
While all the top four mayoral candidates have been going door-to-door seeking vote and distributing leaflets, besides making pledges profusely, one may ask, do they have the required power and jurisdiction to implement their promises or are those just rhetoric? Experts, however, said under the current framework, the city corporations do not have the legal or financial mandate to work in a number of areas which involve city planning, traffic management, security, utility services, waterways, and the environment. There are different implementing agencies of the government responsible for each of these areas of work. For instance, the city corporations cannot make a master plan or take any drastic measure to address the waterlogging problem because at least seven other agencies—including Wasa—are tasked with maintaining the drainage system. Currently, the city is serviced by over four dozen government organisations. Mayors have no control over organisations like Wasa, Titas Gas Transmission and Distribution Company, the Dhaka Power Distribution Company, the Dhaka Electric Supply Company, and the Department of Environment. Moreover, a lack of coordination among these organisations keeps the development and maintenance of the city in a chaotic situation.
Let us remind ourselves, late mayor Annisul Huq, who was desperate to do something good for the city but the system governing the utility organisations came up as a major obstacle to his efforts, expressed his frustration and helplessness on a number of occasions. In many public gatherings, he mentioned that the mayor's office does not have any say in the functions of Wasa and Rajuk—two organisations responsible for the city's sewerage system and urban development respectively. The city corporation does not have the jurisdiction over all of the drains in the capital. "The Dhaka WASA (Water Supply and Sewerage Authority) maintains 600 kilometres of drainage network and the district administration owns the lakes where the city corporation has nothing to do," the late mayor had said.
While it's understandable that our mayoral candidates are making pledges ad nauseam only for political mileage, like politicians do before any election, it also shows that there is a real urgency to make this city liveable again. While I do believe that an empowered mayor is an important part of solving Dhaka's innumerable problems, but to better serve the city-dwellers, the time has come to develop the city corporations as part of an independent city or metropolitan government, which will bring all public service providers under one umbrella so that those service facilities could be run and managed in a coordinated way. And to improve the services, it will be best if there is a legal framework to guide the task of coordination. Otherwise, Dhaka's residents will continue to live in the dreadful condition that they are presently living in. 
Abu Afsarul Haider studied economics and business administration at Illinois State University, USA. He is an entrepreneur currently living in Dhaka.
Email: [email protected]